Pretzel Dogs are a fun twist on your average hot dog! The classic hot dog wrapped up in homemade pretzel dough.
These pretzel dogs are great for dinner, lunch or your next get together. Serve them with a side of homemade ketchup, pickles, mustard or your favorite hot dog garnishes.
Ingredients Needed:
Warm water
Sugar + Salt
Active dry yeast
Flour
Hot dogs
Water + Baking soda
Butter
Coarse sea salt
Can I Use Any Type of Hot Dog? Yes. Go with beef, turkey, chicken or plant based. Just be sure to stick with one that is pre-coooked.
Can These Be Frozen? Yes. Place fully baked pretzel dogs in a freezer safe/covered container or storage bag. They will stay good for a couple of months. Simply reheat frozen pretzel dogs in the microwave or oven when you are ready to eat.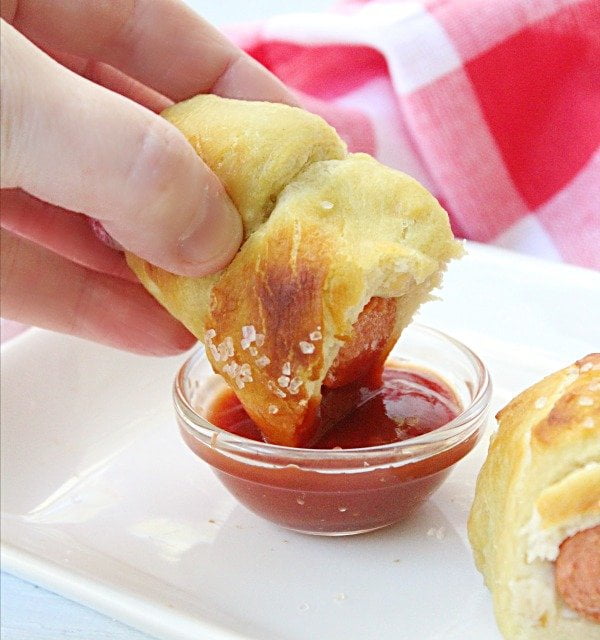 How to Make:
In a mixing bowl, combine the salt, sugar, warm water and yeast. Let it stand for about 5 minutes or until starts to foam.
Add in the flour and mix just to combine. If you have one, using a dough hook, knead the dough for about 5 minutes or until it starts to pull away from the side of the bowl and it's smooth. If you don't have a dough hook attachment, you can knead the dough by hand.
Transfer the dough to an oil bowl and cover. Let it rise in a warm place until it doubles in size. This should take about an hour.
Once it's risen, preheat your oven and line a flat rimmed baking sheet with foil. Spray that foil with non stick cooking spray.
Turn the risen dough out on a well floured surface and divided it into 8 equal pieces.
Take each one of those 8 pieces and roll into a rope. Each rope should be about 18-20 inches in size.
Wrap a rope of dough around a hot dog and seal the edges. Repeat with remaining dough and hot dogs.
Boil a pot of water with baking soda.
Place a dough wrapped hot dog in the boiling water mixture for just 30 seconds. Then, place it on your prepared baking sheet. Again, repeat with remaining hot dogs.
Brush the tops of the boiled/wrapped hot dogs with melted butter and sprinkle with sea salt.
Bake!
Like Hot Dogs? Try our Bacon Wrapped Cheese Stuffed Hot Dogs too!