You can find a potato in almost any type of casserole such as chicken, beef, vegetables, and much more. So I tried in this post to gather for you a list of best Potato casserole recipes that you can easily make for dinner, lunch, or make ahead for the next breakfast.
So, if you have a potato casserole recipe that I forget to include please feel free to write it in the comment section below.
I adore potatoes! They are without a doubt one of the things that I enjoy the most, and the recipe for the side dish that they produce is unparalleled.
This Loaded Baked Potato Casserole is so easy to cook, yet it yields such a delectable and satisfying dish.
I start by boiling the potatoes, then I combine them with sour cream and a few other ingredients to produce a creamy base, and last I bake it with cheese and bacon on top.
It's very easy to make Million Dollar Potato Casserole. Mix cottage cheese, sour cream, cream cheese, onion powder, garlic powder, cream of chicken soup, shredded frozen hash brown potatoes, and cheddar cheese together. Spread the potato mixture in a baking dish. Put some crushed Ritz crackers and butter on top of the casserole and bake it.
You don't need to take the frozen hash browns out of the freezer first. You can, and it won't matter if they are frozen or partly frozen when you put them in the casserole.
I know that a lot of you don't like cottage cheese. You have to believe me on this. It makes the potatoes taste so good and creamy. You won't even know it's in the potatoes, I promise. I don't eat cottage cheese straight from the container, but I LOVE it in casseroles. I promise not to lead you astray. Picky eaters need to stick together!!!
These party potatoes are the ideal side dish to serve at a get-together, potluck, Sunday dinner, or even special occasions such as Thanksgiving, Easter, or Christmas to feed a large crowd of people throughout the holiday season. Due to the fact that they are so simple to prepare, they are my go-to cheesy potato casserole, next behind my recipe for cheesy scalloped potatoes.
The tastes and toppings that you may add on a baked potato come to mind whenever I eat this cheesy potato bake. It's one of those recipes that's been handed down through generations, and now it has the Salt & Lavender spin on it! I'm not sure of the actual origins of this American classic, but it's one of those treasured foods that's been passed down through families. On your supper menu, it will serve as an all-around comfort food option.
This hashbrown potato casserole with sour cream is so adaptable that it can be eaten for breakfast, lunch, or supper. It is creamy, simple, and cheesy all at the same time.
Taste has always been my absolute favorite aspect of cooking, and these potatoes do not fail to deliver on that front.
Soo rich and soo cheesy all at the same time. To counteract the heaviness of the dish, the tanginess of the sour cream and onions provides a welcome contrast.
They are so delicate that they dissolve in your mouth. In the world of potatoes, I like to refer to these as "macaroni and cheese"!
This recipe for Twice Baked Potato Casserole comes from The Pioneer Woman and has crispy bacon, cheesy pieces of potato skins, and smooth mashed potatoes as some of the main ingredients. Additionally, it may be prepared in advance and stored in the freezer without issue.
This casserole may be assembled and stored in the refrigerator up to two days before it is ready to be served. Follow the instructions in the recipe to assemble the casserole, but do not bake it until you are ready to serve it. Cover the top before placing it in the oven, and bake it for about ten to fifteen minutes. Take off the top, and continue baking for another 25 to 30 minutes.
This Mashed Potato Casserole is the ideal method for preparing mashed potatoes for a gathering since it is not only creamy and fluffy, but also full of flavor. Because it can be prepared in advance and because everyone will be blown away by the flavor, this casserole is the ideal meal to serve when you have guests around.
The mashed potatoes are always a hit, but the ideal way to enjoy them is right after they have been prepared. This casserole is the ideal way to satisfy everyone! Even while it may be prepared several days in advance, it still manages to be indulgent, rich, buttery, tangy, and provide the kind of traditional comfort food that you seek in mashed potatoes.
Turn on the 375 degree oven. Scrub and pat dry the red potatoes. Cut everything into cubes, and then arrange them in a casserole dish that's been oiled. Serve potatoes topped with any remaining chili.
Bake the potatoes, covered in foil, for approximately 1 hour and 30 minutes, or until they are soft. Take out of the oven and mix the chili and potatoes together in a bowl.
On top, sprinkle some shredded cheese, and then continue baking the dish without the lid for a few more minutes, until the cheese is melted and bubbling.
Take out of the oven, and sprinkle the top with chopped green onions. To serve, dollop portions of sour cream on top.
Using leftover mashed potatoes in a dish like Mashed Potato Casserole is a simple and tasty way to put them to good use after a holiday meal.
The potatoes that were left over are placed in a casserole dish with cheese, ham that has been cooked, and a topping made of crispy breadcrumbs. It's a fantastic method for repurposing the food you have in the fridge into an entirely new dish.
This quick and easy breakfast casserole features bacon, potatoes, and cheese all mixed together. It's a crowd-pleaser that doesn't require any last-minute cooking and can be put together in advance.
This is the ideal egg casserole to serve on Christmas morning since it is simple to prepare, can accommodate a large number of people, and is loved by everybody. Additionally, it includes bacon. A huge amount of stuff. When they hear the word "bacon," our sons' eyes immediately become as bright as the lights on our Christmas tree:
The Chicken Potato Bake is similar to a chicken and potato casserole, but the ingredients are coated in garlic and olive oil before being cooked to a golden brown and then topped with cheese that is stretchy and melty. It is my go-to meal if I need ideas for dinner that are easy, economical, and quick to make!
When I sit down to make a meal plan for the following week, I frequently find that I am at a loss for what to include in it. This might sound a little bit weird, but it's the truth.
More Recipes:
Preheat to 475°F. Spray 9×13 pan with nonstick spray; put aside.
Olive oil, salt, pepper, paprika, garlic powder, and spicy sauce are mixed together. Coat potatoes.
Leave any leftover hot sauce mixture in the basin.
Bake potatoes at 475° F for 20 minutes, until crisp.
While potatoes cook, add chicken to the hot sauce mixture and stir. While potatoes simmer, marinade chicken.
When the potatoes are done, remove them and reduce the heat to 450° F. Add chicken and spicy sauce to boiled potatoes.
Cook chicken at 450° F for 20 minutes.
While chicken cooks, add cheese to casserole and melt for 5 minutes.
15 minutes to cool. Serve with bacon, onions, and sour cream.
These scalloped potatoes have two layers of sliced potatoes, one layer of creamy sauce, and one layer of shredded cheddar cheese. Because they are such a traditional and tasty accompaniment, you can't go wrong by including them with any meal you prepare.
Potatoes of the Yukon gold or russet kind are the types of potatoes that are typically used while making scalloped potatoes. This is due to the fact that some varieties of potatoes are able to maintain their structure very well after being cooked with milk and creamy cheese.
I have a recipe for a really easy and traditional Christmas casserole side dish for you to try, and it's called Corn Flakes Potato Casserole. This is a recipe that our whole family enjoys having as a side dish on special occasions especially on Sundays.
I'm going to teach you how to make this very easy casserole, which you can either bring to the next time your family gets together or serve at the gathering yourself. This kitschy classic is a fan favorite among both children and adults. This side dish is a favorite in many households, and it may be prepared entirely in the oven.
The best recipe for sweet potato casserole, according to my family, is one that combines sweet and salty flavors and is topped with a streusel that is both tasty and crispy. This dish for mashed sweet potatoes is delicious, and the nutty brown sugar crunch on top is a delightful addition.
Trying to figure out what goes in the oven and when is the worst. Fortunately, the adaptability of this sweet potato casserole earns it a "BEST" rating.
First, you could bake as mentioned above, if oven capacity is not an issue.
Or, you may bake the 25 minutes, top with the streusel and chill till the next day. After that, it would just require around 20 minutes in the oven once more.
You may alternatively bake it according to the instructions and let it set for about 30 minutes on the table (covered with foil to keep hot). You'll have plenty of time to prepare the remainder of the meal, including some warm dinner rolls.
This ham and potato casserole is loaded with cheese, has a velvety texture, and can't be beat for flavor! Any time of day is a good opportunity to serve your loved ones this quick and simple ham and potato casserole dish. It is perfect for a heavy meal after the holidays, and it also works well as a breakfast option.
The Hamburger Potato Casserole is a substantial supper meal that consists of layers of sliced potatoes loaded with crumbled ground beef and shredded cheese, all of which is simmered in a combination of cream of mushroom soup and sour cream. The dish is then baked.
The Hamburger Potato Casserole is a simple meal that utilizes ground beef that the entire family will enjoy.
Starting from scratch and finishing this potato casserole with ground beef takes around an hour and a half, and it may feed up to six people.
Recipe for a Ground Beef and Potato Casserole that is Simple to Prepare Just like a hamburger, but served in one plate. The perfect fast and comforting dish for a weeknight.
If you start your day with breakfast, lunch, and supper consisting of foods that bring you comfort, then I believe you have found the appropriate place to be. Because if this meal doesn't scream comfort food, I don't know what does. Because this food screams comfort food.
In addition, I have no doubt that the majority of the items are already in your pantry. Throw everything into a casserole and cross your fingers that it turns out okay. That's what I call cooking.
Cooking the white sauce until it is creamy but still somewhat runny is the key to preventing the casserole from being overly dry. This recipe has a lot of creaminess and richness to it.
The Weight Watchers values for this meal were calculated on the WW website, and I found that each serving is worth 13 points total.
I searched for methods to cut a few more points from my meal, but I don't want to lower it too much since then the flavor won't be as good.
This dish consists of several components, including sausage, potatoes, and sauce. Begin by chopping the potatoes and cooking and draining the sausage first. Next, start browning the sausage. The use of even just one of these slicers helps the operation move forward more quickly.
Because our family like eating the peel, I baked the potatoes with it on; but, if yours does not, you are free to remove it. Repeat the layering process using potatoes, sauce, and sausage.
I used a slow cooker with a capacity of 5 quarts and cooked on the lowest setting for 6–8 hours. Take off the lid, then scatter the cheese over the top, and replace it for the next five minutes, or until the cheese has melted.
You may also prepare this in the oven using a pan measuring 9 inches by 13 inches and cooking it at a temperature of 350 degrees for one and a half hours. After that, add the cheese and return it to the oven until it has melted.
More Recipes:
Just in time for Cinco de Mayo, this casserole called Fiesta Nacho Potatoes follows all of the guidelines for serving a big gathering successfully. Make use of frozen hash browns if you want to simplify things as straightforward as possible and preserve your knuckles safe from becoming grated.
The most delicious vegan version of potatoes au gratin, made with leeks, thyme, cashew cream, and nutritional yeast. Simple to prepare, high in nutrients, and really delicious!
This Garlic Parmesan Mashed Potato Casserole is the IDEAL side dish for Thanksgiving and other holiday meals! After being boiled with cloves of garlic, butter, milk, and Parmesan cheese are added to mashed russet potatoes to get a velvety texture.
This cozy casserole may be given a crispier crust by topping it with more grated Parmesan before baking it. The Mashed Potato Casserole is a dish that delivers a tasty punch for any dinner, regardless of whether you are serving it to the family for a holiday celebration or on a regular evening.
This is an exceptionally adaptable recipe. You may also use a mixture of kumara and potato in your dish. If you don't like tuna, you may substitute smoked salmon, chopped ham, diced cooked bacon, or smoked chicken instead. You could even use canned salmon. Excellent substitutes for courgette include baby spinach or cooked broccoli that has been finely sliced.
This recipe for Easy Cheesy Ham and Potato Casserole from Pioneer Woman is cheesy, creamy, and utterly delectable! This dish is ideal for the perfect meal after the holidays, but it would also work well as a substantial breakfast on the day after the holidays.
The fact that the Pioneer Woman Ham and Potato Casserole may be prepared and served at any time is one of the reasons I adore this dish.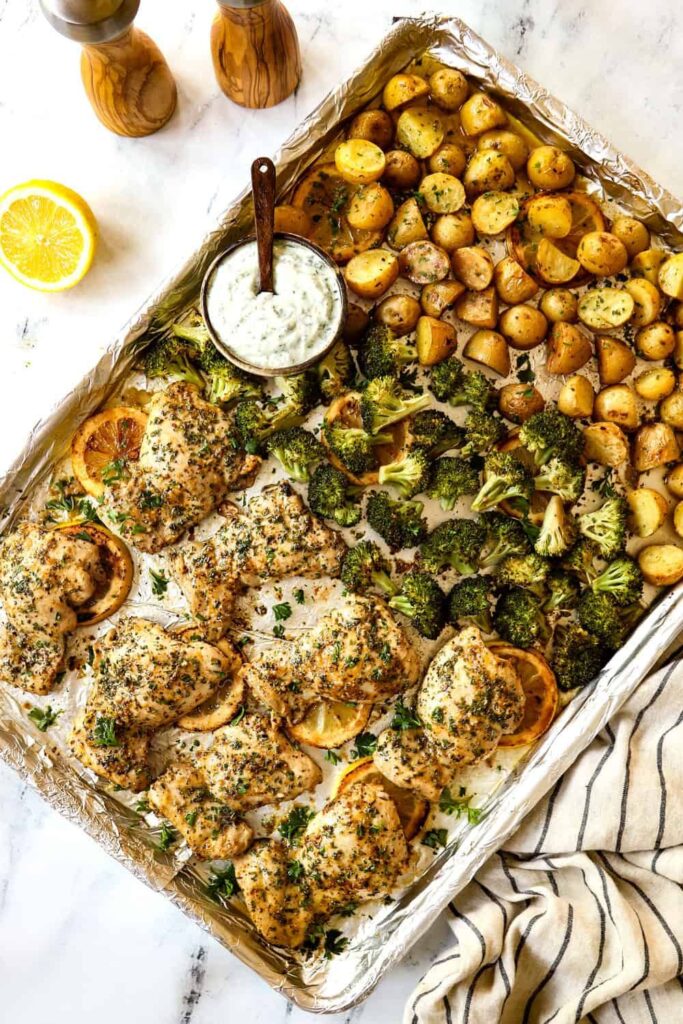 It just takes a few minutes of hands-on preparation time to make this Chicken Potato Broccoli Casserole, and another twenty minutes of marinating time, making it the ideal dish for a quick and easy weeknight dinner.
The chicken (either the thighs or the breasts) emerges from a quick dip in the bath of lemon, garlic, and herbs incredibly moist and filled with a variety of layered tastes.
You may choose which part of the chicken to use. You may cook the chicken by itself (on a grill or in a pan), but baking it with butter is the method that yields the best results in my opinion.
This Green Bean Potato Casserole is taken to an entirely new level of deliciousness because to the addition of bacon and cheese to it. This casserole recipe works well both as an accompaniment to supper and as the main course itself. This dish is sure to please even the most finicky eaters.
This recipe for keto sweet potato casserole is actually a casserole made with butternut squash and cauliflower, but it tastes just like genuine sweet potatoes! Putting up a sweet potato casserole that is both healthful and low in carbs is a breeze.
Pepper Jack Potato Casserole – our favorite potato casserole recipe. It resembles a conventional potato casserole combined with scalloped potatoes in certain ways. I absolutely adore the cheesy and bacon-flavored cracker crust!
Ingredients include frozen hash browns that have been shredded, cream of chicken soup, heavy cream, pepper jack cheese, butter, sour cream, onion powder, garlic powder, Ritz crackers, parmesan cheese, and bacon. Can be prepared in advance and frozen for use at a later time. I usually keep a batch on hand in case I need a tasty and speedy accompaniment to a meal.
You are in for a real treat if you have never encountered the delicacy known as Funeral Potatoes. After being combined with sour cream, butter, white sauce (or a can of soup – I provide recipes for both), and copious amounts of cheddar cheese, the potatoes are then cooked to perfection with a covering made of crispy corn flakes. It's impossible to find a holiday dish that tops cheesy potato casserole as the best option. Accept and celebrate your middle American heritage!
A hearty vegetarian dish for comfort food, this Sweet Potato Brown Rice Casserole features cheeses like mozzarella, parmesan, and cheddar, along with mushrooms, spinach, and sweet potatoes.
This sweet potato brown rice casserole is loaded with savory ingredients, including roasted sweet potatoes, minced garlic, juicy mushrooms, frozen spinach, and three different kinds of cheese.
The recipe calls for greek yogurt, thus there is no need to substitute any other type of cream for it to get the desired creamy and rich texture.
Set the oven to 375 degrees.
Heat the oil in a Dutch oven over medium heat. Cook and stir the lamb and onion until the meat is no longer pink. Add the flour and mix well.
progressively add broth. Bring to a boil; simmer for 1–2 minutes or until thickened, stirring to release browned pieces from the pan. Add carrots, leeks, a pinch of salt, pepper, rosemary, and a tablespoon of parsley.
Fill a greased 13×9-inch or 3-quart baking dish with the mixture.
Brush 2 tablespoons of melted butter over the potato pieces before covering. Brush the potatoes with the remaining butter and bake for an hour.
Return to the oven and bake for a further 30 to 1 hour, or until the meat is cooked and the potatoes are golden. Cool slightly and then top with the final tablespoon of parsley.
The Amish potato stuffing, sometimes referred to as year-round stuffing, is the everyday filling that may be relished on any given day. It's delicious, doesn't require much effort, and can be put together quickly on any day of the week.
The traditional Thanksgiving turkey is served with a sophisticated stuffing, but the Amish potato stuffing may be frozen and used for other meals, such chicken or pork chops.
This recipe for Potato Chicken Mushroom Casserole is the ideal choice for a supper casserole because of its great flavor combination. This casserole is a staple in most households due to its delicious combination of potatoes, chicken, and mushrooms baked in a cheesy sauce and topped with an abundance of cheese.
This chicken casserole dish is perfect for making ahead of time since it can be baked in the oven. Simply assemble the casserole according to the directions, cover it, and place it in the refrigerator until you are ready to bake it.
As a result of the fact that my children are not big lovers of mushrooms, my husband and I usually just put them in half of the casserole dish. If there is no mushroom fan in your household, you should leave them out entirely.
This recipe for Farmer's Casserole has become rather popular over the years as a breakfast option. It is the ideal dish to prepare and serve when you have a large number of friends or family around to your home. You may learn how to make Farmer's Casserole by watching the short video that is embedded below, and then scroll down to the bottom of this article to print off the recipe so that you can make it at home.
Because Easter is coming up in a little under a month, I felt compelled to talk about one of the best side dishes I make for holidays and other special occasions.
I first discovered how to make this gratin a few years ago, and I haven't stopped making it since then. It's made with leeks and potatoes. It's a hit with all of us in the family! It is the ideal accompaniment to a delicious oven roast of ham, turkey, or chicken, and you just cannot go wrong with this combination.
Your dinner will be elevated to a higher level if you include the side dish of corn casserole scalloped with cheese. This dish adds extra layers of taste to your meal. This casserole was created by us for a family celebration dinner that included both sets of parents. The Swiss cheese imparts a wonderful taste, and the addition of eggs and crackers makes the meal quite hearty.