Delicious muffins made with the classic combination of peanut butter and jelly.
These have a family favorite of ours since way back in 2011. They were actually one of the very first recipes shared here at Table for Seven.
Goodness..was that really 10 years ago?! Wow..time flies.
Looking for a soft muffin loaded with peanut butter and jelly, plus, is low in fat? Well, take a gander at these gems.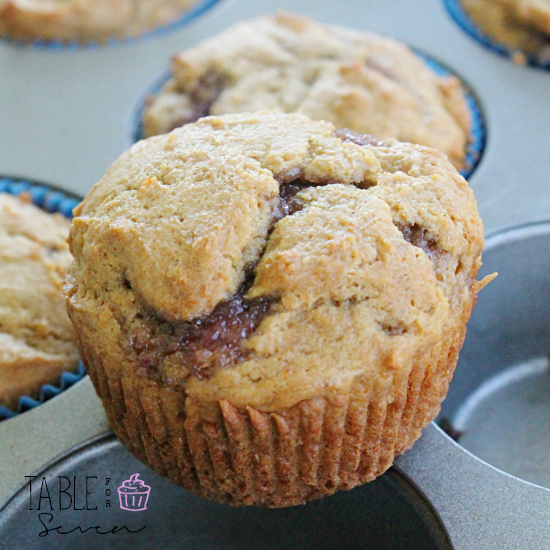 Ingredients Needed:
Flour + Baking powder + Baking soda
Brown Sugar
Plain Greek yogurt
Egg white
Butter
Peanut butter
Jelly/Preserves
Flour: I have used regular white flour for these and whole wheat. They both will work. I do recommend if you are going to use whole wheat, go with a whole wheat white flour or half white/half wheat combo. This will give you a less "wheaty" muffin.
Plain Greek Yogurt: If you have none of hand, you can replace it with sour cream. However, the nutritional numbers may change.
Jelly/Preserves: The classic jelly flavors for PB&J is usually grape or strawberry. With good reason, they go perfectly together. However, if you have another favorite jelly flavor that will match will with peanut butter…go for it!
★ Tip: You can also make your jam homemade.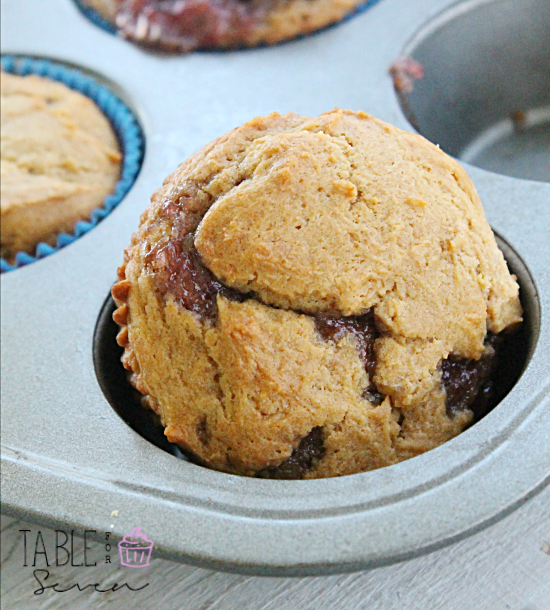 How to Make:
First, mix your batter. Be sure that you don't over mix your batter. A few lumps are perfectly fine. Mix just until there are no dry spots left in the batter.
Spoon just half of the batter the prepared muffin pan.
Then, spoon about a teaspoon of jelly on top. Then, top with remaining batter. The top batter doesn't need to cover the jelly completely.
Bake!
Can I freeze these muffins? Yes. They freeze very well. Store them in a freezer safe covered container or storage bag. They will be good for 2-3 months. When you are ready, reheat your muffin (s) in the microwave or oven.
Try These Too!