Buttery bars made with the classic peanut butter and jelly combination. Get a glass of cold milk and dig in!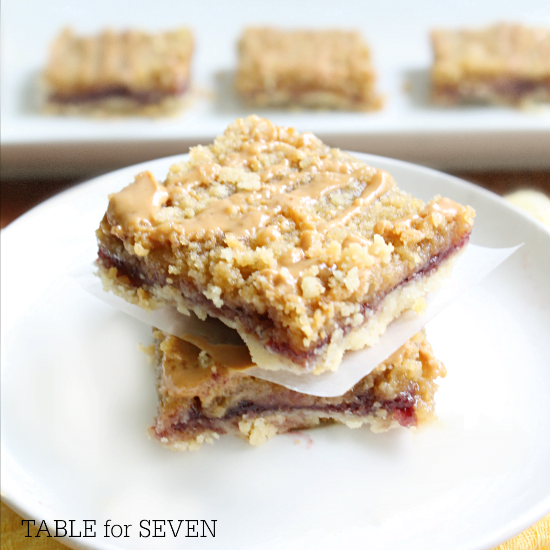 When my kids were young, we went through peanut butter like it was going out of style. We still love it and eat it quite a bit, but, it has slowed down a bit.
Most of the peanut butter nowadays is used for me and my baked goods. Kinda like these bars!
Ingredients List:
Butter
Flour
Jelly/jam
Peanut butter
Brown sugar
Butter: These bars requires 2 cups of butter. Yes, for real. It's OK, just don't eat the whole pan in one sitting. 🙂 Some will be melted, some you will need cold.
Jelly/Jam: Use your favorite! Making it homemade is really easy, if desired.
How to Make: ( detailed instructions in recipe card)
First, make your base. This is a simple butter and flour crust. Spread it into a prepared pan and bake for just 15 minutes. Remove it and let it cool.
Next, spread your jam/jelly on top of the cooled crust.
Make the topping. Mix together the dry ingredients for the topping. Then, cut in the cold butter. You can use a pastry cutter, two knives, a fork, or pulse the mixture a few times in your food processor. Need some help? How to Cut Butter into Flour.
Sprinkle that on top of the jam/jelly.
Return to the oven and bake for additional time.
Microwave your peanut butter and drizzle it on top of the cooled bars.