Moist chocolate cupcakes topped with a fun tye dye frosting. Super chocolaty and delicious!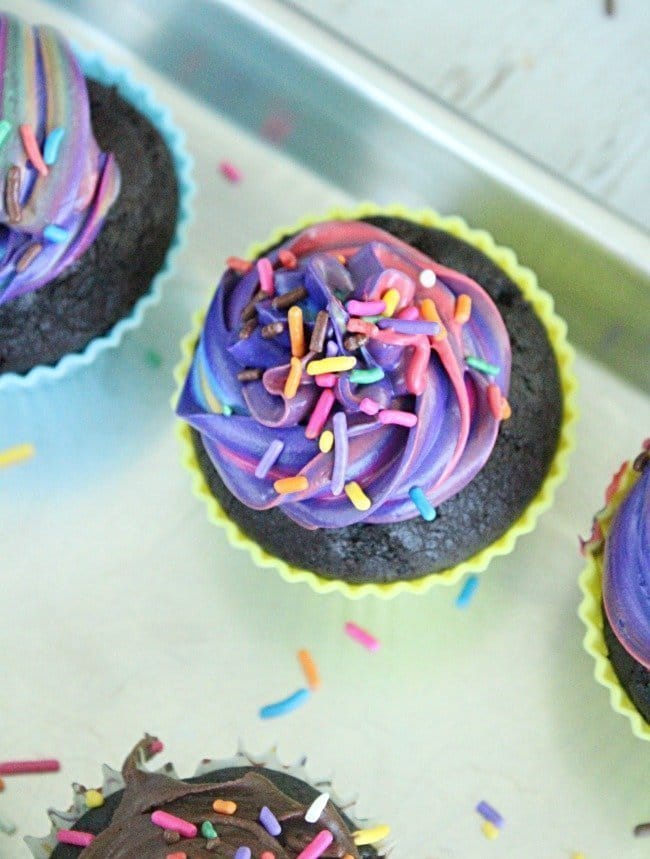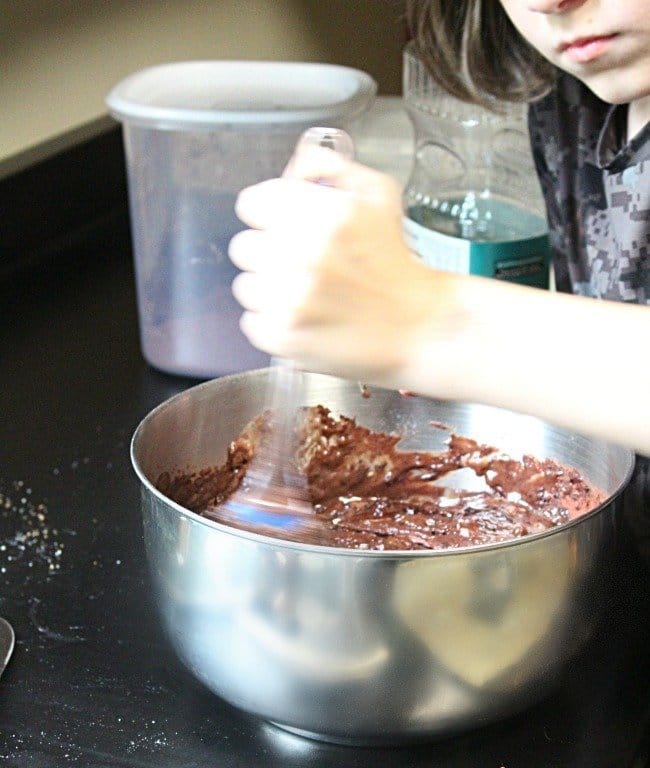 My youngest has been loving baking and sharing recipes with my readers. So much so that is now referred to "My Budding Baker" here on the site.
A little background ➝ He's 9, home schooled and would like to open his own bakery when he grows up. He is also an avid lover of any kind of cooking show. ♡
He's bakin' up some cupcakes today and frosting them with a really fun frosting.
Do You Need to Frost these with a Tye Dye Frosting?
Nope. These cupcakes are delicious right on their own, but, the frosting is totally up to you. The tye dye is fun, but, nearly any of your favorite frosting recipes will go with these. Homemade or store bought!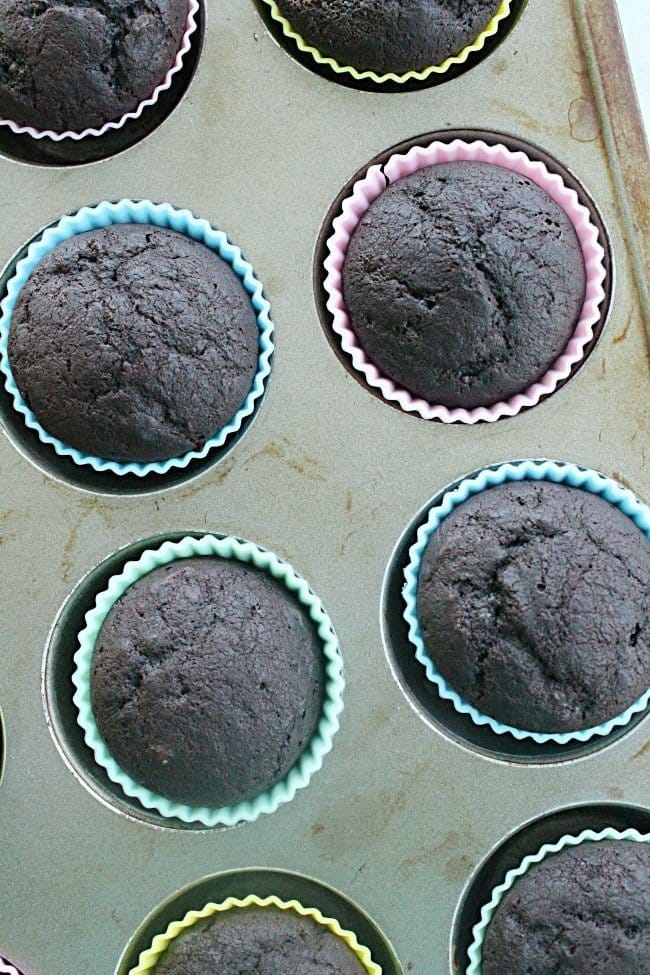 Ingredients Needed: Flour, sugar, baking soda, salt, unsweetened cocoa powder. Plus, water, canola oil, white vinegar and vanilla.
For your Cupcake supplies: A mixing bowl, a silicone/rubber spatula, a 12 cup cupcake pan and cupcake papers. Of course, you will also need measuring cups/spoons.
There is no need to bring out your big mixer for these when you make the cupcake batter. A medium size mixing bowl with a good silicone spatula will work great. Be sure to mix the batter until fully combined!
Plus, you are making 24 cupcakes. So, you will need either 2- 12 count cupcake pans or bake them in 2 batches.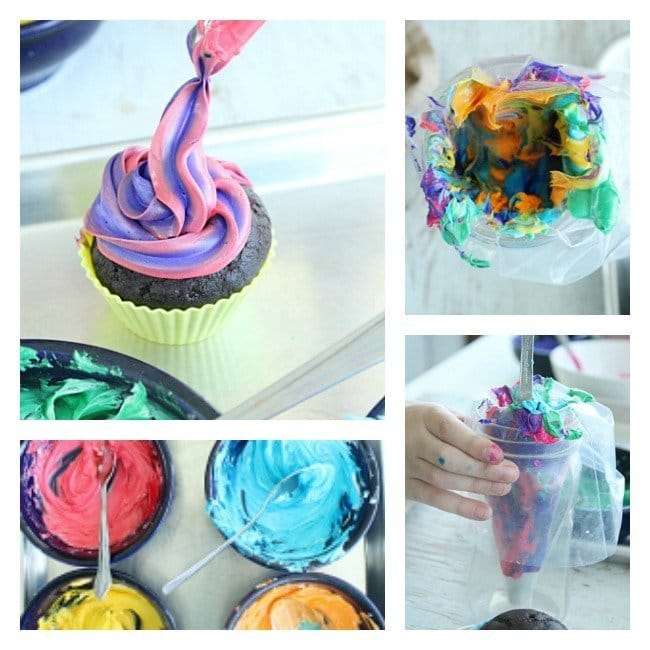 How to Make Your Tye Dye Frosting:
Insert your desired decorating type (we used a 1 M) into a piping bag. Insert the empty piping bag into a large jar or glass and pull the edges of the bag over the rim of the jar. ( see above photo)
Separate your favorite vanilla frosting into 5-6 bowls. Tint each bowl a different color food dye.
Fill the piping bag with each separate color. We used a spoon for this process.
When the bag is filled with your desired colors, remove bag from the jar/glass and pipe cupcakes as desired.
Side Notes: To make these kid friendly, we used separate bowls for our frosting and loaded the piping bag with a spoon. But, you can also use separate piping bags for each color and pipe the individual colors into the main bag.
If you don't have any piping bags on hand, you can use a plastic storage bag.
As you can see, we decorated our cupcakes with a wide variety of frostings. Have fun with them and enjoy!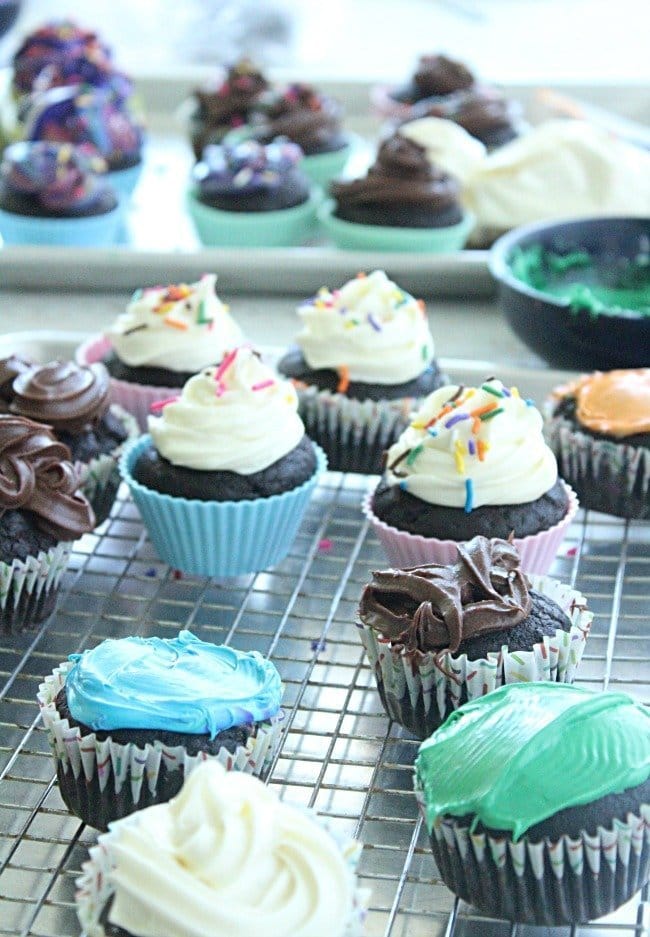 More Colorful Recipes to Enjoy: