Ooey, gooey and no baking required! Creamy peanut butter bars made with cereal and topped with chocolate.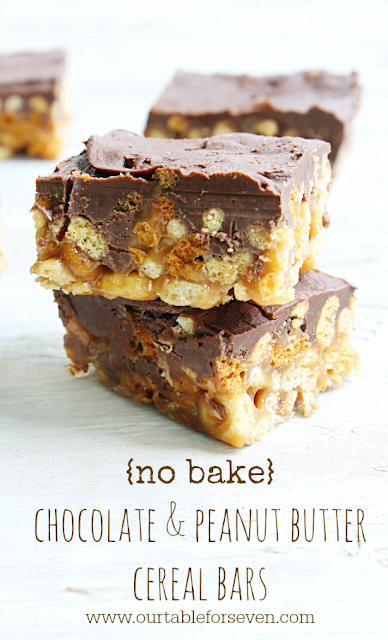 It's hot in my house.
Really hot.
Oh, and humid. That's worse than the heat.
Our new house came nicely equipped with a big, window air conditioner. Unfortunately, it was from about 1975 and broke. We had the funds to get some small units for the bedrooms and the office, but, ran out of cash when it came to replacing the big one in in the main living area.
Ugh. It sucks.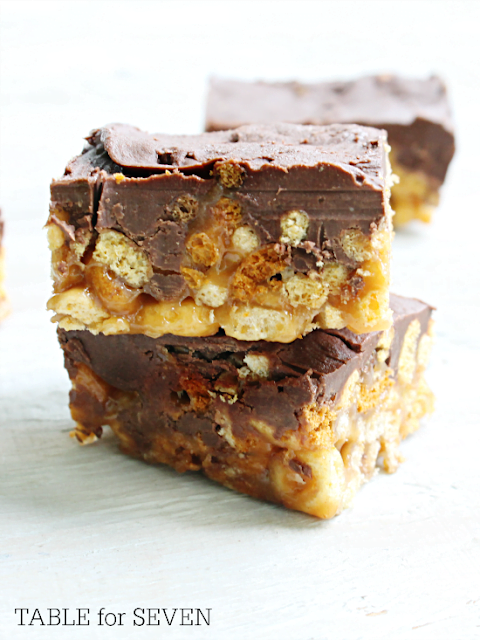 Thankfully, there is one where I'm at now. Gotta keep the computer from over heating, so, I'm typing super slow to soak in the cool air while it's possible. Please, don't tell my kids. They are itchin' to get on this thing to play some kind of maze game and I'm not cooled down nearly enough yet.
I know, that's bad. Let's blame the heat. 😉
Of course, just because, it's blazin' hot around here, doesn't mean that sweets aren't being made. That would just be crazy!
That's why I made these bars. Heat never wins over chocolate at my house.
These No Bake Chocolate and Peanut Butter Cereal Bars are gooey, chocolate-peanut butter treats that will make your forget the weather in no time.
No Baked + No oven + No additional heat in your kitchen = Wonderful.
Keep cool.