Simple, fun, no bake granola bars made with cake batter and loaded with white chocolate chips.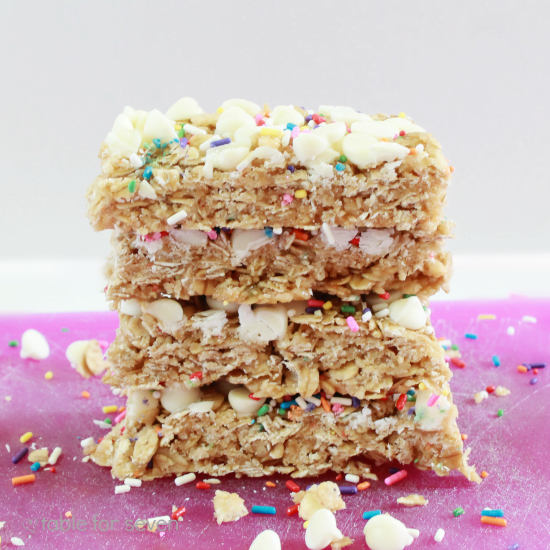 Last week, I was sharing about our pursuit into home ownership.
We had a bid accepted on a giant 100 year old house. Well, the inspection took place over the weekend. It was a little nerve racking. Apparently, our potentially new/old home has the electrical system set up of knob and tube wiring.
I know, I didn't have a clue either. What the heck? It's essentially an old method of electrical systems that runs with wires and porcelain knobs instead of cables (if you interested: Wiki). From what I've heard (translation: googled on Internet), it's not that uncommon to find an old home with this type of system still in place.
It's in good shape and has no issues, but, my weekend was spent stressing over electricians, a second inspection and possible lack of homeowners insurance all because, I'm a worry wart and believe absolutely everything I find on the Internet.
But, all turned out OK! After speaking with our inspector again, and a few brother in laws who have experience with it. Whew..this is darn stressful guys! Let's hope everything else from here on out goes smoothly. 🤞
So, what does this have to do with these granola bars?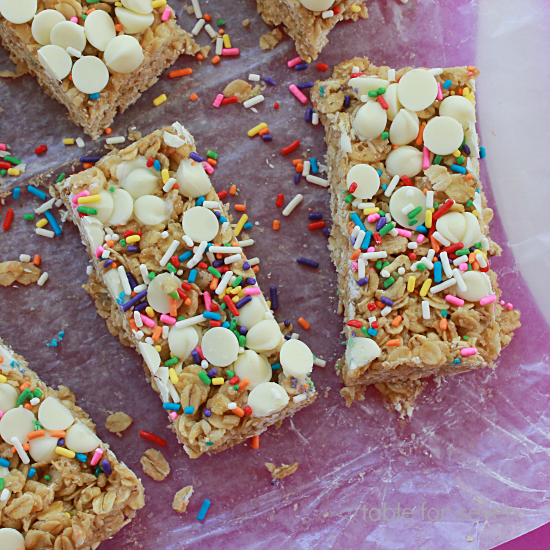 Nothing. Nada. Zip.
But, these are really, really, delicious and require zero time with your oven on. They are easy to make and are just plain fun with all the sprinkles and such.
A great snack, breakfast or dessert-