Soft white cake drenched with sweetened condensed "poked" throughout. Topped with coconut and Mounds candy bars, this taste just like the classic candy!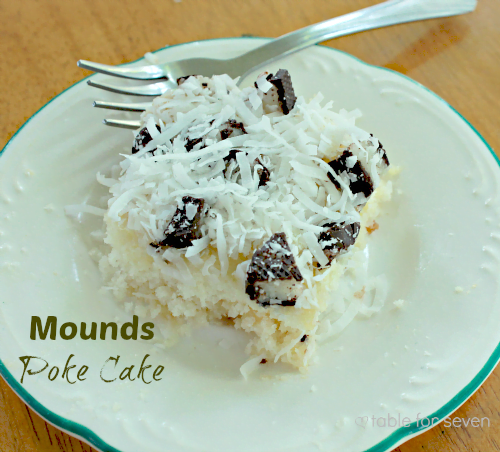 I came to the realization yesterday that is was July 4th..yes, Independence Day here in the U.S.
But, this also means that summer is racing by at a record pace. How did this happen?! In my email inbox this week, was an invitation to join the PTO at my daughter's middle school.
Ah! How did that happen?! Middle school?! Completely uncharted territory.
Oh..and my youngest will also be starting preschool. August will be interesting, everyone at school. Well, one will only be half days, but, still. All five at school.
What will I do with all this quiet time? Perhaps read a book without being interrupted, or watch whatever I desire on TV. Or just sit at the computer and eat chocolate chips without having to worry about somebody asking "why do you get to eat those!?"..the sky is the limited guys.
For now though..let's talk cake (another option for my future quiet 1/2 days!)
This is Mr Plain's cake. You see, he is very much in love with Mounds candy bars.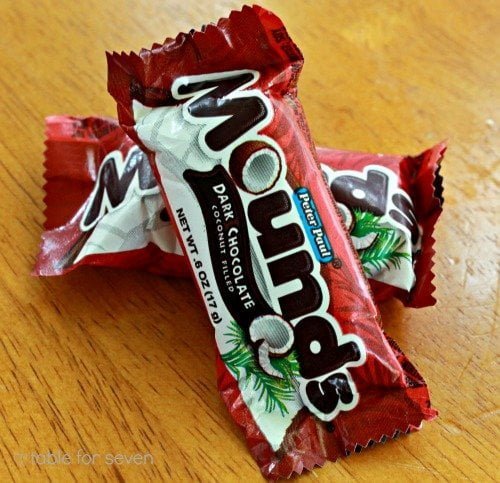 I have seen poke cakes everywhere..everyone is doing them. All the cool kids that blog are making them. How could I not make one? Especially one that my dear husband would love so much? I could not.
This lovely cake does in fact, taste like a Mounds candy bar. Chocolate, coconut and a sweetened coco nutty taste down the center.
Mr Plain tells me that it's the most delicious, fabulous, cake ever. Not that he's bias or anything. 😉
Give a try and find out for yourself-