Monte Cristo Bites! Fun, portable bites that are filled with the great taste of a Monte Cristo sandwich..ham, Swiss cheese and jelly.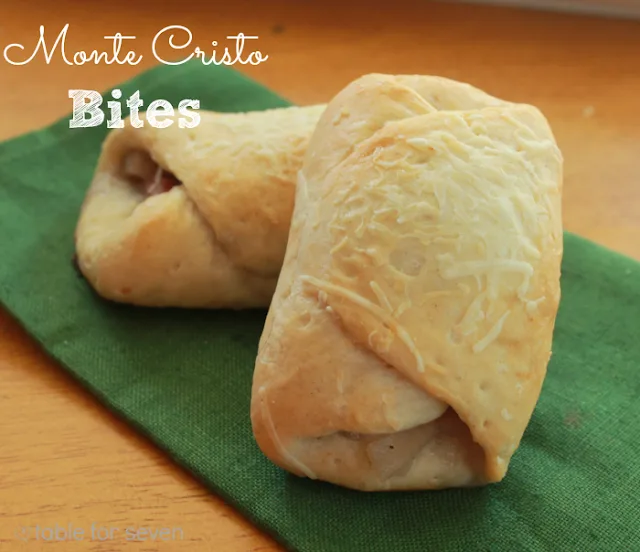 Well, it's officially school season around here. It's hard to believe. Wasn't it just May? This summer has been pretty nice. The weather has been amazing, we had a great family get-away and the the kids only mildly drove me a little batty at times. 😉
With school back into gear, it's time to think about school lunches. We are fortunate our district's lunch program is really great. I don't worry about them getting anything too unhealthy and it gives me a break from making a sack lunch every once in a while.
Every school year, I have this grand plan of making these adorable lunches for them packed with healthy fun, food. This lasts for me until October. Then, I lose steam and everyone gets a sandwich, pretzels and an apple. Not too exciting, but, it's healthy and homemade, so, I don't feel too terribly guilty.
Well..maybe just a bit.
These little bites are on my list of lunch ideas for this school year! They are quick to throw together and are have a great cheesy, sweet combination with all the ingredients of a Monte Cristo sandwich.
My plan is to make batches and freeze, so, my lunch-making routine goes off without a hitch. That's my plan, let's hope I can stick with it this year. 🙂
You can also just whip these up for dinner or they would make a great appetizer for get together.