Peanut butter, oats, chocolate chips and colorful M & M candies make up these fun cookies! The classic "monster" combination.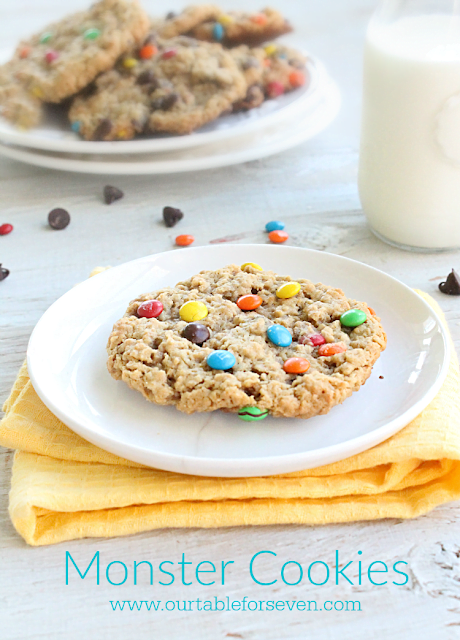 I've been wanting to make monster cookies for, um, like, forever.
Why this recipe has escaped me, is beyond me, but, I'm so glad these cookies have entered my life. They are so soft, peanut buttery and just plain delicious.
Here are some notes on this recipe:
The below recipe calls for creamy peanut butter, but, crunchy will also work.
It's not missing for the list..there is no flour required for these cookies.
Be sure your butter is softened before mixing. If it's cold, the cookies won't have a nice, soft, texture.
If you don't have an quick cooking oats, use old fashion oats instead. Just give them a quick pulse in your food processor before adding to the batter.
Guys, they are dreamy. I may or may not have eaten an excess of these and didn't feel any guilt whatsoever.
Don't tell my kids. 😉
Give these Monster Cookies a try and be sure to have a nice, cold, glass of milk to go with them!