The delightful combination of chocolate and mint make up these soft bars. Be warned – it's impossible to eat just one!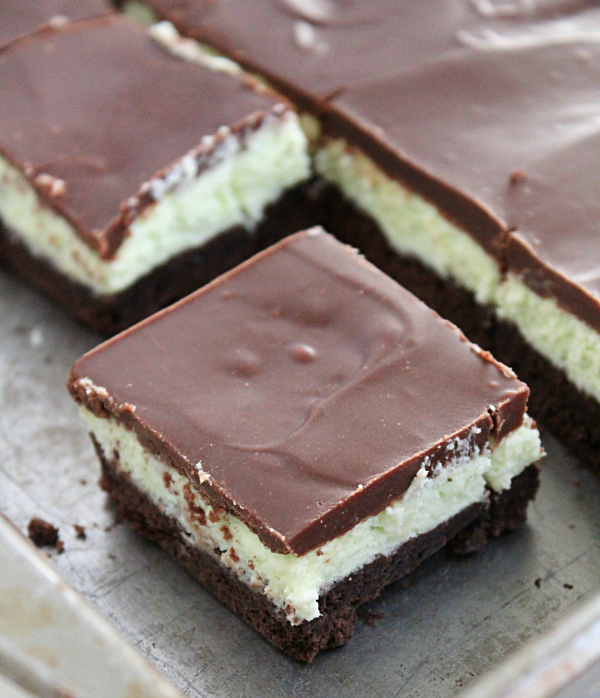 Ingredients Needed:
Chocolate cake mix
Butter
Egg
Water
Plain gelatin powder
Powdered sugar
Shortening
Mint extract
Chocolate chips
Green food coloring (optional)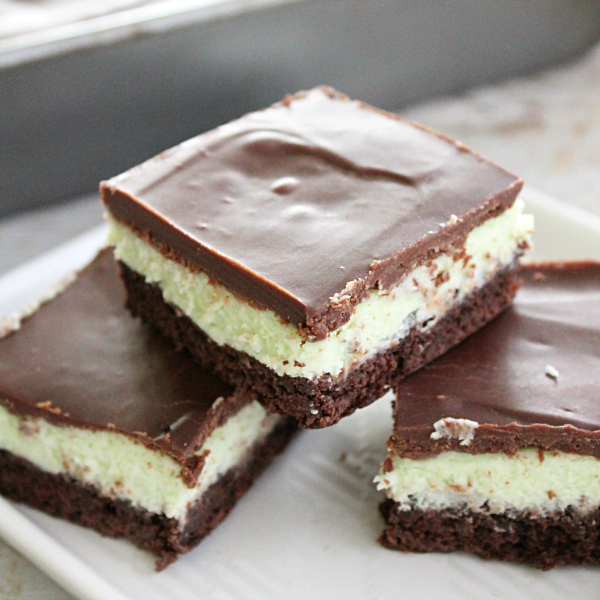 Chocolate Cake Mix: Any brand or chocolate variety will work. Just be sure to stick with a "standard" size box of cake mix. Anywhere from 15-18 oz is fine.
Plain Gelatin Powder: You can find this in the baking section of your grocery store or buy on Amazon.
Shortening: I like to use Crisco butter flavored baking sticks in my frosting. Regular shortening will also work.
Build Your Layers:
First, make your base. This starts with a basic chocolate cake mix. Just as a note, your batter is really thick for this. When spreading it in the pan, spray your tool with non stick cooking spray beforehand. This makes your life so much easier. Also, be sure to let this layer cool completely before heading to the next layer.
Your middle layer is a creamy filling and this is where your mint flavor comes in. First, you will dissolve the gelatin powder with boiling water. Once it's dissolved, you will add in your butter, shorting, powdered sugar and mint extract. If desired, you can add in a few drops of green food coloring at this point.
Spread it on top of the cooled cake mix base.
The final layer is chocolate chips melted with butter. You can do this on your stove top or in your microwave. If you chose the microwave, be sure to do this in 30 second intervals, to prevent burning.
Spread the melted chocolate on top.
Refrigeate the bars for at least 1 hour before serving to set.
Keep any leftovers in the refrigerator.
Note: These bars are pretty rich! I do recommend starting out with a small portion.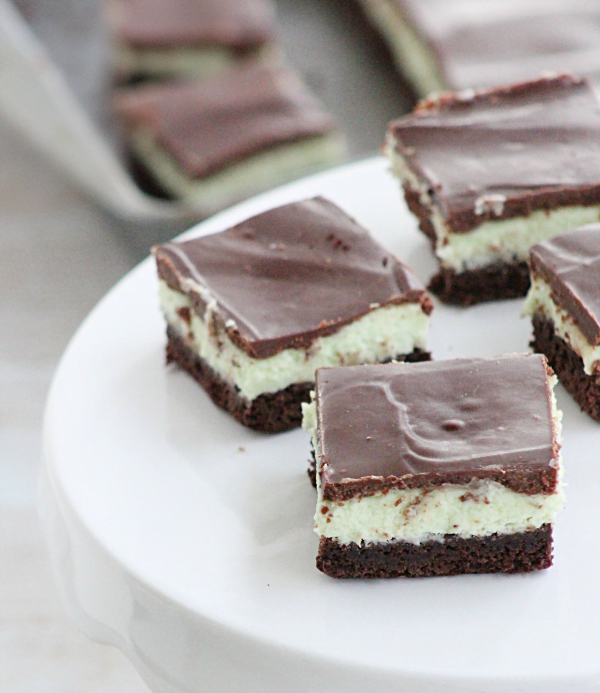 Starts with a Cake Mix: