Snaz up your boring meatloaf with bacon and cheddar cheese.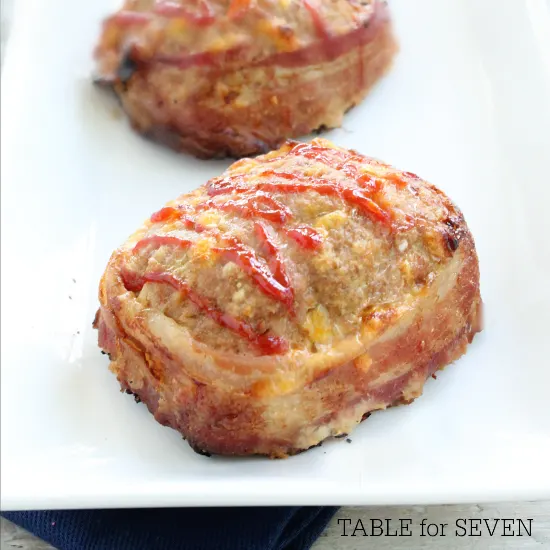 I originally shared this recipe back in 2013. It's been a family favorite ever since, but, there's been a few minor changes to the recipe. Still just as delicious, but, a a little different. Just a smidgen.
With a smidgen of a change, why not share the results, right? Smidgen are important too. 😉
Ingredients Needed:
Ground beef
Bacon
Egg
Bread crumbs
Milk
Ketchup
Cheddar cheese
Grated Parmesan cheese
Can I use turkey instead? Yes. You can use ground turkey and/or turkey bacon for this recipe. However, watch your cooking time! With turkey, your cooking time may need to be reduced.
Ketchup Hint: It's easy to make homemade.
How to Make:
First, mix your ingredients for the meatloaf. This will be all the ingredients, except the bacon. Your mixture should be firm, but, not too dry. Adjust bread crumbs/milk lightly to form mixture to your liking.
Form the meat mixture into 4 equal size mini loafs. Take a piece of bacon and wrap it around the loaf. If needed, you can use a toothpick to keep the bacon in place. Simply remove it before eating.
Drizzle the tops with additional ketchup. The amount is up to you. If you like ketchup, add a bunch, if not, add a smaller amount.
Place loaves on a prepared baking sheet and bake.
Important to Note: Baking time may vary, depending on the size/thickness of your loaves. Before eating, make sure the internal temperature is at least 160 degrees.