Creamy mashed potatoes baked in an easy casserole! Filled with cheese, sour cream and topped with bacon. A perfect side dish or even, a main dish for your next dinner.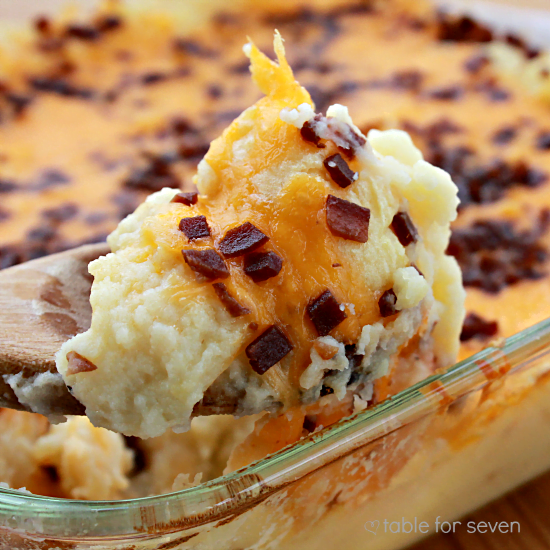 There are many recipes here on the blog that we eat pretty regularly. This just happens to one of them. This casserole was originally posted way back in 2012 and has been a family favorite ever since.
It really delicious and a snap to put together. Which is why I decided to give you guys a second look at it. 🙂
It's bacon, cheese. and potatoes..what's not to love?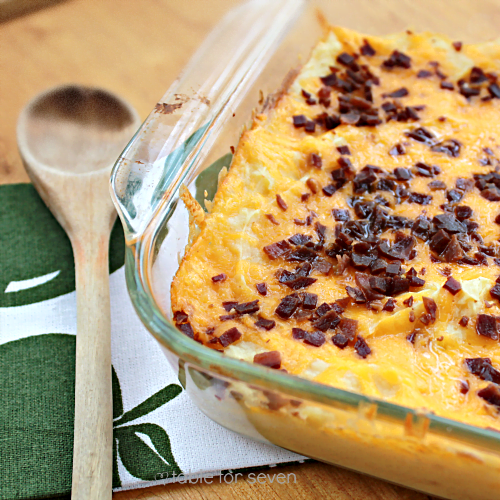 A few notes:
This dish works best when baked in a 8 x 8 baking dish. Be sure to grease the pan before adding your potatoes.
Plain Greek yogurt is a good replacement option for the sour cream. Your casserole will still be creamy, it will just have a little less fat.
Regular bacon or turkey bacon can be used in this dish. If you want to cut out a step, you can use approx 1/2 cups of pre made bacon bits for the topping.
I usually use a Yukon or Russett potatoes for this recipe. They have more starch and give you a more creamy texture when mashed.
Enjoy!