Fun cheesecake bites that require zero baking! Vanilla wafer cookies topped with a creamy cheesecake filling and maple syrup. Plus, they are topped with bacon bites for a delicious finishing touch. Add these easy Maple Bacon Cheesecake Bites to your holiday menu and watch them disappear quickly!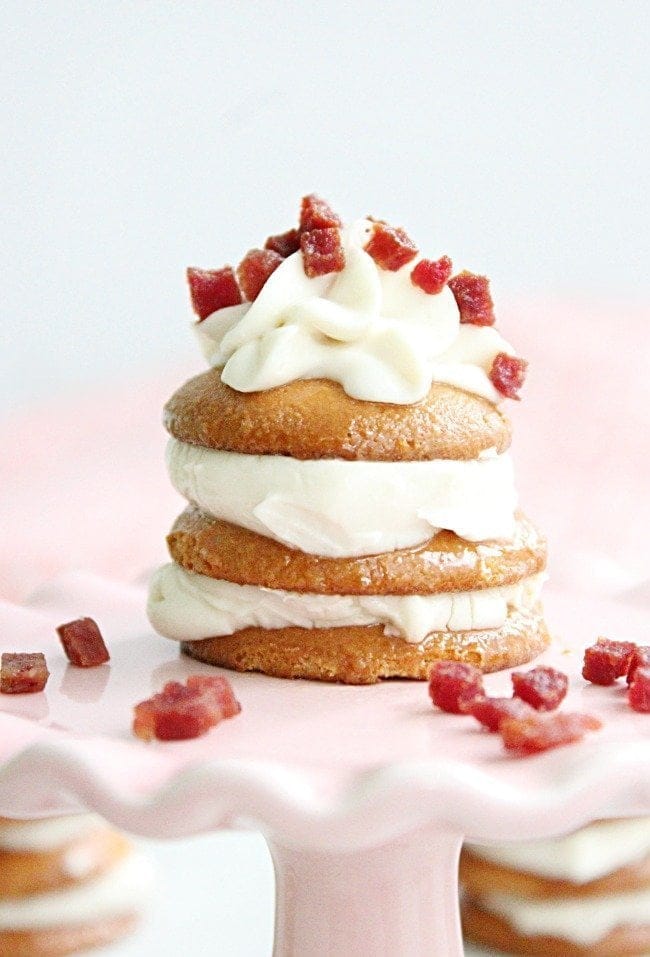 Happy Monday!
Did you have a good weekend? I sure hope you did. 👍
We are kicking off our week with these fun and amazing cheesecake bites.They require no baking and have the added bonus of maple syrup and bacon. (yum!) The creamy cheesecake filling is sandwiched in between vanilla wafers cookies. These are really easy to make, but, do require some hands on time. But, they are so worth it!
The sweet cookies goes great with the creamy filling and the bacon is the perfect finishing touch.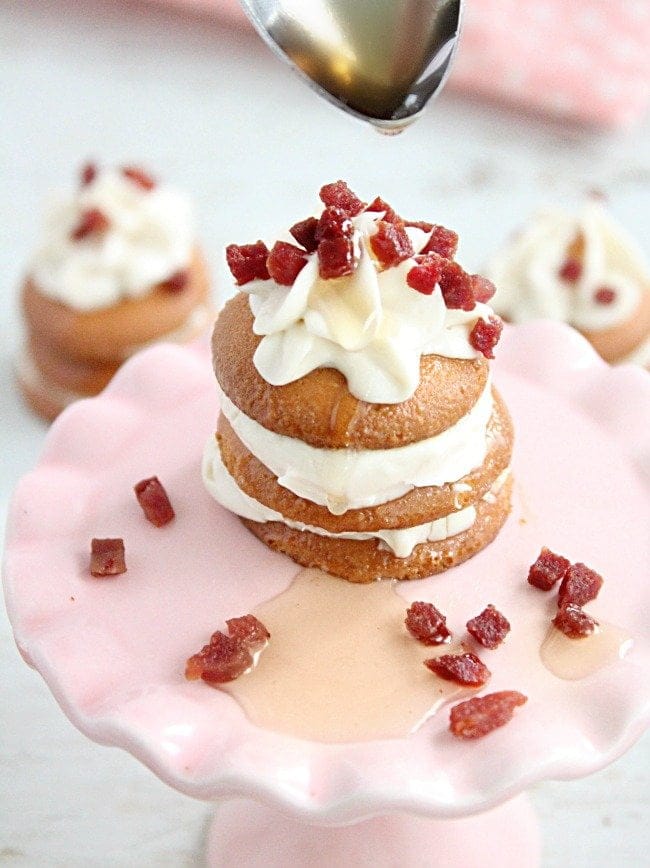 Your ingredients + supplies list:
A flat rimmed baking sheet + parchment paper.
A basting brush.
A flat knife for frosting.
A piping bag or freezer bag.
Vanilla wafer cookies.
Maple syrup.
Cream cheese.
Bacon bits.
How to Assemble Your Bites:
Line your baking sheet with parchment paper, then, place 16 cookies on the sheet. Be sure to place them flat side down.
Mix maple syrup with a bit of water. Then, brush the tops of the cookies with the mixture.
Spread top with a bit of cream cheese mixture.
Place another cookie on top.
Brush the top of that cookie with maple syrup mixture.
Spread top with cream cheese mixture.
Place final cookie on top.
Brush top of cookie with maple syrup mixture.
Pipe the amount of cream cheese frosting on top.
Sprinkle top with bacon bits.
Each bite will have 3 cookies with the tops brushed with maple syrup and the cheesecake mixture in between!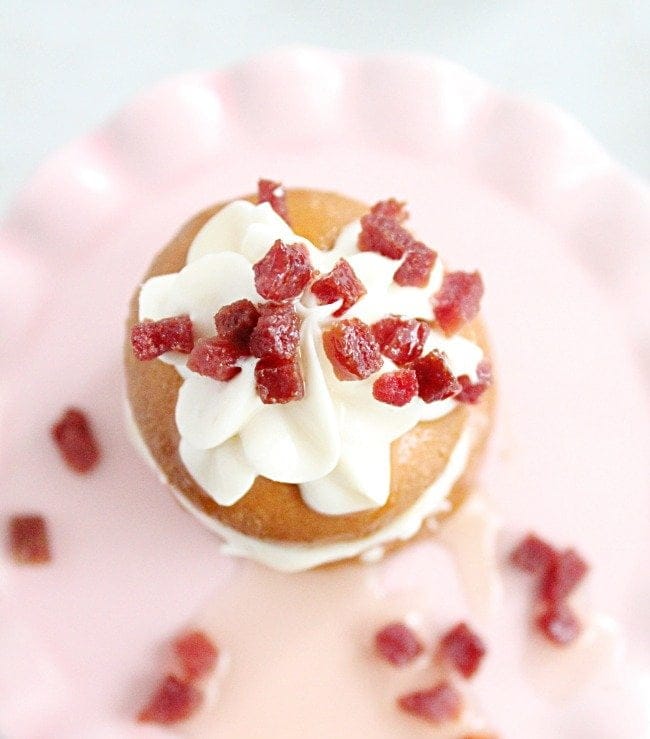 A few tips + notes:
You can substitute regular cream cheese with a 1/3 less fat version. You can also sub regular vanilla wafers with a low fat version.
Use only about a teaspoon of cream cheese mixture in between the cookies. The amounts don't have to be perfect or completely equal, but, don't use too much..it will overflow and be a bit of a mess.
I used a piping bag and 1M tip for the tops of these bites. This is optional. It does give the bites a pretty appearance, but, you can simply spread the final amount on top. You can also use a freezer bag in place of a piping bag. Check out this post for some easy instructions.
For me, the easiest way to assemble these, was to do all the cookies with the first layer, then, all with the second layer, and so, on. But, if it's easier for you to assemble each one completely, then, move on to the next, that will work too. Go with what you are comfortable with.
Enjoy!