The classic gooey bars loaded with coconut and chocolate chips.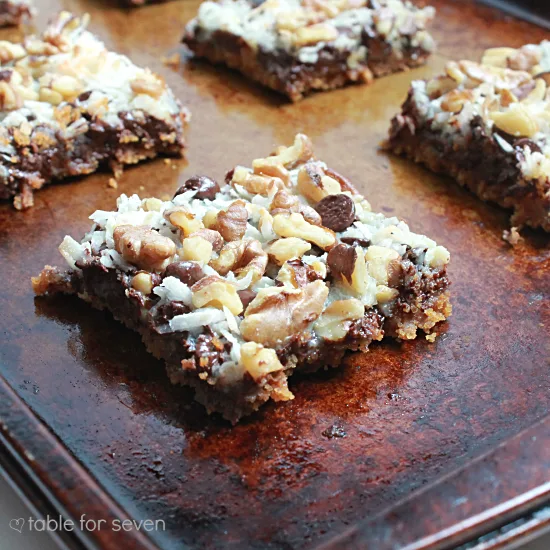 Whew..what a crazy couple of weeks it has been around here.
We finally moved into our new house (yay!). It's been quite an adjustment. Our closing date went great. However, it snowed on our moving day. That was a first for us. I will take it instead of being 100 degrees and humid though 🙂
We are busy doing some renovations. Like ripping up some serious ugly shag carpeting and there is still some pretty unpleasant looking drapery that needs to be dealt with.
Oh..and I have drop ceilings in a good portion of the house. Don't ask. We can't figure it out either.
Even with all the craziness and frustration (note: plumber has been to my house already), it feels great to be in a house that fits all of us and is totally ours. I'm sorta kinda in love with it all.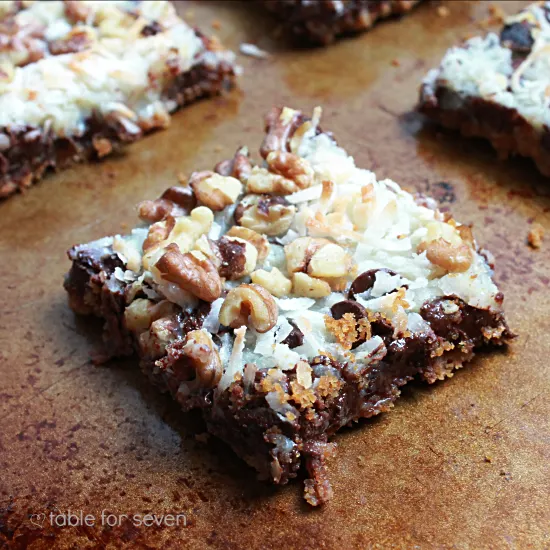 So, Thanksgiving! How was yours? Ours was great!
We spent the day with my family and ate until we could no longer consumed anything else. Pretty awesome.
My contribution to Thanksgiving was these magic cookie bars. They are a total classic, aren't they? I've been lovin' these since childhood. The sweetened milk, coconut, walnuts and chocolate?! All topped on a graham cracker crust. They are delicious and easy to throw together.
A definite must for your holiday dessert menu!