Are you looking for ways to use up leftover salmon so that you don't throw away this great fish? Salmon may be utilized in a wide variety of ways, ranging from cakes and spaghetti to dips and other spreads. Salmon is an adaptable component that may be used in the substantial (and yet another winning) dish on the following day.
I have compiled for you 17 dishes, ranging from breakfast to dinner, that use leftover salmon and will motivate you to prepare another meal.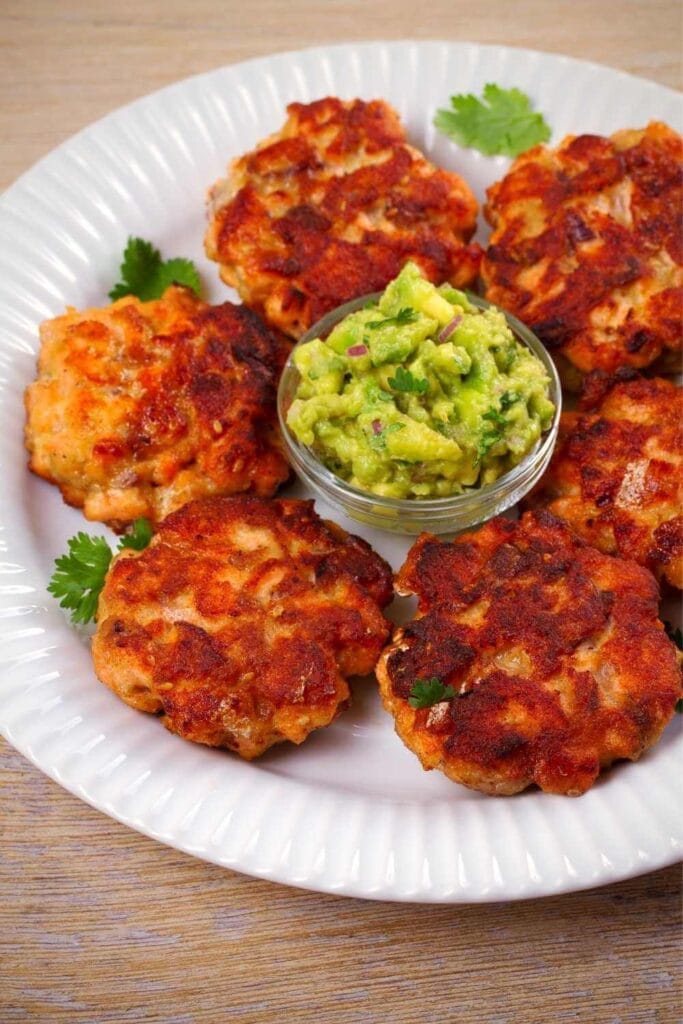 These Salmon Patties from The Pioneer Woman are a recipe that can be ready in about half an hour, requires very little effort, and does not cost too much. They have an incredibly crisp surface, a texture that is flaky and moist on the inside, and a flavor that is enhanced to its fullest potential by the utilization of fresh herbs.
This fish chowder is rich with salmon, fresh corn, and potatoes, and it has a creamy consistency. This soup is excellent, and it will fill you up well.
This Salmon Pasta with Lemon Garlic Butter Sauce starts with simple ingredients and ends up being a tasty and substantial meal that's easy to prepare for the whole family. Recipe for Quick and Easy Baked Salmon!
Salmon dip that may be created with canned salmon or salmon that has been left over from another meal. Ideal for entertaining guests or simply savoring as a tasty snack.
Have a look at this recipe for a frittata made using leftover salmon, which has lemon, salmon, and peas. It's a terrific way to use up any leftover salmon, as it's packed with protein, and it works equally well for breakfast, brunch, or a light lunch. Because salmon is one of the few types of fish that my children would eat and enjoy, whenever I see it on sale at the grocery store, I make it a point to buy a lot of it and store it in the freezer; I can then utilize it to prepare a few different meals.
Pinwheels made with smoked salmon are not only delicious but also unique and low in carbs. A wonderful method to utilize any leftover salmon, as well as additional items that are not difficult to get.
This low carb salmon salad is ideal for using up any leftover salmon, but you can also make it using canned salmon if you want. 10 minutes to make. Recipe for a quick and simple lunch that's also nutritious!!
With this recipe for Salmon Quiche, you can repurpose any leftover salmon into a whole supper! It works wonderfully for lunch or supper, and it is also a wonderful thing to bring to a brunch with the family.
Leftover salmon and rice are served in butter lettuce cups using this simple recipe for Leftover Salmon Lettuce Cups, which calls for only four ingredients. Use store-bought Teriyaki for a quick and nutritious supper dish that takes just 5 minutes to prepare, or spend just a few extra minutes to whip up our easy homemade Teriyaki sauce for a meal that is even more flavorful.
Although they may sound elegant, making salmon croquettes is actually rather simple. This recipe for salmon croquettes is a simple and delicious way to utilize any leftover salmon you may have.
This recipe for Cheesy Salmon Dip is ideal for serving at any party; you can use fresh, tinned, or leftover salmon; serve on a large platter with sliced baguette bread or crackers of your choice!
This mouthwatering one-pan Fish Fried Rice may be prepared with only a few simple ingredients, including any leftover rice, salted salmon, eggs, and scallions. A supper with plenty of taste that can be prepared in less than thirty minutes.
There is no dish that can top salmon, eggs, and dill in my opinion. Scramble up some salmon and eggs with what's left in the fridge with this recipe!
One of the best ways to repurpose grilled salmon leftovers! Serve these delightful fresh spring rolls with a spicy peanut dipping sauce. These spring rolls should not be cooked. You could make a dipping sauce by combining peanut butter, spicy chili paste, and hoisin sauce, or you could search for a more complicated recipe online. For this recipe, I used salmon that had been baked with cilantro butter, but you could just as easily use plain fish or canned salmon instead.
Take pleasure in a recipe for creamy Leftover Lemon Dill Salmon Sandwiches, which are delectable when served on speciality bread and topped with sprouts and avocado.
Found yourself with some salmon in the fridge? This straightforward Caesar salad may be made by just including some crispy croutons and a dressing made from mashed avocado. This recipe makes one serving, which is plenty for a light lunch or dinner on its own. Modify the amounts so that they can serve more people.
This delicious and easy salmon souffle with herbs is light and airy and full of flavor. The preparation is far less difficult than you may imagine, and it only need two eggs.