Are you interested in spicing things up in the kitchen with some Korean recipes? These simple meals, which range from stir-fry to ribs to tofu, bring a new and exciting element to dinner. In the past, I was under the impression that preparing Korean food required a significant amount of time and effort in the kitchen. But you wouldn't believe how simple they are to put together, would you?
Prepare your chopsticks because you're going to want more of these Korean meals after you've tried them.
Easy Korean Recipes
To prepare the Korean Beef Bowl will take twenty minutes of your time. This Korean cuisine, which is slightly sweet and slightly salty, may bring to mind the traditional Korean barbecue. Aside from the fact that it is simple to prepare, it is also inexpensive, you won't need to go out and buy any unusual materials, and there is a good chance that everything you need to make Korean bee bowl is already in your kitchen!
You can heat the Korean beef in the microwave, but it is recommended that you do so on the stove top instead. Maintain a temperature in the low to medium range to avoid drying out the meat. If you notice that the beef is becoming dry while you are cooking it, add two tablespoons of water and continue to cook it.
These Baked Korean Meatballs have a combination of sweet and spicy flavors, and they are packed with flavor. This straightforward recipe for ground beef is great for evening meals because it can be prepared in advance and requires little hands-on work. Include this recipe for ground beef in your meal planning rotation right away.
It is possible to prepare Korean Meatballs in advance and store them in the refrigerator or freezer until ready to serve.
The meal known as omurice was first created in Japan but has since spread throughout the cuisines of other Asian countries. This dish is quite well-liked in Korea, and it was the very first thing that my younger sister ever learnt to prepare in the kitchen on her own.
Stir in the ketchup as well as the Worcestershire sauce after adding them. Simmer for about one to two minutes, stirring regularly, until the mixture has thickened. Take off the heat and pour it over the omurice that has been made.
In all seriousness, when I get to the table, I immediately start shoveling food into my mouth in an extremely unladylike manner. It's as if someone were holding a pistol to my head and yelling, "I'm going to blow your brains out if you don't eat quickly!"
Bring the chicken back into the pan and coat it on all sides before continuing to cook it for another two minutes. This will allow the sauce to thicken while the chicken will get caramelized.
My initial experience with Korean cuisine was a dish called bibimbap. This simple dish does call for a few different things, but none of them are very difficult to put together. This is an excellent dish to prepare for a large group of people.
To prepare the dish for serving, divide the cooked rice among four bowls and then top each bowl with equal amounts of meat, seasoned watercress, seasoned bean sprouts, cooked carrots, kimchi, and an egg. To serve, dollop a generous amount of gochujang on top of each portion and sprinkle with toasted sesame seeds.
When I first became aware of the culinary masterpiece that is Korean food, the concept of attempting to prepare it in my own kitchen was never really something that crossed my mind. At best, it looked like a remote prospect that I could recreate the various meals that I would enjoy in the Koreatown neighborhood of New York City.
Cook for an additional three minutes after adding the onion, kimchi, and sugar to the pan. After one minute of additional cooking, stir in the gochujang.
The greatest Korean fried chicken is made with crispy coated buttermilk fried chicken that is doused in a gochujang sauce that is influenced by Korean cuisine and has a spicy kick.
As soon as the chicken is removed from the oil, the coating will have completely and firmly attached itself to the bird. However, if you wait a longer period of time before adding the sauce, you will need to be more careful when tossing the food with the sauce in order to ensure that the coating adheres completely to the food.
Assuming you already have some kimchi in your fridge, whipping up a batch of these kimchi pancakes couldn't be simpler: all you need are a few pantry staples and some kimchi.
At the very end of the pancake cooking process, turn the heat up slightly so that the pancakes can get nice and crispy.
Gyeranjjim, which translates to "very easy fluffy Korean steamed eggs," is a classic Korean side dish that you just have to try this winter. It is the perfect comfort food, can be prepared in fewer than 15 minutes, and people of all ages, including children, are going to adore it. The most exciting part?
Sprinkle with sesame seeds and top with green onion, then drizzle with toasted sesame oil.
The following is a recipe for one of the greatest and easiest banchan (side dishes), which goes very well with Korean barbecue. Because of its spicy flavor, savory flavor, acidic flavor, somewhat sweet flavor, and crisp, refreshing texture, Spicy Cucumber Salad is the perfect accompaniment to any meal.
This recipe is adaptable to work with cucumbers of any variety. Cucumbers with a thinner skin, such as Persian Cucumbers, English Cucumbers, or Kirby Cucumbers, are recommended for use in recipes calling for crunch and texture.
Healthy Korean Recipes
One of our favorite quick and easy Korean dishes to have on hand is this bibimbap with ground beef. You are free to alter the recipe to suit your tastes and preferences, as it is quite adaptable. The use of ground beef simplifies the preparation of this bibimbap dish. There's no need to marinate it, yet the flavor is still quite nice!
If there are any leftovers from your bowl of bibimbap, you should wait for them to become completely cool before wrapping them in plastic wrap or transferring them to a container that is airtight. When stored in the refrigerator, it will keep for about three days.
During the winter months, when my own homemade kimchi has been fermenting for about two weeks, one of my favorite ways to start the day is with kimchi fried rice. The kimchi juice makes the fried rice incredibly simple and delicious to prepare. I cook kimchi every winter, as I've indicated in a previous sentence. After seven days of fermentation, my kimchi is ready to be served as a cold side dish. After two weeks, it is ready to be used in kimchi fried rice or a straightforward kimchi stew.
Chicken noodle soup is without a doubt the most comforting dish in the entire world, and each of the nations of Asia has their unique take on this classic dish. To answer your question, sure, I will be posting a Korean version of chicken noodle soup today!
Place in a bowl that may be used for serving. Cut the fried chicken into bite-sized pieces and arrange them in a decorative pattern on top of the noodle soup. Add some chopped green onions and some freshly ground black pepper as a garnish. As soon as possible, serve with some kimchi or geotjeori, which is fresh kimchi! Enjoy!
Tofu seasoned with chili powder, garlic, soy sauce, sugar, and sesame oil is cooked in a traditional Korean style dish called Spicy Korean Tofu. This banchan, which translates to side dish in Korean, is both nutritious and tasty.
Place on a serving plate and sprinkle the top with the scallion chiffonade. Prepared at room temperature and served.
Kimchi is a popular Korean side dish that can be eaten with main courses or added to other foods for additional taste. It is said to be beneficial for gut health and digestion, and it has a spicy, salty, and somewhat sweet flavor.
In Korean society, kimchi is regarded as a "superfood" due to the fact that it helps maintain healthy gut bacteria and facilitates digestion.
To make the most delectable batch of eggs ever, try your hand at these Mayak eggs, which only require a few simple ingredients. These jammy and soft eggs are prepared by soaking them overnight in a delightful marinade, which results in a magnificent explosion of flavor with each bite. Using this simple and fast method, you may make your own batch right away.
When you are ready to serve, lay the egg on top of a bed of rice, and then garnish it with green onion, seaweed flakes, and/or sesame oil, whichever you choose. These eggs are delicious on their own, but they also make a great garnish for a bowl of noodles. Enjoy!
Give this recipe for Keto spinach salad a try. One of the fundamental spinach salads eaten as a side dish in Korea, the Korean Spinach Salad is regularly included in a Korean meal's course spread (like Chapchae, Kimbap, Bibimbap, or this Asian bowl). Before they are served, the seeds are always toasted to bring forth their full flavor.
You can adjust the amount of salt to your taste. Include spinach and well combine.
Egg Dumpling. We hope you like this new morning banchan that we are bringing to you today (can I get a woot-woot?!)
Make a mental note to increase the size of the dumplings if you discover that folding the smaller ones is difficult. Make use of a soup ladle to fill it up to three-quarters of the way! Have a good time and don't forget to smile while you're cooking!
My mother makes one of my all-time favorite meals, and I've never been able to find anything else that even comes close to it anywhere else… There is no such thing as Korean spicy tuna like this anywhere, not even in Korean restaurants. Not even in Korea.
You can accompany this tuna meal with warm cooked rice, fried eggs, kimchi, and any other side dishes that you and your guests would like sharing together. But in my perspective, it doesn't require a whole lot of different kinds of side dishes! Enjoy!
With this straightforward recipe for kimchi stew with pork and tofu, you can bring the latest trend in Korean dramas directly into your own kitchen. Rich and full of taste, this traditional Korean cuisine is also known as kimchi jjigae. It is a dish that is quite popular in Korea. A single cup of soup that is all at once salty, sour, sweet, and spicy!
Add one additional teaspoon of gochujang and one teaspoon of chili flakes for a higher level of spice.
Vegan Korean Recipes
When I was younger, Gamja Jorim, also known as Korean Braised Potatoes, was one of my all-time favorite banchan, or Korean side dishes. Among all of the banchan and side dishes, these are the ones that I look forward to eating the most. They are actually my favorite dish to this day.
These potatoes can be stored in the refrigerator, but they taste the best when they are served hot from the oven.
These vegan Korean corn dogs are made with mozzarella and/or hot dogs that have been coated in a thick batter and panko before being deep-fried and sprinkled with sugar. Making them is both simple and enjoyable.
This recipe makes enough batter for six corn dogs, so you can either make six corn dogs topped with mozzarella, six corn dogs topped with hot dogs, or a mix of both! I like to prepare two with just mozzarella, two with just hot dogs, and two with a combination of mozzarella and hot dogs.
Rabokki Is My Most Popular Recipe. Rabboki is, without a doubt, the recipe that has gained the most attention from my followers on Instagram. I have no idea what it is about the combination of the chewy spicy rice cakes and the ramen noodles that people find so irresistible, but they do! Someone once relayed to me that when they were perusing the aisles of a Korean supermarket, they came across a.
Instead of using fresh shitake mushrooms, try using dried ones instead. Dried shitake mushrooms contain a lot more flavor and can easily be reconstituted by adding one cup of filtered water to the package. The water can then be saved for later use as a base for a soup.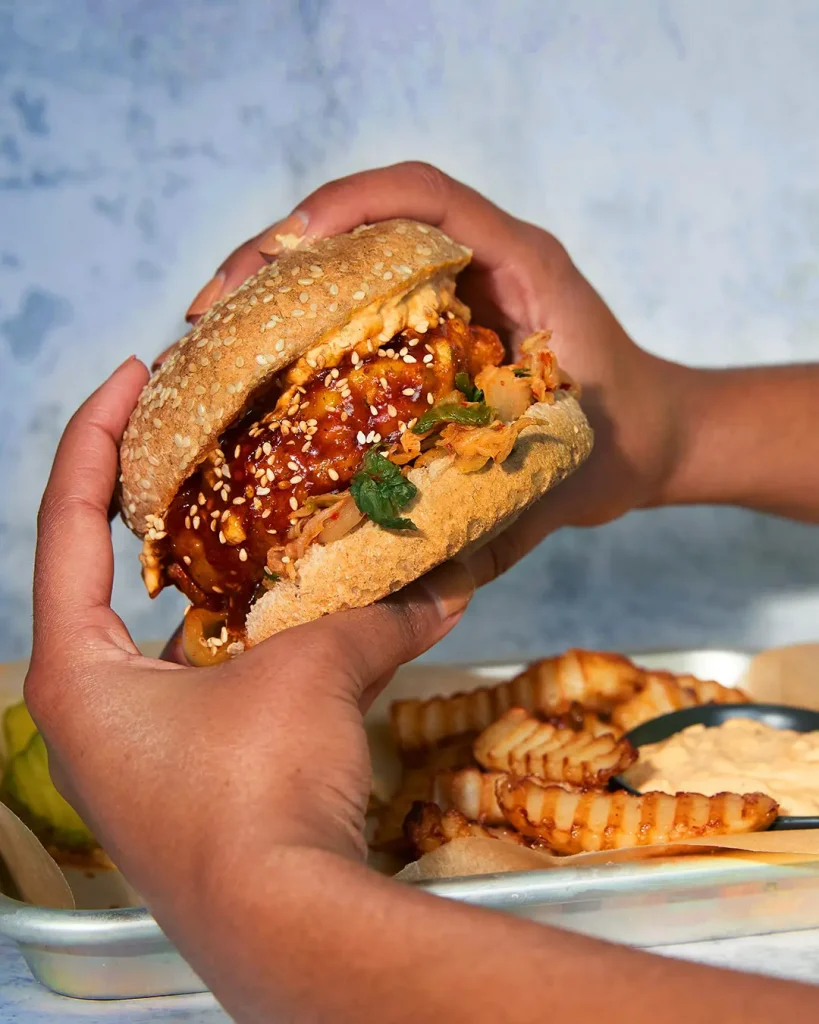 To make "Chicken" Fried With Tofu, first freeze the tofu blocks for at least 12 hours. After being frozen solid, allow the blocks to thaw at room temperature for a few hours. Use either two flat surfaces or a tofu press to squeeze the liquid out of the block of tofu. Check to see that all of the liquid has been removed completely.
As soon as possible, serve with French fries and additional vegan kimchi mayonnaise on the side.
This meal is traditionally made with pork, but this vegan version creates a complex and flavorful sauce with the help of dried porcini mushrooms, cubes of kabocha squash, and a splash of red wine.
Despite the fact that it is typically produced using small diced cubes of pork, when it is made in large quantities, ground pork can be substituted for the traditional method with equal ease and at a lower cost.
Korean Drinks Recipes
The drink known as sujeonggwa can be described as similar to a ginger cinnamon tea, although it is often consumed chilled and in the form of a dessert. Having said that, the most important things for you to take away from this are that it is simple, has a somewhat sweet flavor, and is wonderful. In addition, it seems like it would put an end to any cold in its tracks!
The amount of sugar that is contained in this is the standard amount; however, due to the fact that I do not have a particularly sweet tooth, I believe that it would be OK with a little less sugar.
Milk, fresh strawberries, and homemade strawberry jam are the three components that go into making this homemade strawberry milk with a Korean twist. This easy drink prepared in the style of a cafe in Korea is equally refreshing, sweet, and tasty!
Blend the strawberry syrup and the milk together very well. For the creamiest and most intensely strawberry flavor, ensure that the strawberry sauce is thoroughly combined with the milk.
Discover the well-known Korean banana milk and easily recreate it in your own kitchen by following my recipe for banana milk.
Honey can be used in place of maple syrup, but personally, I found that the end result was better when I used maple syrup. In my opinion, this results in a texture that is more smooth and a flavor that is lighter and sweeter.
The sweet and refreshing watermelon punch is a traditional summertime treat and drink in Korea. It's not heavy, and it's going to make you feel much better after drinking it.
Put the watermelon and the other fruit you want to include in the punch into a bowl of about medium size. Include the beverage foundation of your choosing. Serve with some fresh mint leaves sprinkled on top before eating.
If you take a look over the recipe archive that we have here on CoffeeSphere, you'll see that I'm continually coming up with new ways to spice up a standard cup of coffee with other beverages.To make an iced version, fill a glass with ice and then add espresso and banana milk. Leave out the ice for a version that's nice and toasty.
Because of its homey and subtle flavor profile, this Sweet Potato Latte is the perfect beverage to enjoy when the weather outside is frightful. This latte, with its silky smooth texture and widespread popularity in Korean cafes, is an absolute necessity for me to indulge in during the colder months of the year.
If you would rather have your latte served over ice, simply skip step 2 and pour it into a cup filled with ice. This beverage can also be prepared in advance and then heated just before being served.
This recipe for mango iced matcha latte is great for those individuals who like tea in the morning over coffee because of its delicious flavor. Because of the stunning layering on this cocktail, it almost seems like a waste to combine all of the components into one.
Repeat the matcha mixing step, then pour it on top of the milk layer. The topping consists of frozen mangoes and mint.
Dalgona coffee is a whipped foam coffee that can be created with just three simple ingredients and three straightforward procedures. You can consume it either warm or cold.
The whipped topping can be kept fresh in the refrigerator for one more day if it is sealed in a cup and a zip-top bag. Even if there will be a tiny separation (of the liquid), you can still use it.