Tender chicken drenched in your favorite bbq sauce that is made right in your instant pot. Serve this on sandwiches, with a side of pasta/rice or all by itself. It's delicious no matter what.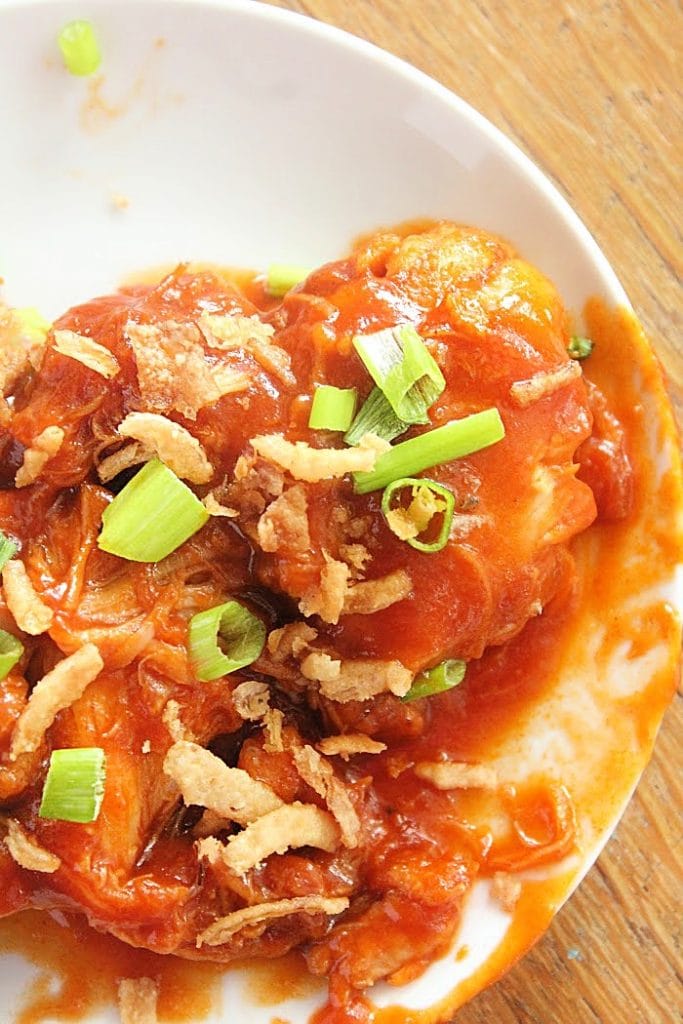 This is sorta ugly and sorta messy. I had a tough time taking pictures of it. But, it's crazy easy and crazy delicious, so, I decided to share it.
In the words of my 11 year old "it doesn't matter how it looks, it matter how it tastes". In this case, I agree with him. However, that still won't change my mind about brussels sprouts 🙂
Ingredients Needed:
Boneless chicken thighs
BBQ Sauce
Water
Salt/Pepper
Can I Use Chicken Breasts? Yes. However, your cooking time may have to be increased. Chicken breasts are thicker/larger than (usually) the thighs and require longer cooking times.
What Kind of BBQ Sauce can I Use?
To stick with the consistency of the recipe, I recommend using a ketchup based sauce, as opposed to a vinegar based sauce. However, if you do try a vinegar based sauce, please let me know how it works out!
I used my homemade Honey BBQ Sauce for this dish and it worked perfectly. Go with your favorite homemade or bottled version…your choice!
How to Make:
First, whisk 1/2 of the bbq sauce with water. Then, add the chicken to the pot and pour the mixture on top.
Close the lid and cook on high pressure. Do a natural release for 5 minutes, then, a quick release.
Next, remove the chicken from the post and whisk in the remaining bbq sauce. Press the saute function and let it simmer for a few minutes until thick.
Then, place the chicken back into the pot and coat it well with all the sauce.
How to Serve:
With a side of pasta/rice.
On sandwiches.
In your favorite mac and cheese.
Make quesadillas with it.
Serve it wrap in a tortilla with cheddar cheese and spinach.
Toss it in a salad
Eat it right out of the bowl.
The possibilities are endless!