Soft, chocolate cookies with melted chocolate and a gooey marshmallow! A chocolate lovers dream.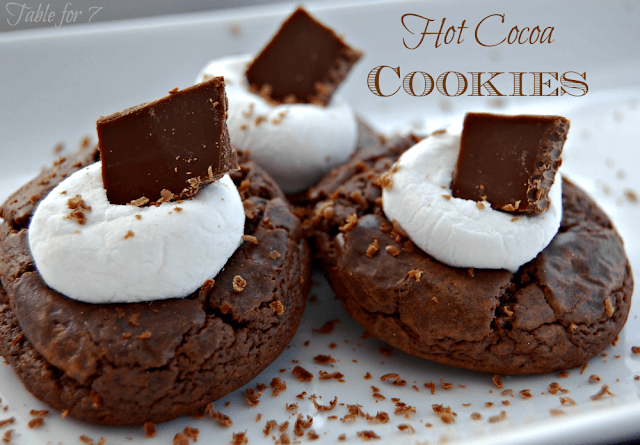 It's weird. We got snow this week.
Alot of snow. We haven't had a decent (over 1-2 inches) since the winter before last. It's so pretty looking and a bit annoying at the same time. #YesImWeird
But, we will muddled through. These cookies shall help out immensely!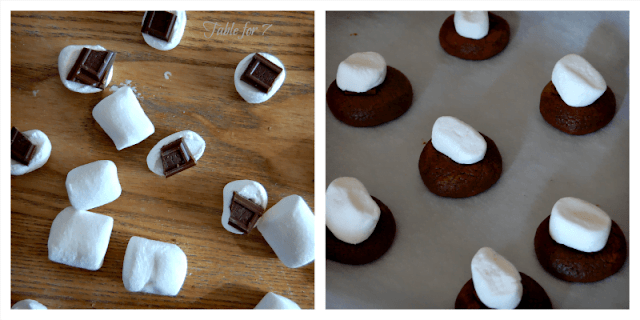 Our Breakdown:
The cookie dough is a chocolate overload! It's loaded with cocoa powder and melted chocolate. Once you've made this amazing dough..refrigerate it for an hour. This will firm the dough and make it easier to work with.
While the dough is refrigerating, cut a large marshmallow in half and break a chocolate candy bar into 1 inch pieces.
Stick the 1 inch candy bar piece onto the sticky part of the halved marshmallow. Repeat with the remaining marshmallow and candy pieces.
When the dough is ready, form it into 1 inch balls, place on baking sheet, then, bake.
You will only bake for 7-8 minutes, then, remove them from the oven.
Carefully, place the cut marshmallows/candy bars on top of the cookie…candy bar side down.
Bake only for another 3-4 minutes. You just want the marshmallow to get soft and a bit puffy.
Cool completely (they are hot!) before serving.
Chocolate. Marshmallow. Melted chocolate. ➡️ AMAZING.