Skip the boxed version! Make these popular pastry at home. They will save you money and are totally adaptable to your favorite flavor.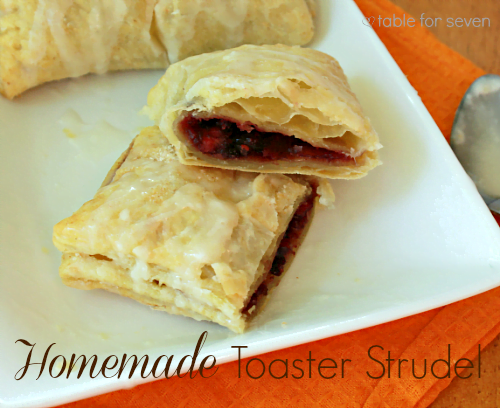 First off..to avoid any confusion, these have nothing to do with your toaster.
You don't cook them in your toaster or even re-heat them in your toaster. They are essentially a homemade version of those breakfast pastries that you see in the freezer section at the grocery store.
You know the ones. 😉
We used to eat them all the time. My children loved all various flavors of them. We gave them up. Actually, too clarify, I stopped buying them. Kids were a bit devastated.
They are good, but, why does everything have to be filled with food dye? Why? Why?! It's everywhere. So very exhausting and frustrating.
Food dye is something to be avoided around here. My kids get nutty and hyper after consuming it. I kid you not. The other reason is the price..they aren't cheap. Especially when you have to buy a larger quantity than the norm like we do.
These two factors and my daughter's just a bit-overly-dramatic sad face every time we passed them in store were enough for me to give them a try homemade.
Actually, semi-homemade. You can make the dough by hand, but, that's a huge task, so, I opted for frozen puff pastry.
These are great to make ahead and toss in the freezer, then, warm up when you want one. With school starting soon, these will be a must!
My advice..eat them warm. Yummy.