Fun pastries that are easier than buying the boxed version! All you need is your favorite pie crust and your imagination.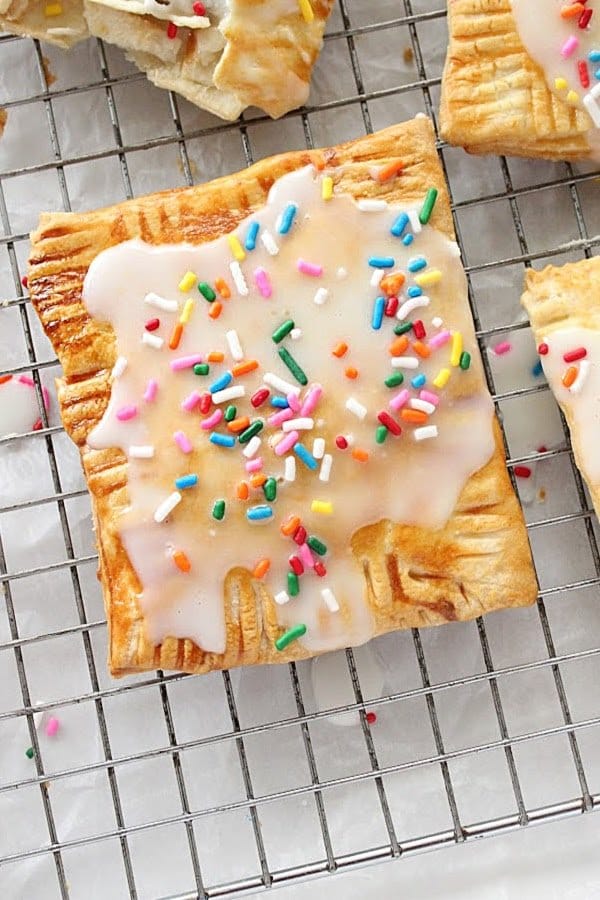 Ingredients Needed:
Ready made pie crust
Egg wash
Powdered sugar
Milk
Pie Crust: You have two options- -store bought or homemade. If you wish to make your favorite pie crust recipe, that will work. Of course, grabbing a box of the pre made refrigerator stuff is just fine too. Whichever option you chose, you will need enough dough for 2- 9 inch pie crusts.
Egg Wash: Simply whisk an egg in a small bowl with about a tablespoon of water.
What About Filling?
Your filling options are totally up to you. Ours are usually filled with a chocolate spread ( ex: Nutella) , peanut butter or jelly. Whichever you choose, you will need about a cup.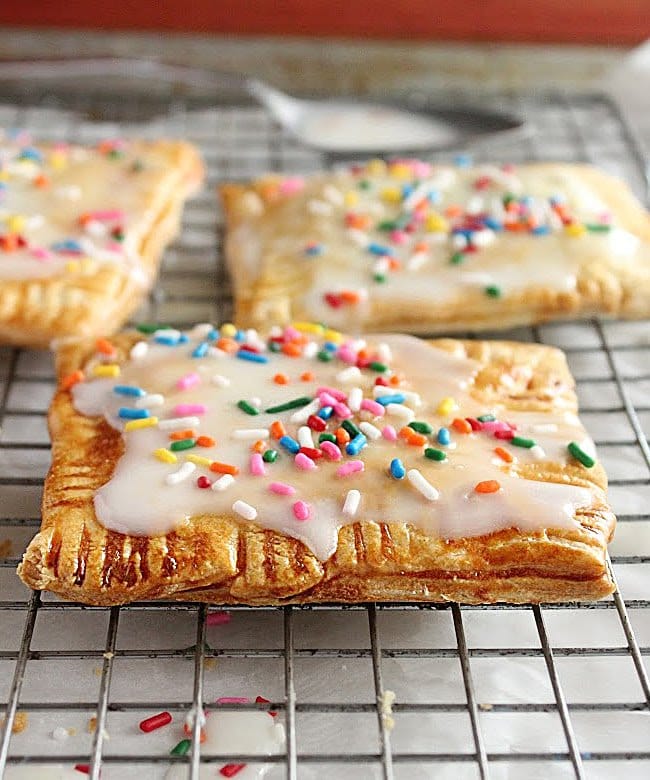 How to Make + A Few Notes:
First, roll your dough out. Then, with a pizza cutter, cut off the edges to create a large square.
With the same pizza cutter, cut the square into 4 equal size squares.
In one empty square, spread about a tablespoon of your filling. Leave about 1/2 inch of border around the filling.
Brush the edges with your egg wash.
Then, top with an unfilled square. With a fork, crimp the edges of the dough to seal it up. Brush the top with egg wash.
Cook your pop tart:
In the Air Fryer: Spray basket of air fryer with non stick cooking spray. Working in batches, cook pastries at 350 degrees for 8-10 minutes. Let each pastry sit in air fryer basket for just a few minutes to cool. Then, remove completely and cool on a wire rack for 30 minutes.
In the Oven: Bake 7 – 8 minutes or until slightly brown.
Whisk the icing ingredients together and spread on the top of the cooled pop tarts. If desired, top with sprinkles before serving.
Can I Make Smaller/Larger Pop Tarts? Yes. If desired, you can slice your pie crust dough into any size squares you wish. Just remember to adjust your cooking time.
Cooking Time for the Air Fryer: Your cooking time may vary, depending on your air fryer and the size of your pop tarts. Cook until they are golden brown.
Storage: Keep any leftover pop tarts in a covered container. If desired, you can also freeze these. Store them in a covered freezer safe container/storage bag. They will be good for a couple of months. Reheat them in your toaster oven/toaster.