Homemade Chocolate Pudding is creamy and chocolaty! Making a batch of homemade chocolate pudding is simple and much better than the store bought version.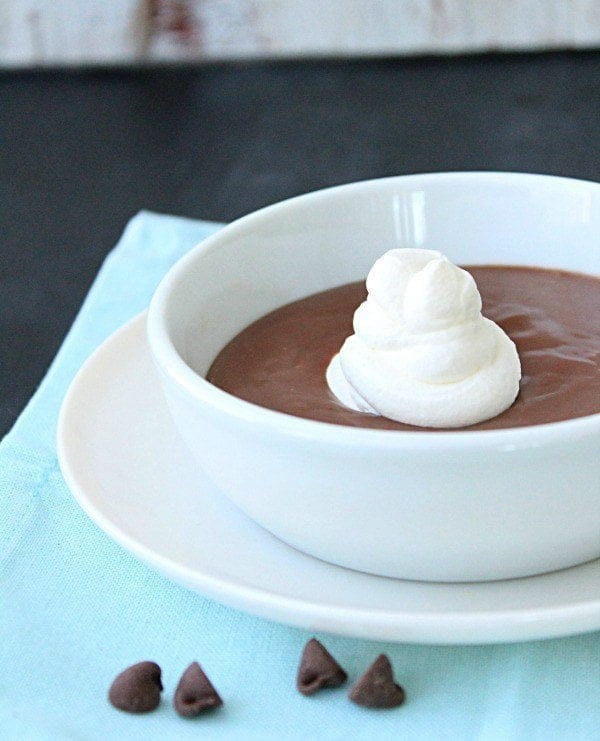 Guys, I ♡ this pudding.
I know, it's just pudding. Nothing too exciting . Except, that's totally wrong! It's really exciting.
ave you ever made your own homemade chocolate pudding? No, not from a box with the dry powdery mixture in it. Real,creamy chocolate pudding made with real chocolate, real cream and real milk. Then, served warm with whipped cream. Oh..yum.
If you haven't, you are missing out!
This is a recipe that has been in my possession for years. I think it came from my mom? She made homemade chocolate pudding for us all the time. Yes, it was awesome. However, I could be wrong. It's been such a long time since I acquired it, it's origin escapes me.
Wherever it came from, it's good stuff and we love it around here. Especially, having it warm during the winter when it's extra chilly outside.
The important things to remember with this recipe are:
Keep a close eye on it. It will burn quickly.
Don't turn your heat up too high.
Whisk, whisk, whisk..keep whisking to prevent, again, burning.
Serve this Homemade Chocolate Pudding with a dollop of homemade whipped cream for an even better treat.
Enjoy!