This recipe for a classic Head Cheese Sandwich includes details on sourcing the right meats and using common pantry ingredients to get great results.
If you have any comments or suggestions about this Head Cheese Sandwich dish, please feel free to post them below, and we will respond as quickly as possible.
What Is Head Cheese?
In spite of its name, head cheese does not actually contain any cheese at all. It is basically meat that has been gelatinized and can be created from the head of a calf or a hog, and occasionally the head of a cow or sheep. In addition, the trimmings from the jowls and tongue, and even the heart or feet on occasion, are used in the preparation of this delicacy. The fun does not end there.
Head cheese is prepared in the shape of a sausage and is often served sliced and chilled. Alternately, you may make a terrine out of it by preparing it in a pan or a mold. Take into account that it has been cooled so that the gelatin won't melt as a result of the heat.
What Is Head Cheese Sandwich?
The Head Cheese Sandwich is a Vietnamese dish that has an unusual-sounding mix of ingredients. It consists of crusty bread rolls that include pate, mayonnaise, head cheese, pickled vegetables, green onion, coriander or cilantro, a huge whack of fresh chilies, and a drizzle of spice.
It has the flavor of a decadent ham sandwich with a hint of the crispness that comes from Asia. It's a thrill of flavors and sensations that's garnered a cult following all over the world. It's like nothing else out there.
What Is In Head Cheese?
There are several distinct types of head cheese, each of which is crafted using a unique combination of components. The following is a selection of the more well-known recipes:
Regular head cheese – utilizes pork head flesh as well as jowls, skin, snout, feet, and gelatin.
Tongue head cheese – constructed primarily of the tongue, then cured with salt and nitrite to achieve a pink color.
Blood head cheese – Blood is used to make darker-colored head cheese.
Sulz – an original European cuisine common in Eastern Europe that employs bone-in pig's feet in aspic.
Souse – The term is claimed to be derived from the fact that head cheese is produced with vinegar in Australia.
Ingredients can also differ depending on culture and geography. In Louisiana, for example, head cheese is spiced with both vinegar and spicy sauce. The Pennsylvania Dutch, on the other hand, will include pig's feet, vinegar, and tongue.
Where Can I Buy Head Cheese?
It's possible that you're wondering to yourself at this point, "If head cheese is so wonderful, why don't I hear of more people eating it?" When compared to other types of meat, such as hotdogs or sausages, which are very inexpensive to produce and purchase, it can be quite costly because of the manufacturing process that goes into it.
European delicatessens that serve customers from Central Europe, Eastern Europe, and Italy are the type of establishments in which you will have the highest chance of locating it.
Best Sauces For Head Cheese Sandwich?
Honey mustard mayo
Pesto
Chipotle mayonnaise
Spicy avocado
Cream cheese and chive
Jam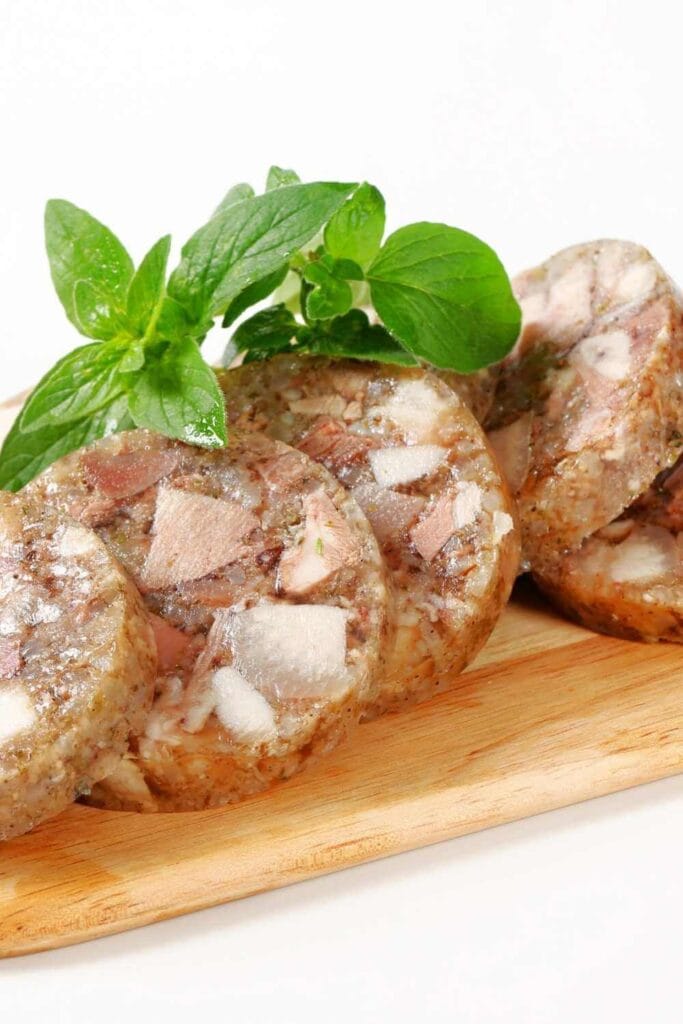 Head Cheese Sandwich Ingredients
8 slices of potato or white bread of your choice (I use Captain John Derst's, but it's only found in a few Southern states)
Mayonnaise (Duke's is the preferred brand)
Spicy or Dijon mustard
1 lb hog's head cheese, sliced into four thick slices (I prefer homemade, but Neese's souse is a good option as well)
4 slices of fresh tomato
Salt & pepper
4 leaves of crisp, crunchy lettuce, like romaine
Sandwich pickles or pickle spears on the side
How To Make Head Cheese Sandwich
Toast your bread and spread mayonnaise and mustard on one side.
Add hog's head cheese and tomatoes, lightly salting and peppering the tomatoes.
Add lettuce and pickles, then dig in!
Different Types Of Head Cheese Sandwich Fillings:
In this Head Cheese Sandwich, you may really utilize a wide range of fillings; however, the ones that are the most well-known and that I'm going to share with you today are as follows:
Smashed pork meatballs – extremely well-liked and one of my personal favorites. The gentle poaching method, as opposed to the more traditional method of pan-frying, results in the world's most tender meatballs. Extremely well-liked by those individuals who have a healthy amount of skepticism regarding the Vietnamese cold cuts!
Shredded chicken – is quite common in Australia, particularly in areas with a mostly white population (such as the Northern Beaches in Sydney, which is where I call home…).
What To Serve With Head Cheese Sandwich?
French Fries
Veggie Fries
Roasted Veggies
Tossed Salad
Chips
Pickles
Baked Beans
Coleslaw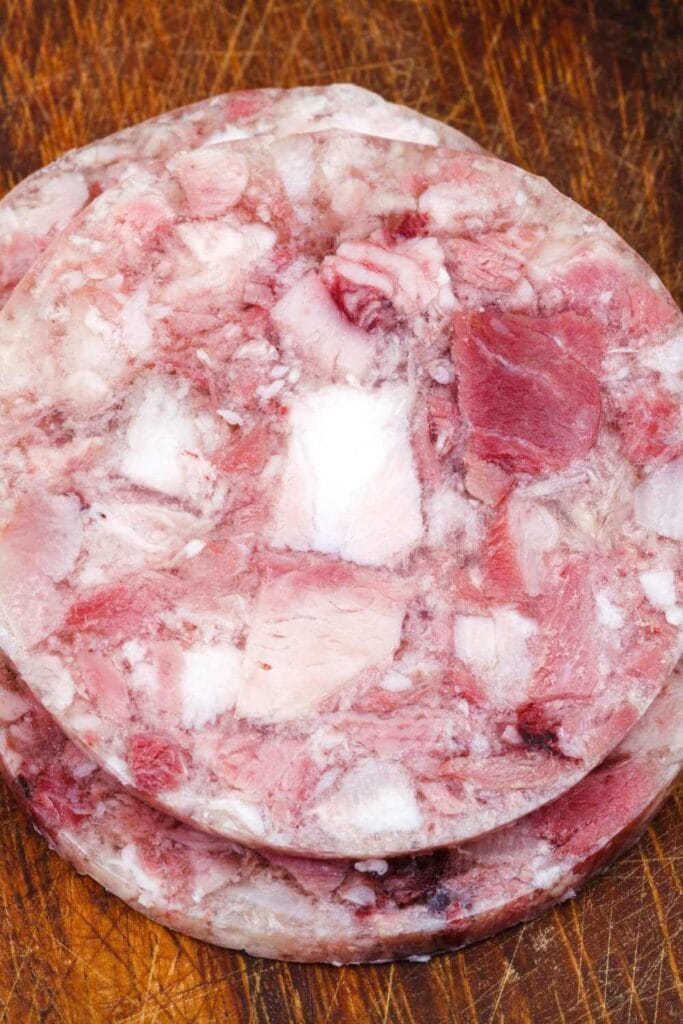 How To Store Head Cheese Sandwich Leftovers?
Before placing the leftover head cheese sandwich in the refrigerator for up to two or three days, securely wrap the sandwich in plastic wrap to lock in all of the taste and ensure that it stays intact. The next day, the bread will have a more malleable texture, but the crusty outside will ensure that everything remains enclosed until it is time to unwrap and consume it.
How To Freeze Head Cheese Sandwich?
You can store this Head Cheese Sandwich in the freezer for up to three months if you prepare it ahead of time or if you just have some leftovers. Simply place the finished Head Cheese Sandwich in an airtight container and store it in the freezer.
Can I Make Head Cheese At Home?
Yes, it is possible to produce head cheese at home; but, in order to do it, you will require the following ingredients:
1 pork head split in half and soaked for 1-2 hours to remove blood
Cold water to cover
Salt and pepper to taste
Seasonings onions, garlic, thyme, cloves or mace, nutmeg, marjoram, etc. (optional)
1-2 tablespoons vinegar optional for sour taste
Optional pig stomach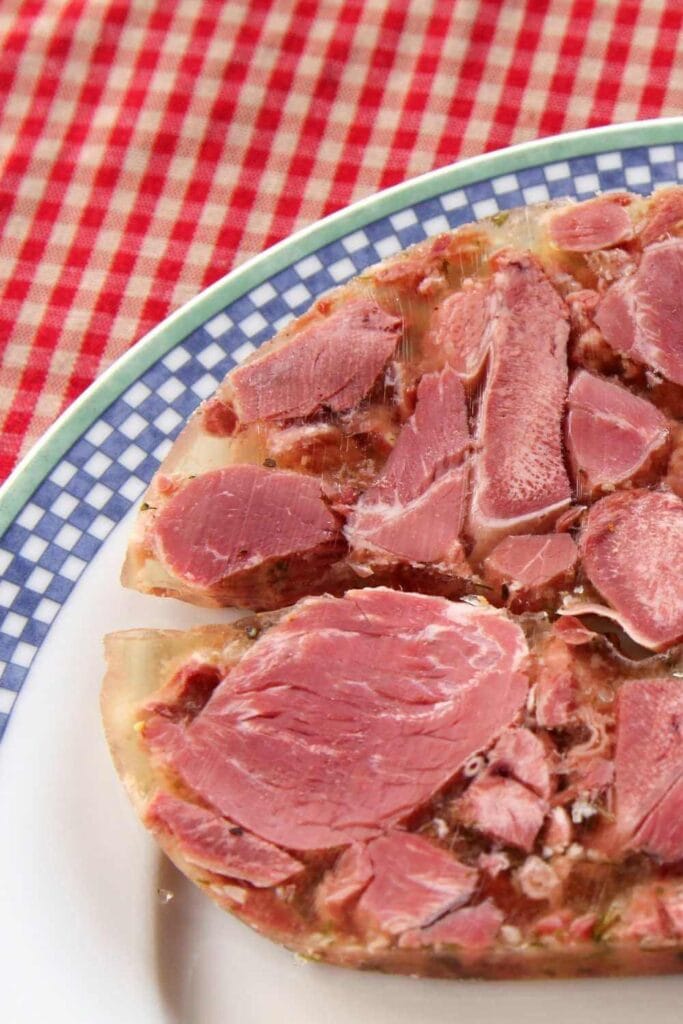 After ensuring that you have all of the critical ingredients, the following steps are what you need to take in order to produce a wonderful head cheese at home:
Prepare the meat by removing extra hair and fat, blanching the tongues with their outer layer removed, then halving and rinsing the heart.
Cover the trimmings with 1 to 2 inches of cold water in a large stock pot.
The saucepan should be placed over high heat and brought to a boil. Using a skimmer or slotted spoon, remove any grey scum that floats to the surface.
Reduce heat to a low setting and cover. Simmer for two to three hours, or until the meat is tender. Typically, the broth will be murky and require clarifying (below).
Turn off the heat. Transfer the meat and bones from the saucepan to a chopping board using kitchen tongs.
Place cheesecloth double-layered over a big basin. Pour the heated broth slowly through the cheesecloth to remove particles. (Having a second person hold the cheesecloth in place might be useful.) When done, rinse the cheesecloth and repeat the process numerous times until the soup turns transparent.
Separate the flesh from the bones on the cutting board, discarding the bones and any gristle as you go. It might be a tedious task, so be patient.
Then dice the meat to a maximum size of 1/2-inch by 1/4-inch. Add the salt, pepper, and any other optional ingredients to a medium mixing bowl.
Add the mixture to a terrine mold if you wish to create a terrine (the easiest option). For sausage preparation, place the pig stomach on a work surface (see below).
Fill the mold or the stomach with the meat mixture. Then, carefully pour the gelatinous beef broth to the fill.
To pack out the case, cover it with a board or comparable weight. Use the terrine mold's lid or another weight.
The temperature at room temperature Then, carefully transfer to the refrigerator to chill overnight in order to thoroughly harden. Use a razor-sharp knife to cut and serve food.
Try More Recipes:
Head Cheese Sandwich Nutrition Facts
Amount Per Serving
Calories 204
Total Fat 5g
Saturated Fat 1g
Cholesterol 19mg
Sodium 532mg
Potassium 8mg
Total Carbohydrate 28g
Sugars 2g
Protein 9g
Calcium 4%
Iron 0%
Nutrition Facts Source: Source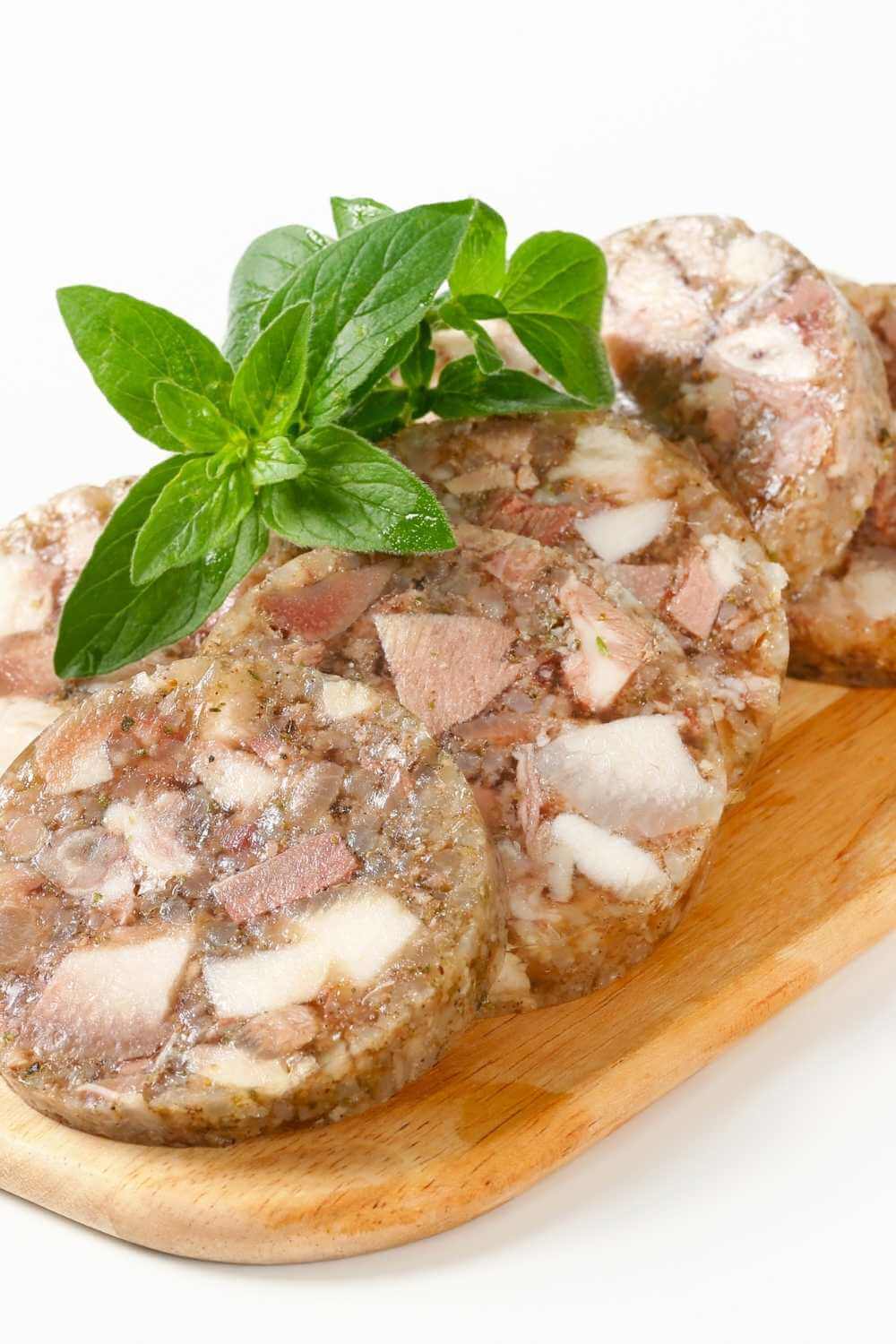 Head Cheese Sandwich
Description
This recipe for a classic Head Cheese Sandwich includes details on sourcing the right meats and using common pantry ingredients to get great results.
Instructions
Toast your bread and spread mayonnaise and mustard on one side.

Add hog's head cheese and tomatoes, lightly salting and peppering the tomatoes.

Add lettuce and pickles, then dig in!
Head Cheese Sandwich
Servings 4
---
Amount Per Serving

% Daily Value *

Total Fat 5g

8

%

Saturated Fat 1g

5

%

Cholesterol 19mg

7

%

Sodium 532mg

23

%

Potassium 8mg

1

%

Total Carbohydrate 28g

10

%

Sugars 2g

Protein 9g

18

%
---
Calcium

4

%

Iron

0

%
* Percent Daily Values are based on a 2,000 calorie diet. Your daily value may be higher or lower depending on your calorie needs.