With their wonderful aromas and delectable flavors, these Hawaiian recipes will transport you to an island paradise in an instant! The pristine beaches and verdant forests of Hawaii have earned the state international renown. But have you ever experienced the genuine cuisine of Hawaii?
These straightforward recipes will allow you to recreate the authentic flavors of Hawaii in the comfort of your own home.
Hawaiian Authentic Recipes
Are you seeking for a recipe for chicken with a sweet and salty Hawaiian twist? Give this recipe for Mochiko Chicken a try. Your entire family is going to really like it! Just keep scrolling below for the complete recipe!
In a large saucepan, bring the oil to a simmer over medium heat. You should add some chicken pieces and fry them for about three minutes per side, or until they are golden brown all over and completely cooked through.
A flavorful gravy that covers three layers of rice, a hamburger patty, and an egg, and is topped with the egg. One serving is all that is necessary to induce a kanak attack in any person.
If you want to make this delicious meal in a way that is better for your health and the environment, I recommend placing your order through Thrive Market in order to obtain the highest quality organic products.
The recipe for Hawaiian Grandpa's famous Hawaiian Beef Stew is a cherished heirloom dish in our family. Beef, onions, carrots, potatoes, and potatoes are braised in a rich and tangy tomato gravy until they are perfectly soft enough to fall apart. If you want to get the authentic flavor of the islands, serve it over some sticky rice.
Add slurry to the stew in order to make it thicker once it has reached the desired consistency. Make a slurry out of the flour and beef stock in a matter of moments, and then whisk it into the stew. The sauce will thicken into the most delicious gravy almost immediately after being added to the stew.
This macaroni salad with a Hawaiian twist has delicate noodles, chopped carrots, and a generous amount of creamy dressing. It's the real deal, a recipe that's been passed down from generation to generation on the island!
Pasta, carrots, onion, and salad dressing should be combined in a large mixing dish and given a thorough stir before being served. Salt and white pepper can be used to taste as a seasoning.
Delicious Huli Huli Chicken! Tender chicken thighs are first marinated in a sauce made from ketchup and soy sauce, which has a sweet and tangy flavor, and then they are grilled to add a light char.
Prepare and serve: Prepare according to the instructions listed below, then serve warm, garnished with green onions if desired.
You are going to like how the pineapple and brown sugar are brought into harmony by the addition of the onion and vinegar in this excellent version of its distant relative, plain normal coleslaw.
Before serving, stir well and let the mixture sit in the refrigerator for at least four hours.
I am aware of what it is you are considering. Why would I need a recipe to make fried rice since it is such a straightforward dish? But believe me when I say that this Spam Fried Rice is SO DELICIOUS. It is simple to prepare and is an excellent way to use up any leftovers. In addition to that, who doesn't adore spam? Try it out for yourself! You won't be let down in any way. This is a meal that every member of the household will enjoy.
Rice that has been refrigerated for 24 hours has had some moisture removed from it, making it more suitable for preparing fried rice. This is because the rice is better able to soak up the liquids from the soy sauce and mirin without becoming overly mushy.
You don't have to take a flight to Hawaii to enjoy a great example of authentic Hawaiian Spam Musubi like this one. You may create it on your own at home by following this straightforward recipe.
Some like it dipped in soy sauce, some like it with ketchup, and some enjoy it as is.
If you've ever been to Hawaii (or attended a Hawaiian luau), there's a good chance you've seen lomi lomi salmon, and hopefully you've had some of it. It is a typical Hawaiian side dish, and it is incredibly flavorful and crisp at the same time. Simply consisting of salmon and newly prepared vegetables, this dish has an extremely low calorie count. This recipe is the genuine deal when it comes to creating truly delicious salmon dishes with a salty flavor.
Put it in the refrigerator and let it chill for a while before presenting it to your guests. Nanea!
The pineapple adds a touch of sweetness to our Hawaii coleslaw dish, which also features the crisp of green and red cabbage. Tastes that are true to Hawaii that you'll fall in love with. A simple and delicious side dish that works equally well for brunch as it does for a barbecue.
After pouring the sauce over the cabbage, toss it to ensure that it is evenly coated. At the very end, pineapple should be folded in carefully. It is recommended that the dish be covered and chilled for at least one hour prior to serving.
Traditional Hawaiian Recipes
Do you want to learn how to make pineapple ice cream that is extra creamy by using condensed milk and whipping cream? Scroll down to get the complete recipe for my homemade pineapple ice cream!
Place in bowls and top with pineapple chunks, either those that have been freshly cut or those that have been canned. Enjoy!
Chicken prepared in a soy-garlic sauce and served with fried jalapeo rings. This dish is inspired by the flavors of Hawaii. This dish is a spicier take on your go-to island takeout!
While the chicken is being cooked, place the remaining ingredients in a pot and bring them to a boil while continuously stirring them.
I adore a delicious Hawaiian Pizza! The sweet pineapples offer an appetizing flavor contrast to the savory ingredients, and they contribute a great deal to the pizza's overall sense of freshness.
For this Hawaiian pizza, make sure that the diced pineapples are fully patted dry right before being added to the pie. This step is very important. Pineapples contain moisture.
A popular sweet and salty snack in Hawaii, Furikake Chex Mix is created with cereals and chips, which are then coated in furikake and drizzled with a sweet and savory butter-soy sauce syrup. Recipe accompanied by photos illustrating each step.
In Hawaii, the traditional recipe calls for Karo Syrup, but in recent years, many updated versions of the dish have substituted honey for the Karo Syrup. Honey is thought to be "healthier." You could even give it a shot with some maple syrup! It's excellent no matter how you prepare it.
Kebabs of Hawaiian chicken that are packed with flavor and extremely fulfilling, prepared with pineapple, red onion, bell pepper, and chicken that has been marinated in the most delectable sauce possible. After being submerged in the savory marinade for some time, the meat is grilled to perfection until it develops a pleasant char, which contributes the finishing touch to the flavor.
In a similar vein, I would not suggest putting together these chicken shish kebabs and then freezing them. Both the vegetables and the chicken would end up having a different consistency after being overcooked. The vegetables would become mushy.
This recipe for Hawaiian chicken is so straightforward and simple that it will transport both you and your taste senses to the tropics. It's a straightforward dish that only requires you to marinate and prepare the ingredients, but it transforms pantry essentials into your very own juicy, sweet, and sour paradise that's infused with exotic aromas.
Use your imagination! You can serve this chicken as is or incorporate it into grain bowls, salads, pasta salads, wraps, sandwiches, or even pizza! Check out the post for a ton of other ideas!
Slow Cooker Braised Hawaiian Pineapple Chicken Tacos… served with fiery Yum Yum Sauce and crunchy slaw in the style of a weeknight dinner. Simply put, stacked tacos are superior to their plain counterparts. To make the greatest tacos with sauce, load warmed tortillas with shredded chicken marinated in a sweet, spicy, and tangy Hula sauce prepared in the Hawaiian style.
Wrap the chicken in the softened tortillas and serve. Slaw, more sauce, crunchy noodles, and a sprinkling of sesame seeds should be placed on top of the dish before serving. Enjoy!
The Huli Huli Hawaiian Chicken and Fried Rice recipe, which was released soon before this one, is used to make these Hawaiian chicken tacos with pineapple salsa. Mixing things up and giving them a new spin is one of my go-to strategies for making the most of leftovers (aka turn everything into a taco).
Reheat any remaining chicken together with the Hawaiian huli huli sauce (recipe linked in post). After that, you can start putting together your tacos! – ENJOY!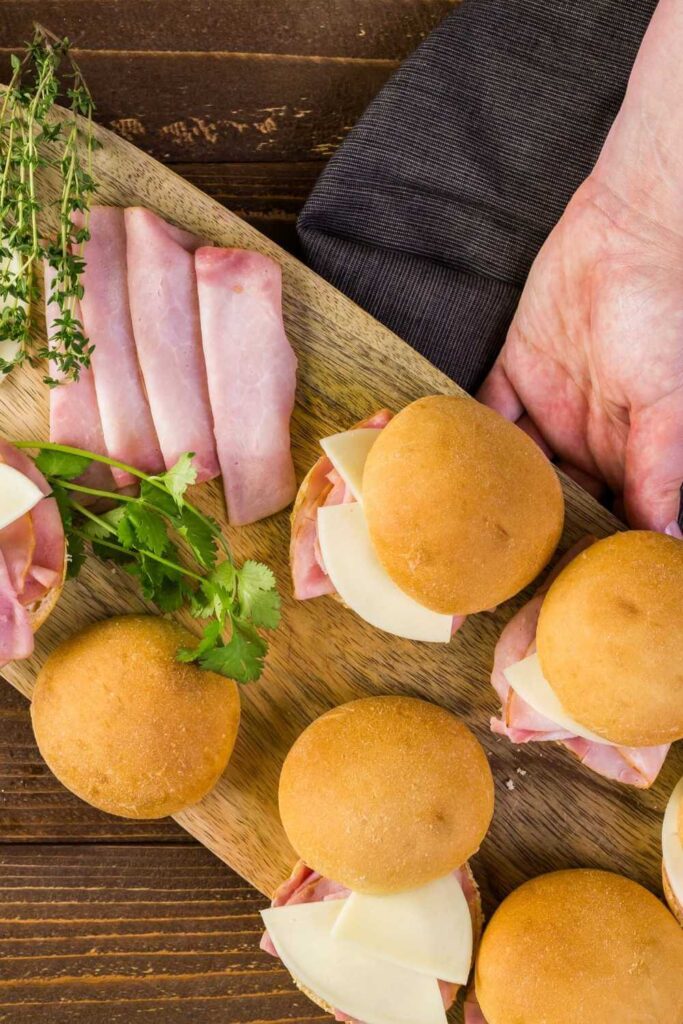 Ham & Cheese Sliders are sweet Hawaiian buns filled with ham, and two kinds of cheese, and covered with a savory garlic butter spread. Baked till melty inside and golden outside, these quick ham sliders are excellent to feed a crowd for parties or evening meals at home.
The ham and cheese sliders are at their tastiest when consumed as soon as possible after being removed from the oven.
The delicious filling for Hawaiian Haystacks is a chicken-based cream sauce that is served above hot rice and garnished with an assortment of delectable fruits, vegetables, and cheeses. Although there are probably other versions of Hawaiian Haystacks sauce out there, this one is hands down the best one there has ever been.
Because it yields a large quantity of sauce, this recipe is ideal for serving a large number of people. It provides enough food for one dinner for my family, as well as several leftovers and enough to freeze for a later time.
Hawaiian Dessert Recipes
I'm going to show you a new homemade syrup that I made. In point of fact, I have two brand new ones, but we have to take things one step at a time. Today, I'm going to demonstrate how to make my brand-new Coconut Syrup! Yes, you read that correctly…coconut!
If there are any remaining specks of coconut, strain the syrup through a fine-mesh sieve to remove them. Due of the syrup's consistency, you will need to use a rubber spatula to swirl it while putting it into the sifter while doing so. (You may make coconut pancakes, waffles, or cookies with the excess coconut)
In honor of Blendtec Week, we are providing you with three recipes that call for the use of the blender, and one lucky person will walk away with their very own Blendtec! Woohoo! Check out our recipe for berry sangria sorbet if you didn't get a chance to make the previous batch.
The smoothie combinations should be layered in the cups. To make drawings on the interior of the glass, you can use a butter knife or a popsicle stick. Put some fruit on a toothpick and place it on top of each smoothie.
Aloha!! The perfect recipe for a tropical margarita is this one for Hawaiian Margaritas! These are an unique twist on a regular margarita, mTropical Fruit Freezeade with pineapple and coconut. They are excellent for when you are in the mood for a trip to Hawaii…or just for Taco Tuesday.
It is possible, but I haven't tested it out myself. Instead of ice, you may use frozen pineapple pieces to give them that frozen effect. It is likely that you will still need to add some juice to assist with the blending process.
A libation that captures the essence of the islands in every sip. In the original recipe, ice cream was called for, but we substituted yogurt in this version.
In a blender, mix all ingredients until smooth.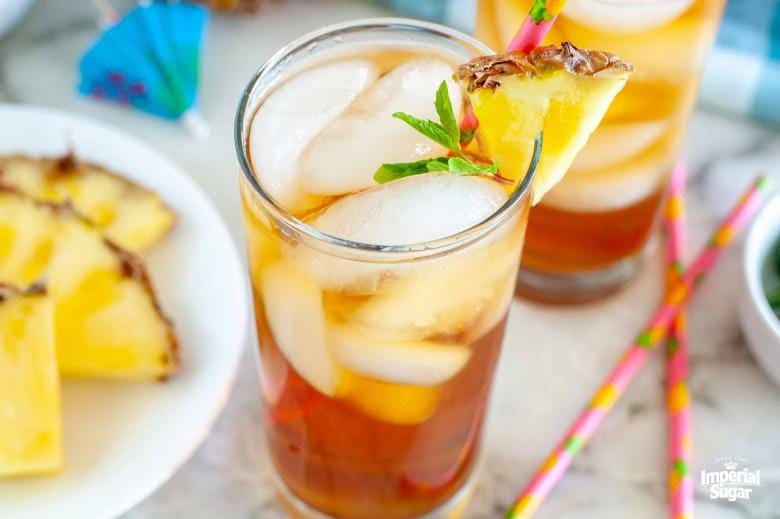 The tastes of this Hawaiian Iced Tea will transport you to the tropics without leaving the comfort of your own home. A delightful beverage is created when fresh mint, pineapple juice, and lemon juice are combined with sweet tea. Also included is fresh mint. Wonderful to enjoy on a hot day, while lounging by the pool, or to serve at the next party you throw.
Place in the refrigerator to chill completely. Serve over ice with fresh pineapple chunks and mint leaves for garnish.
The Hawaiian Oatmeal is a rich and creamy oatmeal that is packed with chunks of pineapple that are sweet and juicy, nuts that are chewy, a sprinkle of coconut, and a dusting of brown sugar.
Place portions into serving bowls, then top with sugar and any other toppings you'd like.
This straightforward recipe for Hawaiian Cheesecake Salad combines unusual tropical fruits with a scrumptious cheesecake filling that's easy to make. This dish is so quick and easy, and it only just a few of ingredients to take your taste buds to their very own Hawaiian paradise in the comfort of your own home.
You could definitely make the cheesecake mixture in advance and store it in the refrigerator in a bowl all to itself. On the other hand, I wouldn't want to cut and mix all of the fruit together and then let it rest for a long time like that.
This recipe for the Blue Hawaiian cocktail is going to transport you to a tropical paradise and make you want to bring out the lawn chair, get some sun, and laze away the day. Try your hand at our well-known Blue Lagoon recipe for yet another mouthwatering blue drink.
If you want to garnish your drink with a cherry and an orange slice combined, you can do it by inserting a cocktail umbrella through the middle of the cherry and attaching it to the top of the orange slice in the following manner:
The Hawaiian butter mochi cake has the texture of a soft cookie and a chewy, tropical coconut flavor. Because it's manufactured using glutinous rice flour, it doesn't contain any gluten either. Making this cake from scratch is simple and quick to do.
It should be kept at room temperature and in an airtight container for the best results. It can be stored for up to two days. You are welcome to refrigerate it, but keep in mind that doing so will cause the cake to lose some of its chewy texture.
Coconut milk is the only ingredient in haupia, which is then thickened with cornstarch. Haupia is a simple and delicious dessert. This easy dessert is unbelievably delicious and can be whipped up in a flash. This recipe for a small batch can very simply be increased to feed a large group of people.
In a skillet set over medium heat, softly brown and aromatic the sweetened shredded coconut. Toast it until it smells delicious. Just before serving, sprinkle roughly 1 teaspoon of the topping all over the haupia cup.