There is a large selection of Hamburger and Potato Casserole recipes available online, such as Healthy Hamburger and Potato Casserole, Hamburger and Potato Casserole with Mashed Potatoes, Hamburger and Potato Casserole with Sweet Potatoes, and many, many more. Therefore, I have compiled for you in this post the 17 best hamburger and potato casseroles.
Enjoy! If you've tried a different variation of hamburger and potato casserole, feel free to share your thoughts with us in the comment section below.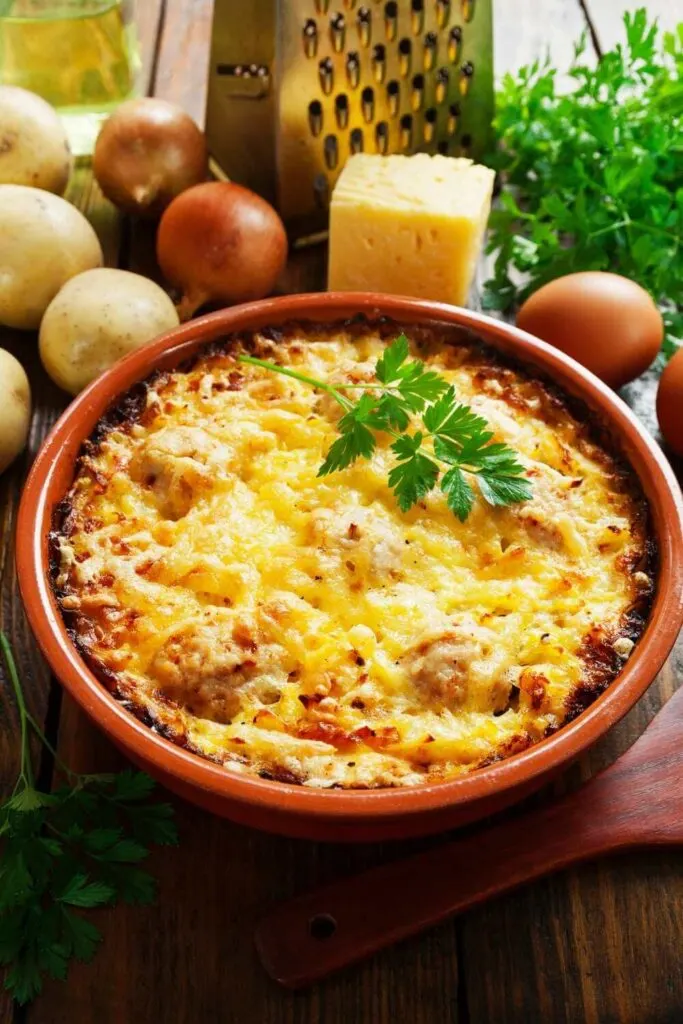 This cheesy and creamy Pioneer Woman Hamburger Potato Casserole is an old-fashioned comfort-food recipe that is simple to prepare and is certain to be a success with every member of the family.
The layers of potatoes, meat, vegetables, and corn are encased in a velvety cream of mushroom soup sauce that separates each layer. Include a topping of crumbled Corn Flakes for the ultimate warm and comforting dinner!
In this recipe for Pioneer Woman Hamburger Potato Casserole, you can use just about any kind of potato you choose; just be sure to trim it down to a size that's comparable to the others. The skin of russet roots, also known as baking potatoes, is more robust and thick.
The silky cheese sauce of the Hamburger Potato Casserole is poured over potatoes, ground beef, and green beans that are combined in a casserole dish. It is the epitome of foods that bring about feelings of warmth and contentment.
This casserole is quite simple to prepare. The potatoes should be washed and finely sliced. Microwave them for about 10 minutes, covered in water, before draining. Meanwhile, cook the ground beef and drain the fat in a pan.
Combine the green beans (drain just one can), Worcestershire sauce, black pepper, and cream of mushroom soup in a large mixing basin. Stir in the cut potatoes and ground meat after that.
Hamburger Hash is a old-fashioned American morning dish that's simple and quick to prepare. Garlic-herb seasoned potatoes with ground beef, fried to a golden brown crunch.
This easy Hamburger Hash is somewhat analogous to the Corned Beef Hash, with the key difference being that this hash is made with simple ground beef instead. The recipe calls for ground beef, hence the name "Hamburger Hash," which describes the dish well. The steak and potatoes complement each other wonderfully to create a substantial supper that will keep you satisfied until lunch time.
very delicious and easy to make Hamburger Potato Casserole using soup, cream, and beans. you can use any potatoes but make sure to follow the recipe instructions to get the perfect result. You can also replace beans with mushroom and it will be super tasty.
If you love scalloped potatoes, so much that you would take them as a main course, this quick and delicious hamburger potato casserole is the supper for you! It's a fantastic meal concept that elevates steak and potatoes to new heights!
The addition of ground beef takes this meat and potato casserole to an entirely new level, and while scalloped potatoes have always been one of my weaknesses, this dish takes it to a whole new level. It transforms the food from being a side dish into something that may be served as the primary course.
This casserole is a wonderful option for a dinner of comfort food and is also an excellent choice for a festive side dish. If you are planning on serving it on a weeknight, consider lightening it up by serving it over a side salad of broccoli and cranberries or a simple tomato and cucumber salad.
If you were to serve this for the holidays, it would go well with Copycat Honey Baked Ham and a scrumptious handmade Green Bean Casserole with Bacon. Both of these dishes would be cooked from scratch.
This Cheesy Hamburger Potato Casserole is a simple yet stunning entrée that is ideal for potlucks or a Sunday lunch due to its versatility and ease of preparation. Stacks of flavorful ground beef topped with a cheese sauce and potatoes that have been cooked from scratch.
Once you serve it, your visitors will ask for it again and again, and it will quickly become one of your most recognizable dishes.
In a separate dish, mix the cream soups and the broth/stock and put it aside. On top of that, put the meat, onions, and carrots (or celery or beans or whatever)… In addition to the potatoes, you may add one extra vegetable of your choosing (I used kidney beans).
It's time to add the soup mixture to the top, then cover and simmer for up to 10 hours! Cooking it for 10 hours is not necessary. At roughly 6 to 6 1/2 hours, it will be ready. If you can't keep an eye on it, it won't hurt to cook longer in a slow cooker like this one.
When you're approximately ten to twenty minutes away from serving time, top with cheese. Let it melt under the covers. Another item you may go without is the cheese. Remove the cheese if it doesn't fit into your diet, but it's still delicious!
Dinner doesn't get much simpler than this Instant Pot Cheesy Hamburger Potato Casserole, which is sure to be a hit with the entire family. This is a substantial dish that you can whip up on any night of the week since it is loaded with ground beef, potatoes, and cheese.
After browning the ground beef, take sure to deglaze the inside liner of your Instant Pot, especially if this is your first time using the appliance or if you've had problems with prior recipes involving burning.
A sweet potato and ground beef casserole makes for a dish that is hearty and delicious enough for the entire family. The beef is cooked slowly in braised onions and tomato sauce, and then it is topped with a sweet potato mash that is smooth and creamy. What is the result? A supper that will please everyone in your group and that you will feel good about providing.
Notes: If you do not have any leftover mashed potatoes, you may substitute them for the sweet potatoes. Before putting the dish together and baking it, the mashed potatoes and the filling can be prepared up to two days in advance and stored in the refrigerator.
This traditional recipe for shepherd's pie is the epitome of delicious comfort food at its finest! After being meticulously seasoned, ground beef and vegetables are placed in a casserole dish and topped with velvety mashed potatoes cooked from scratch before being baked.
Before adding the layer of mashed potatoes, let the meat filling cool in the casserole dish for about 20 minutes. This will help prevent the potatoes from sinking to the bottom of the dish.
You may get a head start on this time-honored dish by preparing it the day before and storing it in the refrigerator until you are ready to cook it. If you have any leftovers after you are done cooking, you may store them in the refrigerator for up to three days if they are covered in plastic wrap or placed in an airtight container.
After baking your dish, give it enough time to cool to room temperature before proceeding to the next step, which is to wrap it airtight in aluminum foil and store it in the freezer for up to two months. To reheat, set the dish in an oven at 350 degrees Fahrenheit for one hour while keeping the lid on.
The Scalloped Hamburger Casserole is a dish that is a favorite in many households. It is a casserole that is loaded with ground beef, cheese, onions, and russet potatoes. A comforting and easy dish that will win everyone's approval.
Once you've tried this meal, you'll be making it again and again. It's perfect in every way. Only one large pan is needed for this meal, which serves eight to a dozen people with plenty of meat, potatoes, and vegetables.
To top it all off, everyone enjoys every last bite. Known as socca in the Valle d'Aosta region of northern Italy, this dish is a large casserole layered with meat, potatoes, and cabbage (all nicely seasoned).
Afterward, a final layer of fontina is added, which bakes into an irresistible crusty cheese on top after many hours in the oven. Although it's unlikely you'll have much left over, the meal may be kept in the fridge for several days and reheated either on the stove or in the oven.)
This simple beef casserole with potatoes is a great evening meal that is also really tasty. Dinners with the family should always include hearty, satisfying, and easy-to-prepare meals.
Hamburger potato casserole with vegetables is the great dinner for the family since it will be appreciated by everyone, including the youngsters, and it doesn't need much preparation. I adore dinners that require minimal preparation and only a few dishes. What a bonus when my family enjoys it as much as I do!
This hamburger casserole is a delicious and substantial layered supper that only requires one dish to prepare. It is simple to put together and requires little effort to cook. It's a "sloppy" style of casserole, almost like a stew, and the cheese helps to hold the vegetables together, which contributes to the dish's wonderful taste profile.
You won't want to change your hectic day supper routine if you include this delectable meal because it consists of everything you need in a single serving.
The entire casserole may be prepared in advance and then cooked up at a later time! If you prepare it over the weekend, you can have it even on the busiest of weeknights.
You may get a head start on the process by completing a couple of the tasks a few days in advance. You may cut the onion into dice and put it in the refrigerator to keep it fresh. You may also prepare the toppings that are optional in this recipe (parsley, pickles, and Sriracha mayo) a few days in advance, if you choose to make them.
In a little over an hour, you can have supper on the table with just five simple 5 ingredients. In addition to that, there is enough food for our family of four, and we still have some leftovers.
One of those major dishes that even the most finicky eaters will like is a ground beef casserole made with only five ingredients.
The children in our family absolutely adore this meal, and they frequently request that it be prepared for them.
In most cases, I will prepare the complete dish, portion it into two separate containers, and then freeze one of them for a later use.
Try this Southwestern beef and potato casserole for your next Taco Tuesday meal instead of the traditional meal.
A savory recipe that the whole family will love is made by cooking ground beef with onions, celery, garlic, and chili peppers, then layering it with potatoes, corn, and cheese after it has been baked. This satisfying dinner tastes even better when it's accompanied by avocado, salsa, and sour cream on the side.
This recipe calls for corn prepared in a Southwestern or Mexican style, which is typically sold in cans and typically includes chopped bell peppers and sometimes black beans; if you are unable to locate this type of corn, you may substitute canned corn and simply add some chopped peppers and beans, if you so desire.