This list contains everything you need, regardless of whether you like to make your ham casseroles with rice, pasta, or potatoes.These dishes make use of everyday grocery materials and can be prepared in a hurry thanks to their straightforward nature.
Each meal is delicious, easy on the wallet, and can satisfy the appetites of a large group of people. Let's begin cooking!
This Ham Casserole is filled to the brim with cheesy, creamy rice and broccoli that has been cooked to perfection. It's a simple dinner that you can create ahead of time, and you can even cook everything in one pot if you like! You can even prepare it two days in advance!
Instead of using instant rice, use white long grain rice. It is smoother to the touch and has a more satisfying flavor.
Ingredients with less sodium should be used (unsalted butter & low-sodium chicken broth, etc.).
This casserole would taste just as good with crispy fried onion tops as the topping instead of ritz, in our opinion.
A simple recipe for a ham potato casserole topped with cheese! It works wonderfully both as a party dish and as a way to use up any leftover ham from the holidays. Do you require anything more expedient than a casserole? Instead, try one of these simple dinners that can be prepared in thirty minutes!
This Pioneer Woman Ham Casserole is ooey-gooey, melt-in-your-mouth scrumptious, and creamy! At any moment, you can whip up this quick and simple ham and potato casserole that's loaded with cheese for your loved ones. It's perfect for a meal after the holidays, and you can even have it for morning if you want to!
This Ham and Egg Casserole dish from Pioneer Woman can be put together in less than an hour and requires very little time spent actively cooking or stirring the ingredients. The nicest thing about it is that you can make it with bread and ham that you already have in the fridge!
This is a breakfast dish that has been tried and approved by both adults and children, and it is one that I use on the weekends when I have people around for brunch or on special occasions like the holidays.
This Easy Cheesy Ham and Potato Casserole Recipe from Pioneer Woman is rich, velvety, and incredibly mouthwatering. This dish is ideal for a substantial supper to enjoy after the holidays, but it would also work well as a filling breakfast option.
Because it contains ham, potatoes, and cheese, the Pioneer Woman Ham and Potato Casserole is a dish that may be served either for breakfast or for dinner. It makes just as much sense to consume it on a weeknight as it does to have it first thing in the morning.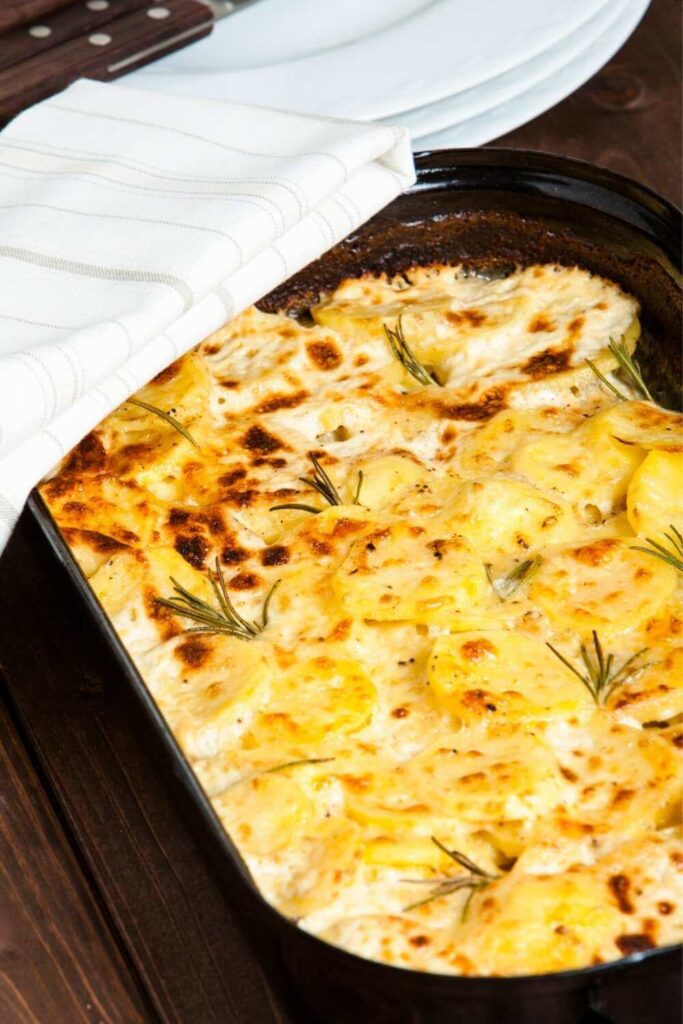 This cheesy and creamy Pioneer Woman Hamburger Potato Casserole is an old-fashioned comfort-food recipe that is simple to prepare and is certain to be a success with every member of the family.
The layers of potatoes, meat, vegetables, and corn are encased in a velvety cream of mushroom soup sauce that separates each layer. Include a topping of crumbled Corn Flakes for the ultimate warm and comforting supper!
What gives this ham and noodle casserole its incredible flavor? Of course we're talking about mushroom soup in a can. Yes, utilizing canned mushroom soup is the secret to making this fast and east, not to mention tasty. Many of the classic casserole recipes are just broth, noodles, and meat, which I find to be a little dull. To make it less bland, I added sour cream and seasonings.
Remember, it's pointless to criticize my usage of canned mushroom soup in the comments; I like it and consider it one of my all-time favorite cheats. The emotions I receive when I use canned mushroom soup make you believe I'm roasting newborn animals over a fire! Attention to detail is a top priority for everyone.
In the past two weeks, I've cooked this macaroni and cheese ham casserole three times. Not even kidding… If your children really eat it gladly and without complaining, you, like me, will cook it again and again.
My four children virtually licked their plates clean after each of them received two servings. If that isn't a winner's meal, I don't know what is.
Ham (a excellent way to use up leftover ham), cheese soup, elbow noodles, shredded cheese, spices, and sour cream are all included in a casserole. Everything is combined in one bowl before being cooked in a casserole dish. A surefire favorite at the dinner table and quite easy to prepare.
This hash brown casserole with ham is loaded with cheese and has a lovely creamy potato base as its foundation. This casserole is perfect for breakfast since it feeds a large number of people, is simple to prepare, and everyone will appreciate each and every meal in the morning.
The ingredients in this recipe can be substituted with relative ease. If you're in a rush, you can swap out the cream of potato soup with either cream of chicken or cream of cheddar soup. The flavor will be different, but it will still work.
Leftover ham is used to make a casserole with cheese and ham. Additionally, there is no canned soup used in the preparation of this dish! Noodles topped with a cheesy and savory ham and cheese sauce. It is prepared in an 8-by-8-inch dish and calls for 1 12 cups of ham that has been left over.
There are 2 cups of leftover diced ham in this ham and cheese casserole with noodles. It also works here if your ham has been pulled or torn into pieces. Alternatively, you may buy diced ham steaks from the grocery if you're just wanting this cheesy casserole. In the shop, I've also seen pre-diced ham, although I think the smaller dice are more suited for salads. To make this casserole, use very little ham cubes, but only use 1 cup.
There are often two cans of condensed soup in leftover ham casseroles. Since canned soups include preservatives and salt, I personally try to avoid them. The condensed cream of cheddar soup in this recipe is homemade. However, the recipe only yields around 10 ounces of handmade condensed soup, so you can just use a can in its place if you're not in the mood to make it.
Using cream of cheddar, cream of chicken, and even cream of celery soup, I've seen leftover ham casserole created. While they all seem delectable, cheese is a clear winner in our house.
More Recipes:
This casserole with ham and rice is one of the most mouthwatering dishes ever! It is stuffed with rice, ham, and peas, all of which are encased in a creamy sauce, and it is finished with a parmesan coating that is crispy. Make use of any leftover ham, or purchase a ham specifically for the purpose of preparing this dish.
The Farmer's Casserole is a hearty and flavorful dish that is perfect for breakfast. Eggs, ham, cheese, and hash browns combine to make a scrumptious breakfast dish that is sure to please.
I like to make a delicious weekend breakfast using the recipe for farmer's casserole, which I bring out of the cookbook often every month. It is quite simple to put together. I adore the fact that I can prepare it in advance and then store it in the freezer for a time when I don't feel like cooking.
This breakfast egg casserole is comprised of three primary elements: a crust made of hash browns, a layer of fluffy eggs, and flavorful mix-ins. It makes little difference whether you have this casserole ready the night before to treat your family or whether you cook it up first thing in the morning to surprise them. This simple breakfast casserole is likely to become one of your favorites as well, especially given how easy it is to make. It is without a doubt the most delicious breakfast casserole that anyone can find.
This Tater Tot Breakfast Casserole satisfies my need for both tater tots and breakfast casseroles that can be prepared in advance. It is packed with eggs, cheese, and ham to create a substantial breakfast casserole that can feed a large number of people.
The Overnight Ham and Egg Breakfast Casserole is a delectable dish that is also quite easy to prepare for breakfast. On top of bread that has been soaked in a savory combination of eggs and milk, ham and cheese are sprinkled on top.
Because it can be prepared the night before, kept in the refrigerator overnight (or even for up to two days! ), and then baked the following morning, this dish is perfect for when you have people staying at your home.
When I have any leftover ham, I prepare this simple supper all the time. It's a hit with every member of my family. You can make a tasty and comforting supper out of ham or chicken with very little effort with this recipe. You may serve it with a simple salad or vegetables that have been roasted.
In only ten minutes, the smooth, cheesy, garlicky sauce may be produced completely from scratch. There is no need for cream of mushroom soup or condensed soup! This creamy pasta dish is made complete with the addition of a satisfyingly crunchy topping that is created by combining melted butter and panko breadcrumbs.
This keto casserole dish has a taste profile that is out of this world! It takes inspiration for its tastes from the classic pasta dish carbonara, but without the meal's typically high carbohydrate content. However, other from the zucchini noodles, all of the other traditional ingredients including ham, egg, and cheese remain the same. This dish is going to blow your mind in terms of how simple it is to put together!
When we are craving a warm breakfast, we turn to this Keto Breakfast Casserole as our go-to recipe. This casserole is not only low in carbs but also a genuine crowd favorite regardless of how you choose to eat it since it is packed with delicate eggs, layers of flavorful ham, and dollop of cream cheese that deliver a silky blast of flavor in every bite.
There is nothing better than a tasty quiche made in the traditional manner, and this recipe for Ham and Cheese Quiche is sure to become a household favorite. This dish is uncomplicated and makes use of a pre-made pie crust for added convenience, making it ideal for serving at brunch or for breakfast on special occasions. Leftovers for breakfast or even dinner are just as tasty!
Tetrazzini with Ham is a delicious dish that is loaded with cubed ham, mushrooms, and peas, and it is covered in a decadent, creamy, and cheesy sauce. This is a quick and simple dish that can easily feed a whole family. It is an excellent way to utilize any leftover ham from the Thanksgiving or Easter holiday. It's possible to make the entire thing in only one skillet. To properly prepare the pasta, you will just require a pan in addition to a pot.
This Low-Carb Ham and Cauliflower Casserole Au Gratin is surely a delight for those who are interested in low-carb and Keto comfort cuisine.
As part of a dinner that is low in carbohydrates, you may have Peperoncini Chopped Salad, American Greek Salad, or Caesar Salad with Kale, Romaine, and Shaved Parmesan. These salads would go particularly well with the Low-Carb Ham and Cauliflower Casserole au Gratin.
This ham and asparagus casserole is one of the easiest casserole recipes, and it's one of the finest. This cheesy ham casserole takes less than an hour to prepare and only requires a few simple ingredients. It's perfect for those hectic weeknights or even brunch on the weekends!
Because I despise throwing away perfectly good food, whether it be after the holidays or for any other reason, I set out to devise a recipe for leftover ham that would be delicious. This ham casserole is a triumph in so many different respects. I cooked it quite fast, used up the leftover ham, and everyone in my family devoured it in record time.
I purchased this item from the California Sweet Potato Council at the state fair a few years ago. When DS was younger, the only way to get him to eat sweet potatoes was to prepare them in this manner, which is why it is so decadent and satisfying.
More Recipes:
This casserole is a fantastic way to reuse leftovers, which is exactly what I'm looking for when I search for new recipes to try. Create a warm and soothing casserole for your family to enjoy by combining ham that has been leftover and a little amount of cabbage with other cupboard and refrigerator basics.
To finish your supper, toss some salad greens while the casserole is in the oven, add some biscuits or cornbread, and you're all set!
A corn casserole made with cream cheese is one of those dishes that every cook need to have in their repertoire simply because it can be used throughout the year. When fresh sweet corn is at its peak quality during the summer, this meal is at its very finest when served as a side dish at a summer BBQ.
However, it is also delicious when combined with festive ham or turkey. Because it can be put prepared a couple of days in advance and is easy to transport, it is an excellent choice for gatherings with extended family or community potlucks.
This Ham, Mushroom, and Spinach Strata is the perfect dish to make if you have a lot of leftover ham after all the Christmas celebrations you've been enjoying.
The leftovers can be kept in the refrigerator for up to 5 days if they are well-covered and properly sealed.
Cook the ham in a large pan that has been sprayed with cooking spray until it is just beginning to brown over medium heat.
Carrots, soup, spinach, water, pepper, and salt should be stirred in before being heated through. Pour into a baking dish that is 8 inches square and has been oiled.
Unroll the crescent dough, and then cut it into two separate rectangles.
Put a stop to the perforations. Make a lattice crust on top of the ham mixture and cut each rectangle in half lengthwise to create four strips.
Bake at 375 degrees for 18 to 22 minutes, or until the filling is bubbling and the crust is golden brown.
A cheesy zucchini and ham bake is a wonderful supper that only requires one dish to prepare. It's a wonderful casserole, perfect for serving at a meal with the family or bringing to a potluck.
This casserole is perfect for a family supper since it is savory, healthful, and simple to prepare. Due to these factors, the dish is an excellent option to include in your regular meal rotation.
One reason for the widespread appeal of green bean casserole is the delicious comfort that only "cream of whatever" soup can provide in a hot meal. This bake has the same amount of comfort and resembles the classic casserole in certain ways, but the flavor profile is fresh and interesting.
White beans form the backbone of this creamy casserole, which is loaded with ham and cheese. You won't find anything else like it, we guarantee it!
If you have any leftover ham, this is an excellent way to put it to use. If you like mushrooms, you can also add sautéed mushrooms to this Ham and Green Bean Casserole instead of or in addition to the green beans. Green bean casseroles benefit greatly from the addition of fried French onion, which is another alternative. Green bean casseroles are delicious when served with this topping.
Platter with Mushrooms and Ham Cannelloni, a delightful creamy Italian Pasta dish. Cannelloni and Manicotti layered with a mixture consisting of mushrooms and ham, topped with a white sauce and cheese. Wonderful.
The breakfast casserole of your dreams has arrived…and it's stuffed with ham, cheese, and croissants! Croissants with a flaky crust and buttery inside, dipped in a savory egg mixture, then topped with cheese and ham. baked till golden brown and served while still warm.
It is a recipe for a Croissant Breakfast Bake that can serve a dozen people and yet leave them wanting more! With Easter right around the corner, here is your winning ticket to a stress-free and delectable Easter brunch!
Recipe for Scalloped Potatoes and Ham that is Simple and Homemade – This meal is sure to be a hit with your guests because to the creamy and cheesy sauce, the pieces of ham (which can easily be made from ham leftovers), and the thinly sliced potato layers.
This dish for scalloped potatoes has received nothing but amazing reviews from my audience. Either a side dish or a main entrée, depending on whether or not a salad is served alongside it.
Turn the oven on to 350 degrees. Cook the noodles in water according to the directions on the package, then drain. In a large pan, sauté celery in 1 tbsp butter until soft.
Mix in the cream cheese, then add the milk and continue cooking while stirring until the cheese is melted.
Noodles, ham, pineapple, Worcestershire sauce, salt, and pepper should be added at this point.
Place in a baking dish of 1-1/2 quarts that has not been oiled. The remaining butter should be melted, then combined with bread crumbs.
Sprinkle on top of the dish.
Bake, uncovered, at 350 degrees for about 30 to 35 minutes, or until it reaches the desired temperature.
The Chicken Cordon Bleu Casserole has all of the exquisite tastes of the well-known traditional French cuisine without all of the bother and labor that is required for the preparation of the dish. Stuffed with juicy chicken from the rotisserie, pasta, Swiss cheese, and ham, and topped with crispy bread crumbs. This dish will very soon become a favorite among the members of the household.
The perfect dish for cozying up to is definitely our cheesy slow cooker ham and potato casserole. You can toss it together in a matter of minutes using hash browns, a creamy sauce, ham, and stuffing mix, and then you can let it stew all day until you are ready to enjoy it.
A filling and calming Ham Using up leftover Easter or Christmas ham is easy with pot pies. This pot pie includes a double crust and a thick, creamy interior with bits of potato, corn, and ham that has been chopped.
This is a simple recipe for a tasty pot pie that is suitable for either a weeknight dinner or a Sunday supper.
Pre-heat the oven to 350 degrees.
To begin, drain the corn from the can. After that, combine all of the ingredients in a big basin, and then pour the mixture into a baking dish that is 9 inches by 11 inches and has been buttered.
Bake for forty-five to fifty minutes, or until the top is gently browned and a knife inserted in the middle comes out clean.
For an extremely delectable meal that is perfect for breakfast or brunch, try making these luscious Ham and Cheese Butter Swim Biscuits. These buttermilk biscuits are delicate and buttery, and they are studded with pockets of sharp cheddar, leftover ham, garlic, and chives.