Lean, juicy, turkey burgers with an Italian twist!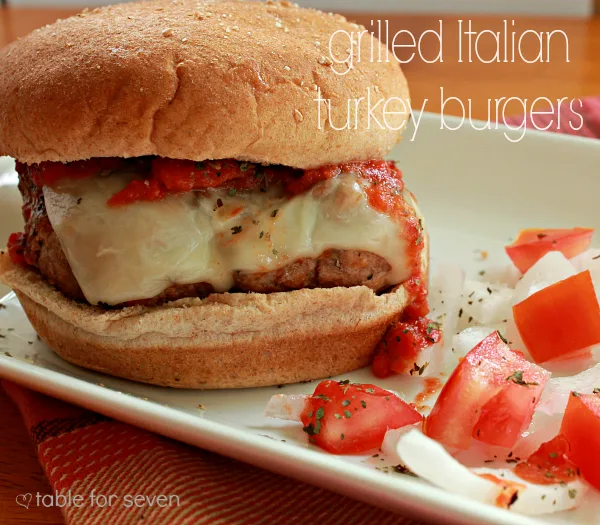 Happy September Everyone!
If you are celebrating the holiday..hope you are enjoying a nice, long, holiday weekend. Well, even if you aren't celebrating..happy weekend. 🙂
Labor Day is a big grilling out day. Most people in the U.S. are off work and to mark the un-official end to summer,they get together and eat.
What's better on the grill and chow down on than a nice burger?
Mr Plain (my lovely husband) has always been a big burger eater. Me too. My kids are not. The eat meatballs and meatloaf, but, not, burgers.
Is that odd to anybody else besides me? Anyway, our burgers of choice are turkey, occasionally, chicken. We love a good beef burger as anybody, but, due to a few healthy concerns for Mr Plain and to cut back on the fat..we avoid red meat where we can.
These are no ordinary turkey burger, these are paired with mozzarella cheese, pasta sauce and Italian seasonings. They have a nice, zesty, kick to them! They also went wonderful with something my kids do love..pasta. 🍝
Such a simple little switch and you have yourself a juicy Grilled Italian Turkey Burger for your BBQ or weeknight dinner.