A refreshing no bake dessert with just 3 ingredients. A perfect sweet treat for summer!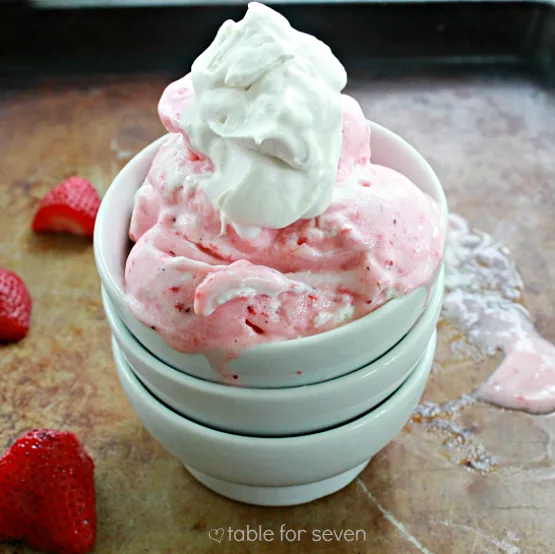 Whew! It's summer and good golly! It's hot. 🔥
Time to cool down with two of best flavors of summer– -strawberries and lemonade. 🍓 + 🍋 = 💖
Three Ingredients:
Strawberries
Vanilla ice cream
Frozen lemonade concentrate
Strawberries: Fresh or frozen will both work. However, if you are using frozen, let them thaw a bit before mixing. You don't want to break a blade on your blender/food processor with a rock hard strawberry.
Vanilla Ice Cream: Want to Make it Homemade? It's E A S Y.
Lemonade Concentrate: Be sure you get concentrate. Not regular lemonade.
How to Make:
First, let your lemonade concentrate thaw out. While it's thawing, add strawberries to a blender or food processor. Blend until they are pureed.
Then, mix together the concentrate and pureed strawberries. Add in vanilla ice cream and mix it until it's good and combined.
Spread it into a freezer safe container and cover it. Let it freeze up for at least 2 hours before serving.
When serving, you can top if off with whipped cream or whipped topping. It's delicious!
Keep any leftovers in the freezer.