These are the best egg casserole recipes for breakfast, brunch, and dinner. This collection covers simple, healthy, and keto egg casserole recipes. Those egg casseroles are created with vegetables such as broccoli, asparagus, and others, as well as meats such as ham, sausage, chicken, and beef.
Make sure to tell us about your favorite egg casserole in the comments section below.
A delicious and hearty egg casserole that makes use of an uncommon main ingredient: eggs that have been hard-boiled. During football season, this fan-favorite dish is one that is frequently requested for game-day breakfast.
Find out how to prepare this easy casserole using leftover egg, ham, and potato ingredients. Rakott Krumpli is a meal that originates in Hungary and is considered to be the country's national comfort food.
To make this recipe, you just put sliced boiling potatoes, sliced eggs, thinly sliced ham, and sour cream in a casserole dish that has been greased. Cover with foil, then bake, taking the foil off towards the end of the cooking process, until the top is golden brown.
A Delectable Biscuit Egg Casserole Recipe Made With Biscuits, Cheese, Eggs, And Sausage That Only Takes Minutes To Prepare! This Breakfast Egg Casserole Is A Weekend And Holiday Favorite!
Many breakfast casseroles call for the casserole to be assembled and refrigerated overnight before baking. This sausage and egg casserole, on the other hand, does not need to be refrigerated at all! You can make it from scratch in 5-10 minutes, pop it in the oven, and eat it 30 minutes later!
These savory shredded hash brown potatoes are then blended with eggs, broccoli, chopped ham (for Easter), red pepper, onion, garlic, sour cream, milk, Sharp Cheddar, and spicy Pepper Jack cheeses to create an outstanding dish that will delight everyone in the family.
This casserole may be cooked in advance to facilitate your Easter brunch preparations. That's correct! Make this casserole the night before Easter, cover it, and refrigerate it until you're ready to serve it. How amazing is that?! I don't know about you, but knowing that this main meal is already prepared and ready to go the night before a large family gathering helps me sleep much better.
The Cheesy Egg Casserole is the best baked eggs recipe to serve for Sunday brunch! Because it is vegetarian, this buttery and simple breakfast casserole is loaded with cheese and spices, and everyone can eat it because it is vegetarian.
if you've been searching for the ideal egg dish to serve for brunch. It is a quick and easy dish that everyone in the family enjoys eating, and it only takes a few minutes to put together. Even though none of my relatives are very fond of eggs, we gobbled up this breakfast casserole, so you can be sure that it's delicious.
It doesn't matter what time of day it is, casseroles are always a good choice. In addition to being a breeze to put together, this Tater Tot Casserole with Sausage, egg, and Cheese can easily be scaled up to serve a larger crowd. This casserole is not only delicious but also produces wonderful leftovers.
I sliced the casserole into squares so that I could keep the leftovers, and then I stored the squares in their own airtight containers in the refrigerator so that they would be easy to grab and reheat for breakfast or lunch.
While I think breakfast casserole is best served earlier in the day, my husband enjoys eating it later in the day. He requests Tater Tot Casserole with Ketchup on the side, and he is as content as can be.
This hash brown egg casserole is incredibly quick and simple to prepare since it is made using frozen hash brown patties, eggs, cheese, and ham. Prepare it either the previous night or the following morning. This is the ideal way to use up any leftover holiday ham, or you could use sausage in its place. This is a fantastic dish for breakfast, brunch, or even dinner!
It is not necessary to thaw the frozen hash brown patties beforehand. You may absolutely roast them before adding them to the casserole dish to make them crispy.
If you use Tater Tots instead of hash brown patties, the casserole will need to cook for an extra 5-10 minutes.
It's possible to skip the pre-cooking phase entirely by using pre-shredded potatoes or frozen hash browns.
Potatoes, eggs, milk, seasonings, green chilies, cream cheese, crispy bacon, and sharp cheddar cheese are the ingredients that go into making this Bacon and Egg Casserole. It is a delicious dish that is served for breakfast, and everyone adores it! With such a comprehensive list of components, it seems impossible to make a mistake.
Either it can be cooked the night before and then warmed in the morning, or it can be baked the night before and then whipped up the following morning. To ensure that the bacon maintains its crispiness, I like to add it right before serving.
This Egg Casserole dish is the easiest and most delicious way to start your day. Eggs are combined with finely chopped onions, green peppers, ham, and cheddar cheese to make a low-carb breakfast that you didn't even realize you were missing from your life until it was too late!
Although I adore an Overnight Sausage Breakfast Casserole, when time is of the essence, the best alternative for breakfast is a straightforward and speedy egg casserole. The Denver Omelet features a time-honored taste profile, and whenever I place an order for breakfast, I never fail to select it as my first choice.
Although I do enjoy making a classic Denver Omelet for me, this recipe for a simple egg casserole is perfect for serving a group of people, such as a family.
Because BLTs are a family favorite in my home, I came up with this recipe to incorporate their tastes into a toasty and comforting casserole. Because it was such a hit, I decided to serve it to the women' group from my church for a brunch that I organized.
One of my favorite healthy egg casserole recipes is this one. It's a basic breakfast casserole with bacon, eggs, veggies, and cheese. There are no extras (like milk, bread, potatoes, etc.). Just a load of protein and minerals to get your day started correctly!
This egg bake is ideal for dinner prep.
You may cook it, cut it into individual servings, and eat it for the rest of the week. It's even freezer-friendly and completely customisable to your tastes!
Furthermore, this egg casserole isn't only for breakfast. When I need to "clear out the fridge," I normally cook an egg dish, such as this egg bake (or this easy frittata recipe, egg salad, crustless quiche or hash brown quiche). I eat the leftovers for lunch as well. So, regardless of the time of day or night, this healthy breakfast casserole is a hit.
The sausage and egg overnight breakfast casserole is a baked egg casserole that combines pork sausage, onions, cheddar cheese, and seasonings with pieces of whole-grain bread that is baked together before serving. This recipe for a delectable breakfast casserole is sometimes referred to as a breakfast strata in certain circles.
This dish for smoky ham and cheese egg casserole is sure to be a hit thanks to the addition of smoked cheese on top of artisan bread, which has been soaked in a protein-rich mixture.
Freezing Instruction: Place the ingredients in a 9-by-13-inch freezer-safe baking dish and freeze for up to 3 months. Cover and seal and store in a deep freezer. Thaw overnight in the fridge. Bake as indicated above.
This Sausage Egg Bake is a simple meal for breakfast that can be thrown up quickly using ingredients that are both fresh and easy to find. Eggs, morning sausage, greens, broccoli, red pepper, and feta cheese are the basic ingredients for a dish that can be prepared for each meal of the day and taste delicious.
This sausage egg bake is perfect for breakfast or brunch any day of the week, and it reheats wonderfully as well. This dinner is enjoyed by both children and adults. Prepare this recipe ahead of time and reheat it for breakfast, snacks, or lunches each week.
This Sweet Potato Egg Dinner/breakfast Casserole is light, flavorful, and the ideal healthy breakfast to cook ahead of time in order to get your day off to a good start. It has the sugary flavor of pancakes, the light and airy consistency of quinoa bake, and the savory flavor of a breakfast casserole all rolled into one delicious dish.
I enjoy creating breakfast casseroles since they are simple to prepare. A breakfast casserole is essentially a large frittata cooked with eggs and any meat, vegetables, and cheese you choose. One of my favorites is this Spinach Mushroom Breakfast Casserole! This vegetarian recipe is delicious, hearty, and flavorful! The ideal way to begin any day!
This dish serves a large group, making it ideal for holidays or entertaining. If you don't have a large group to serve, the leftovers are usually useful. We like to make a large pan so we can reheat it for convenient breakfasts throughout the week. What a morning lifesaver!
This scrambled egg casserole is based on my grandmother's recipe. The nice thing about casseroles is that they can be made ahead of time. Because it can be made the day before and stored in the refrigerator, Grandma's recipe has been a part of many Christmas brunches.
Then, on Christmas morning, just place it in the oven and return to spending time with family. It's also perfect for a brunch potluck, perhaps on Mother's Day, and I enjoy preparing it on brinner nights. Every week, my family enjoys breakfast for supper, or brinner. Any meal I can prepare ahead of time makes our hectic nights even simpler.
Eggs on top of your breakfast nachos! Or you could make a nacho casserole. You may call it whatever you want, but could anything possibly be better!? The Chipotle Breakfast Nachos come with eggs on top and are packed with smokey and rich, delectable Mexican tastes. All of this is served on top of chips that are warm and crisp. In addition, you will get a simple method for peeling tomatoes while consuming this meal or brunch for supper.
To that end, here is a piece of advice in the event that you intend to prepare this dish for brunch: Bake it the night before, and then immediately before serving, sprinkle the cheese and bacon on top to give it a finishing touch. It will save you a lot of time in the morning, which I'm sure you'll spend dragging youngsters around the house in order to get them dressed in Easter outfits that are coordinated with one another.
Eggs are one of the ingredients that I always have on hand for baking, but eating them by themselves has never been one of my favorite things to do. Up until lately, I've never had a need for eggs. Eggs are becoming one of my favorite foods, and I have no idea why.
I have been making sure to consume them on a few occasions every week. I typically simply make a couple of egg white scrambles with spinach and call that a meal, but I was feeling a little bit bored, so I decided to make a Spinach Artichoke Egg Casserole instead. Oh my, I couldn't believe how simple and delicious that was! It's possible that eating this breakfast casserole has converted me into a full-fledged egg devotee.
In a medium saucepan, combine potato slices that have been dried out with water, and bring to a boil for four minutes. Place in a casserole dish that is either 2 quarts or 9 by 9 inches in size.
Eggs, milk, and the sauce package should be mixed together in a bowl using a whisk until nearly smooth.
Potatoes should be mixed with the egg mixture, meat, peppers, onions, spinach, and spicy sauce (if desired). The mixture should then be distributed uniformly in the pan.
Bake for approximately 30 minutes, or until the potatoes are soft and the eggs begin to set. After sprinkling with shredded cheese, return to the oven for an additional 15 minutes.
Allow 10 minutes to stand before serving.
Do you want all of the tastes of your favorite sandwich, but in the limits of a meal that is simple to make? This Keto Philly Cheesesteak Casserole is going to win your heart and become your new favorite dish. The silkiness of the cheese sauce is a wonderful complement to the shaved steak, onions, and peppers that have been sautéed. This has rapidly risen to the status of one of my go-to lunches.
This Overnight Eggs Benedict Casserole is ideal for brunch and the forthcoming Easter weekend since you can make it all the night before, and then all you have to do is bake it in the morning before serving.
Egg yolks, lemon juice, and melted butter are the only ingredients required to make it, although I've heard versions that call for heavy cream as well, in case you like a more substantial consistency. Due to the fact that I want a generous amount of sauce on my casserole, I doubled the recipe.
In this healthy, lower-carb Ground Beef & Egg Breakfast Casserole, lean ground beef (or turkey) is seasoned like sausage and stacked with cheddar and eggs for a delicious breakfast dish!
If you want to bake this ground beef breakfast recipe fresh in the morning, you may save prep time by performing some of the steps the night before:
Season and brown the beef "sausage."
Grating the cheese
The eggs should be whisked.
Then, cover the items (individually) and place them in the fridge. All that remains to be done in the morning is to put the ingredients in the dish and bake!
This Breakfast Strata Is Perfect For Festive Get-Togethers, Brunches, Or A Yummy Breakfast For The Whole Family!! This Strata Recipe Is Sure To Be A Hit With Any Group Because It Features Layers Of Bread, Ham, Cheese, And Egg All Smothered In Butter!
This Egg and Potato Breakfast Casserole is a simple breakfast casserole stuffed with potatoes, vegetables, and cheese. It's also totally customisable using your preferred ingredients and may be made ahead of time.
This Vegetarian Breakfast Casserole is ideal for serving at brunch for special events such as Christmas Morning or Easter Brunch, or for any day of the week because it is simple to prepare ahead of time. This egg casserole is a crowd favorite whether you're serving a small family or hosting a big group of guests.
This Cheesy Mashed Potato Egg Casserole is the Perfect Breakfast or Brunch Casserole Loaded with Mashed Potatoes, Eggs, Cheese, and Bacon! This filling breakfast recipe is ideal for entertaining!
You're going to think I'm a weirdo when I say this, but breakfast…breakfast makes me thrilled, you guys! It's so backwards since I despise waking up in the morning and seldom prepare a large breakfast, yet I still enjoy it. I particularly enjoy it when I offer it at supper! Fortunately for me, my daughters and husband enjoy it as well.
A delicious breakfast egg casserole made with vegetarian ingredients that is ideal for brunch! This Potato, Spinach, and Cheese Egg Casserole is not only a simple breakfast to cook ahead of time, but it's also delicious. See the video below for the recipe!
Make this casserole on Sunday, place it in the refrigerator, and reheat pieces as required during the following days. This egg casserole makes for a tasty and hearty meal when served over whole wheat bread or breakfast potatoes.
This recipe yields a huge casserole, so it is plenty for several dinners. It is also ideal for Easter or Mother's Day breakfast because it can feed a large group!
This recipe for Cheesy Egg Casserole is simple to prepare the night before, and adding your own breakfast meat and veggies may make it even more delicious.
Before cutting the bread into cubes, you must butter it. Barbara utilized some outdated meat and hot dog buns from her leftovers. These meals are an excellent way to utilize bread that is on the verge of becoming stale.
Before placing the bread and cheese to a 1.5-quart baking dish buttered with butter, spread the dish with butter. As seen by the photographs on her blog, Barbara utilizes several of our late grandmother's crockery.
I feel that following a diet that is rich in protein and low in carbohydrates makes it much simpler to lose weight, but calories still play a vital role in the process. Consequently, while you are following a ketogenic diet, you need to be careful not to overeat.
I was able to get through a whole week of nutritious and low-carb breakfasts with the aid of this broccoli egg casserole with bacon and cheese. Although there are around 500 calories in one dish of the casserole, I try not to skip breakfast because it's such an important meal.
This Spring Vegetable Egg Casserole is the ideal dish to showcase all of your most beloved vegetables available throughout the spring season. And when combined with tangy feta cheese and baked into a simple casserole, it becomes the ideal recipe for serving a large number of people that can be prepared in advance.
This egg bake with asparagus and mushrooms is delicious for either breakfast or brunch. Because it can be prepared the night before, this straightforward egg casserole should be your go-to dish for celebrating Mother's Day or Easter.
This strata dish is, as expected, loaded with veggies! Using Herbs de Provence, I cooked sweet potatoes, onion, mushrooms, bell peppers, and kale. Then, just combine them with bread, eggs, milk, and cheese before baking until golden brown.
I honestly wasn't sure if I would blog about it. I consider a strata recipe to be a beginning point. You only need the correct amounts of leftover bread, eggs, and milk, and then you can add whatever vegetables and meat seem delicious, top it with cheese, and call it a supper.
But when it emerged from the oven, it was so beautiful! The vibrant hues of the vegetables and the golden cheese. I couldn't resist sharing it with you! Not only is it beautiful, but it is also rather tasty. That is, if you like veggies. And it's no secret that I love veggies soooo much.
The Southwest Ham and Egg Casserole is a breakfast casserole that is simple to prepare in advance and one that we have been cooking on a regular basis. The addition of green chilies and many other spicy ingredients gives the breakfast you serve a significant boost in terms of flavor. It works really well to satisfy the appetites of a large group.
The Amish Breakfast Casserole is without a doubt one of the most delicious breakfast casseroles that any of us have ever had. Hash browns and cheese cooked in eggs until the eggs become creamy. It is fantastic in every way!
This was what we had for breakfast, and then later that same day for supper we heated up the leftovers! This is also an excellent meal to prepare when you have overnight visitors or on a holiday morning. You only need to make some biscuits and grits, and you'll be good to go.
At our house, this casserole was a huge hit. We prefer to pair it with biscuits and grits. If you're serving this for lunch or supper, pair it with a salad. Breakfast for supper is one of our favorite meals! I guarantee that no matter when you eat it, it will be a hit. Try this the next time you need a quick breakfast meal!
This recipe from the pioneer woman features sliced green chilies, which provide it a distinctive Southwestern taste. Don't worry if you're not someone who like things on the spicy side. When purchasing a can of chopped green chilies, check that the label specifies that they are mild.
The Anaheim pepper is one example of the kind of mild New Mexican pepper that is used to make this type of chili. They have a similar mild flavor to bell peppers and contribute a great deal of flavor to the dish.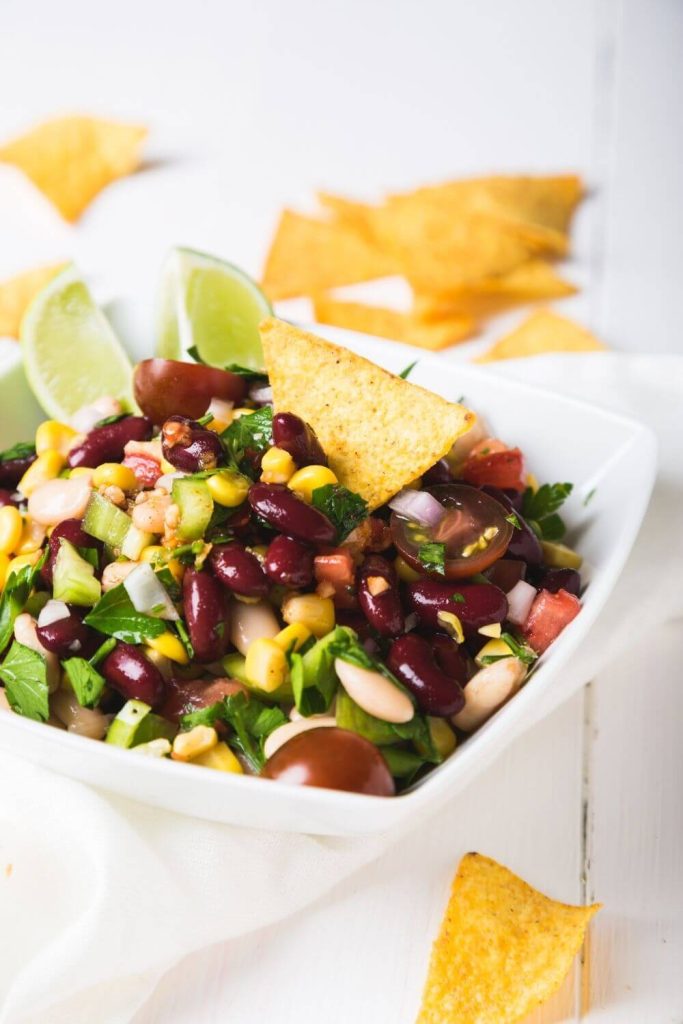 The Ham and Egg Casserole dish from The Pioneer Woman can be prepared in less than an hour with very little active participation from the cook required. The best thing is that you can make it with bread and ham that you already have in the fridge! This is a breakfast meal that has been tried and accepted by both adults and children. I use it on the weekends when I have people over for brunch or on special occasions like the holidays.
Turn the oven on to 350 degrees. Eggs and milk should be whisked together in a large bowl. Mix in the cheese, ham, and onions until well combined. Pour into a baking dish that is 13 inches by 9 inches and has been oiled.
Bake, uncovered, for approximately 40 to 45 minutes, or until a knife inserted in the center comes out clean. Before chopping, let the meat stand for ten minutes.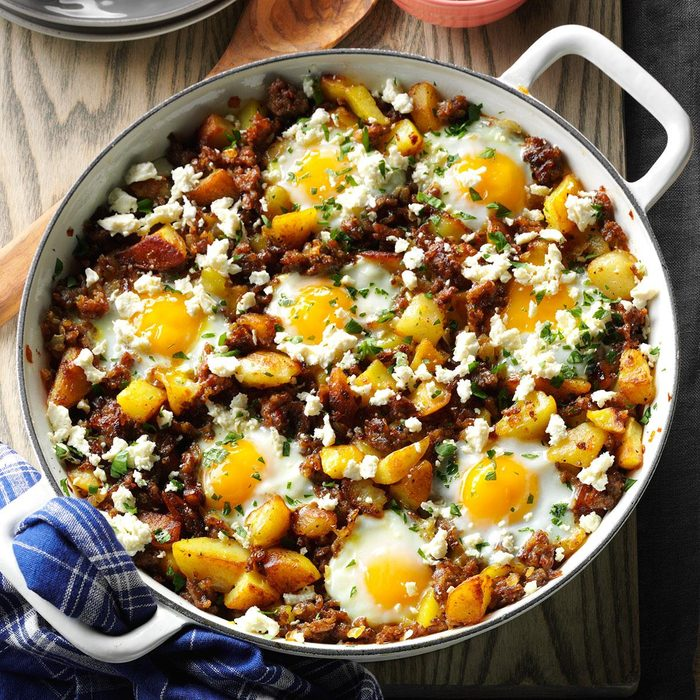 Prepare the oven to 375 degrees. Put the potatoes in a big saucepan and cover them with water to make sure they don't dry out. Bring the liquid to a boil. Reduce the heat; cook the vegetables uncovered for 6-8 minutes, or until they are almost soft. Drain.
In the meantime, in a pan that is ovenproof and is 12 inches in diameter, sauté and crumble the sausage with the onion over medium heat for 6 to 8 minutes, or until the sausage is no longer pink. Remove from the pan using a slotted spoon, and then clean the skillet.
Oil should be heated in the same pan over medium-high heat. Toss in the potatoes and season with salt and pepper before serving. Cook for 10 to 15 minutes, flipping the meat regularly, until it reaches a golden brown color. Stir in sausage mixture. Take the pan off the heat.
Make eight indentations in the potato mixture using the back of a spoon. Place one egg into each corresponding well. Cheese should be sprinkled on top.
Bake for 12 to 15 minutes, or until the egg whites are set and the yolks begin to thicken but are not yet completely hard. Garnish with little chopped parsley.
More Recipes:
In addition to being loaded with diced ham, shredded Swiss or Havarti cheese, chopped hard-boiled eggs, sun-dried tomato pesto, and sun-dried tomato Alfredo sauce, this lasagna is baked for 24 hours and then topped with Italian Parmesan bread crumbs and melted butter.
That's a tremendous lot of taste packed into one casserole dish of lasagna! Ham, Cheese, and Eggs Served Cold the Next Morning Dinner can't get much better than lasagna. Try out this recipe if you're seeking for something unique and delectable to add to your cooking repertoire.
This omelet cooked on a sheet pan is loaded with baby spinach, bacon, and lots of cheese. For extra taste, there is also green onion and delicious red bell pepper included. It is a time-saving method for preparing breakfast for the week ahead of time or cooking omelets for a large number of people all at once.
Coat a 13×9-inch (3-quart) baking dish with nonstick cooking spray. Spread half of the English muffins in the bottom of the dish; top with Canadian bacon and 1 1/2 cups of the cheese.
In a large mixing bowl, whisk together the eggs, milk, salt, and pepper until thoroughly combined. Pour over English muffin mixture and gently press down. Finish with the remaining 1/2 cup cheese. Refrigerate for at least 2 hours, but no more than 12 hours.
Preheat the oven to 350°F. Microwave butter in a small microwavable dish, uncovered, for 20 to 30 seconds, or until melted. Uncover casserole and sprinkle with butter. 35 to 45 minutes, or until golden brown and a knife inserted into the middle comes out clean. Allow to stand for 15 minutes before serving.
This vibrant Western Omelet Quiche is the result of the collision between a traditional handmade quiche and a Western omelet. A delectable and velvety egg custard is combined with shredded cheese, bell peppers, green onions, and ham before being cooked together in this dish. It's not only simple to make, but it also reheats really well if you bake it in a pie with a thick crust and pour everything into it.
This sausage, egg, and cheese casserole without bread is an easy dish that can create enough keto breakfasts for a whole week all at once. For speedy breakfasts that can be taken on the move, simply reheat a square portion.
You may keep it in the freezer for up to three months without causing any change to either its flavor or its nutritional profile. This indicates that you may prepare and store a large quantity, and then cut a slice to reheat whenever you are in the mood for a fast supper or a snack.
This cheesy zucchini egg bake is the ideal dish for breakfast, since it contains mozzarella cheese, fresh zucchini, and a delectable combination of dried herbs. As a result of its low-carb, keto-friendly, gluten-free, and vegetarian characteristics, this meal is guaranteed to be well received by anyone following a variety of dietary plans.
This is one of the breakfast casseroles that everyone in my family enjoys, and the recipe is so straightforward that even the youngest members of the household may participate in its preparation. This will be served for Christmas brunch alongside fresh fruit and breakfast meats such as crispy bacon and sausage links, among other items.
You can make a hash brown egg casserole vegetarian (no meat), adding any fresh vegetables you choose, using shredded potatoes rather than cubed potatoes, and even substituting sweet potatoes for the usual frozen potatoes in the casserole.
If you want something more robust than mild cheddar, use sharp cheddar cheese instead, or even Monterey jack cheese if you can get it.
This casserole made with broccoli, cheese, and eggs is very mouthwatering. The fact that this casserole reheats nicely is undoubtedly its strongest selling point. My meal consists of a square that has been reheated in the microwave. It's a good dinner to whip up on the weekend and keep in the fridge for the rest of the week.
If I have a nutritious lunch, then I won't feel guilty about having a cookie or brownie in the afternoon. Oh wait! That is not how one should go about maintaining a healthy diet!
This Egg Beaters Breakfast Casserole is the ideal school morning breakfast or holiday brunch buffet staple when your family is gathering together since it is easy to cook ahead of time and requires no active preparation on the day of serving. Alternately, you could prepare it over the weekend, divide it up, and then have breakfast ready to go for the entire week.
This Weight Watchers Easy Breakfast Casserole is incredibly delicious, and who doesn't enjoy having breakfast for dinner every once in a while? When it only costs 5 points on any of the three myWW plans, it is an even better deal. Recipes from Weight Watchers that are both satisfying and low in points are some of my favorites.
Coat the interior of a slow cooker with cooking spray.
Cook the bacon in a large pan over medium-high heat, rotating periodically, until uniformly browned, about 10 minutes. Crumble bacon pieces after drying them on paper towels.
Cook and stir onion, red bell pepper, and garlic in a pan coated with cooking spray over medium heat until onion is cooked, about 5 minutes.
Stir potatoes into onion mixture. Fill the slow cooker with one-third of the potato mixture, one-third of the bacon, and one-third of the Cheddar cheese. Layer the other ingredients, finishing with the cheese.

In a mixing bowl, combine eggs, milk, dill, salt, and pepper; pour over slow cooker contents.
Cook on Low for 8 to 10 hours.
This Breakfast Casserole made in a Crockpot is just what you need for Thanksgiving or Christmas morning. When our extended family comes to town for a visit, I always cook breakfast casserole for them since they all really like eating it. I adore how EASY it is to make this dish! Believe me, you won't regret making that decision at all!
To make cleanup a breeze, I put a nonstick cooking spray on a crockpot liner. Watch the time in the last hour of cooking in case the casserole begins to burn on the edges.
Floppy eggs, a variety of fresh fruits and vegetables, cheese, and smoky sausage are all part of this hearty breakfast. What is there not to love about this traditional Egg Casserole.
The right characteristics to describe my favorite sort of recipe are: simple, fast, tasty, and easy.
You can make this ahead of time for those special mornings or mix it up and toss in the oven. This meal may be used in so many different ways!
There are several ways to prepare this delectable gluten-free egg casserole. You may cook it with or without meat, and with a variety of vegetable combinations.
This has been tested with bacon, ham, and sausage. All selections are equally delicious! This goes great with roasted red peppers and spring onions, as well as cheesy delight. Green and red peppers would be as delicious. I prefer to combine the two! In this house, we like a variety of cuisines.
This dairy-free egg casserole is a full, healthy dish that is ideal for meal prep, holidays, breakfast, or entertaining overnight visitors. I like to cook it on Sunday so that I have breakfast ready for the busy week ahead. It goes well with fresh fruit, a slice of bread, and freshly squeezed orange juice.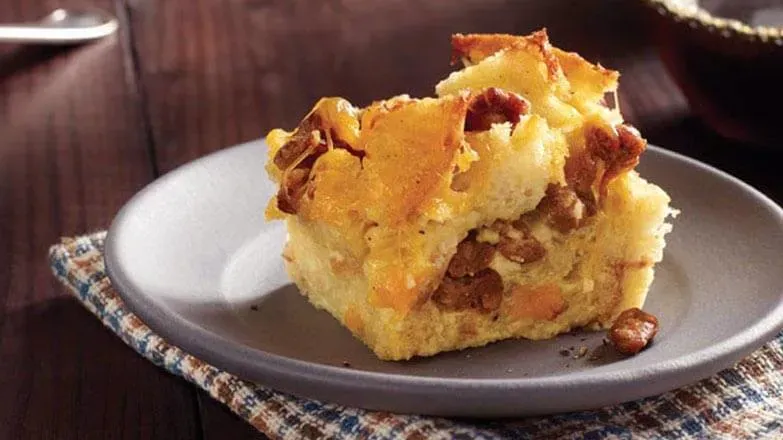 Prepare the oven by preheating it to 350 degrees.
In a large bowl, use a wire whisk to thoroughly combine the egg, milk, and black pepper ingredients. Add the bread cubes and give the mixture a little toss until it is equally covered.
Mix in crumbled sausage and one and a half cups of grated cheese.
Pour into a baking dish that is 13 inches by 9 inches and lightly oiled. Top with the remaining cheese.
Bake for 45 minutes, or until a clean knife blade is produced when pushed into the middle. After letting it rest for ten minutes, cut it into 12 squares to serve.
This Paleo Breakfast Casserole is ideal for serving for brunch or for making ahead of time since it is packed with so many delicious ingredients. The "crust" is made of roasted sweet potatoes, and it is topped with crispy bacon, roasted brussels sprouts, caramelized onions, and baked eggs. This Whole30 compliant breakfast dish has nutritional yeast, which imparts a taste reminiscent of cheese in just the perfect quantity.