A serious chocolate lovers treat! These Double Dark Chocolate Cookies with Sea Salt are made with dark chocolate, filled with dark chocolate chips, then, topped with a coarse sea salt. The perfect sweet/salty combination!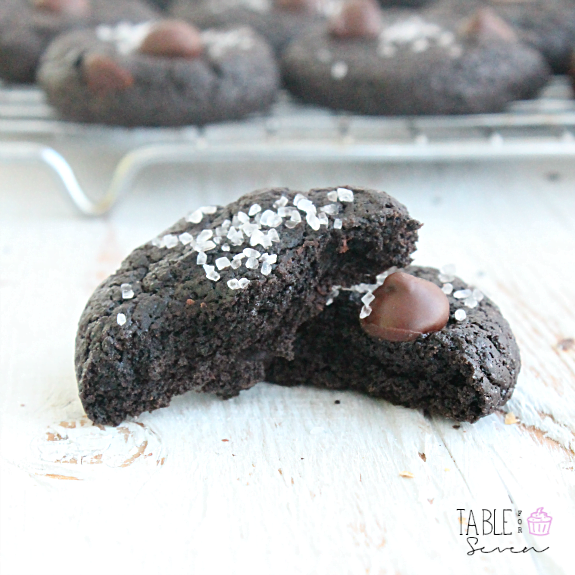 Before going into how incredibly fabulous these cookies are, there is a bit of blog news around here for me to share.
You may of noticed that there wasn't a Inspire Me Monday post this morning. It wasn't an error. I decided to move on from the party.Nothing to scandalous! With the the new year, I decided it was time for me to spend more time offline.
Here's the thing, I love blogging. I love baking and photography. I love that so many people have found something they like here (or haven't like..sorry about those!). But, right now, my family and sanity are more important.
With that, I'm not stopping Table for Seven or getting rid of it. Just spending less time on social media. The whole kit-n caboodle of blogging is so much more than posting something on your site. There is the whole process of "getting it out there"…social media, food sharing sites, food sharing groups..the list goes on.
It's never bothered me at all to do these things, but, since, we started homeschooling our kids, it's a much greater challenge. I've tried to cut back in the past and it hasn't worked out. But, now, it's different. Things may change in the future, but, right now, this feels like the right time.
Now, on to cookies…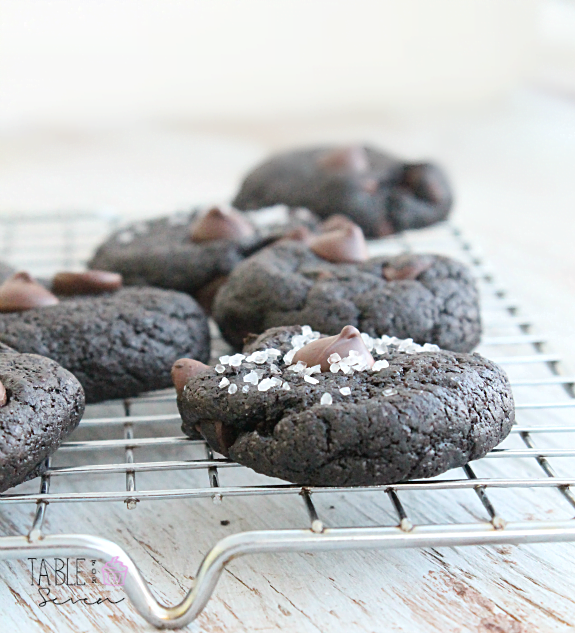 Speaking of changes for the new year, I hope it wasn't to eat less chocolate. 😉
If it is, these will most definitely change your mind. Double the dark chocolate in these and topped off with my favorite dessert topping lately: sea salt! Goodness, it's a great combination.
Soft cookies that are perfect for the chocolate lover in all of us-