Soft pumpkin bread with a swirl of dark chocolate, then, topped with a sweet powder sugar glaze!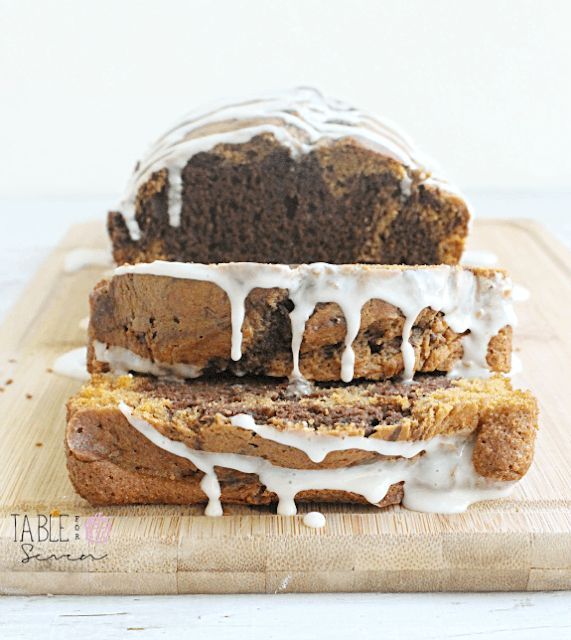 Ingredients Needed:
Flour + Baking powder + Ground cinnamon
Salt + Baking soda
Eggs
Vanilla
Brown sugar
Buttermilk
Pumpkin puree
Dark chocolate chips
Powdered sugar
Milk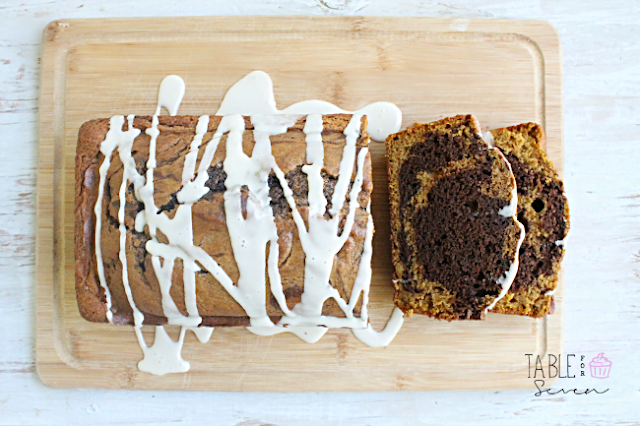 No Buttermilk on Hand? Whisk about a tablespoon of vinegar into the half of cup of milk. Let it sit for 5 minutes, then, use as directed in recipe.
Brown Sugar: If desired, coconut palm sugar can be used as a replacement.
Pumpkin Puree: Be sure you are using pure pumpkin puree..not pumpkin pie mix.
How to Make:
First, make batter. Set aside.
Then, in a saucepan or microwave safe bowl, melt chocolate chips until smooth. If you are using the microwave, do this in 30 second intervals, to prevent burning.
Scoop a portion of the plain batter into a clean bowl. Add in the melted chocolate and whisk to combine.
Add both batters into your prepared pan. Alternating between the two. Once both batters are in the pan, swirl with a butter knife. Don't mix it all together.
Bake.
Once fully baked, remove from the pan and let it cool for about 30 minutes before adding glaze.
Whisk together glaze ingredients and drizzle on top of cooled loaf. Then, let the loaf cool completely before serving.
Storage: Keep any leftovers in a seal container. You don't need to refrigerate it, but, it's best if it's eaten within 2-3 days.
Freezing: This bread can be frozen. I do recommend freezing it without the glaze, then, add it once it's defrosted and ready to serve.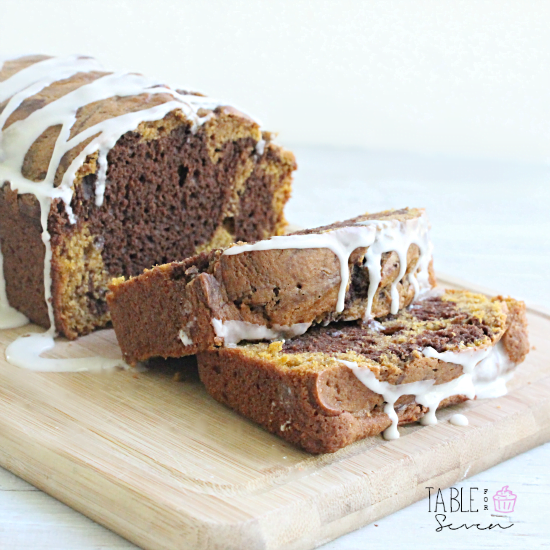 More Pumpkin to Love: