Classic meatloaf topped with Swiss cheese and cooked in your crock pot!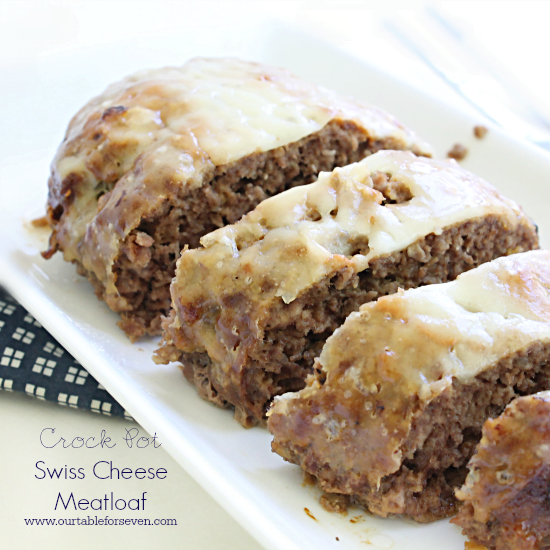 It's been mentioned on the blog before, that despite what it posted here, we do eat more here than sweets. My kids are kinda bummed about that, but, it's a fact.
As I told you guys, I've been in a dinner slump the last few weeks. Bored in the ole' kitchen.
Tell me you've been there. You have, right?
Then, I figured, hey, let's have meatloaf! Also, yes, super exciting stuff like this happens at my house all the time. But, it had been a while since we had it, and after seeing a bajillion pins on Pinterest about cooking it on the crock pot, it was meatloaf time!
I must say, this is another crock pot dish that has won me over. Especially, since, the day we had it, the weather was 80 degrees. Loved not having to turn on the oven!
Just a few notes:
1. This is a pretty simple meatloaf recipe. Nothing too flashy or glitzy. But, it's delicious. If you want to use your own meatloaf recipe, the cooking method time shouldn't change, unless you use more/less ground beef.
2. Remember to line your crock pot with foil (and spray with non stick cooking spray!) or use crock pot liners. Much easier clean up.