Simple and versatile! Make a batch of this Crock Pot Spaghetti Sauce for dinner or to store in your freezer for the future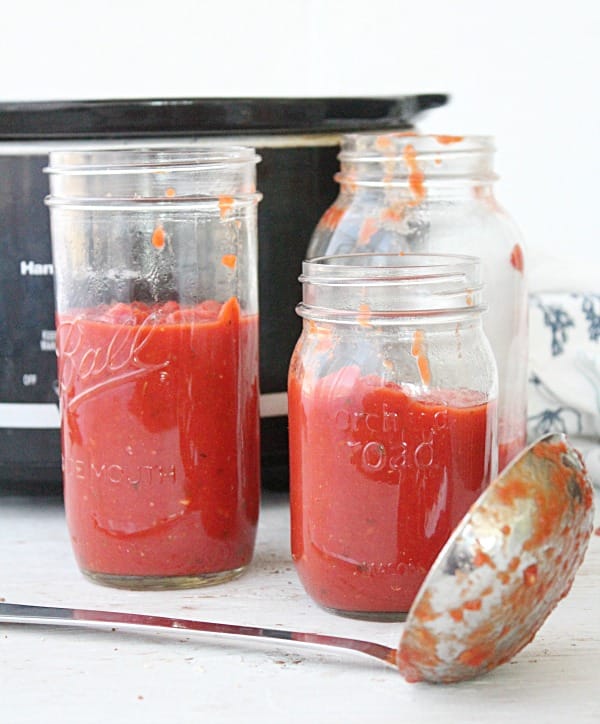 I realized that within my large collection of crock pot recipes around here, there is not one for spaghetti sauce.
Honestly, I don't know why I haven't shared this earlier..it's a recipe that I've been using for long time.
Probably because, it's a just a basic recipe and well, really, you can buy spaghetti sauce pretty cheap at any grocery store.
I do that too. However, I still believe that making something homemade is best. When it comes to taste and budget.
As mentioned, this is a basic sauce recipe. I have it labeled as "spaghetti sauce", but, of course, it's your basic red sauce. Use it wherever you need or require the jarred version of the stuff.
A few notes:
I use minced onion for this sauce. It's strictly more of a time saver on my part. My family likes a smooth sauce and adding onion pieces requires me to puree it before using. Not a huge deal, but, using the minced onion saves me the step. If you don't want to use the dried version, feel free to add a small diced onion instead.
You can cook this on low all day, if you like. Just be sure you let the flavors cook together for at least 2 hours before serving. At bit more if you are using fresh onion, just to get it softer.
Adjust the spices to this red sauce to adjust to your liking and make it your own!