One easy and cheesy dinner! No need to boil the noodles beforehand with this mac and cheese recipe. They cook right in your crock pot. Serve this up with your favorite veggie and call it dinner.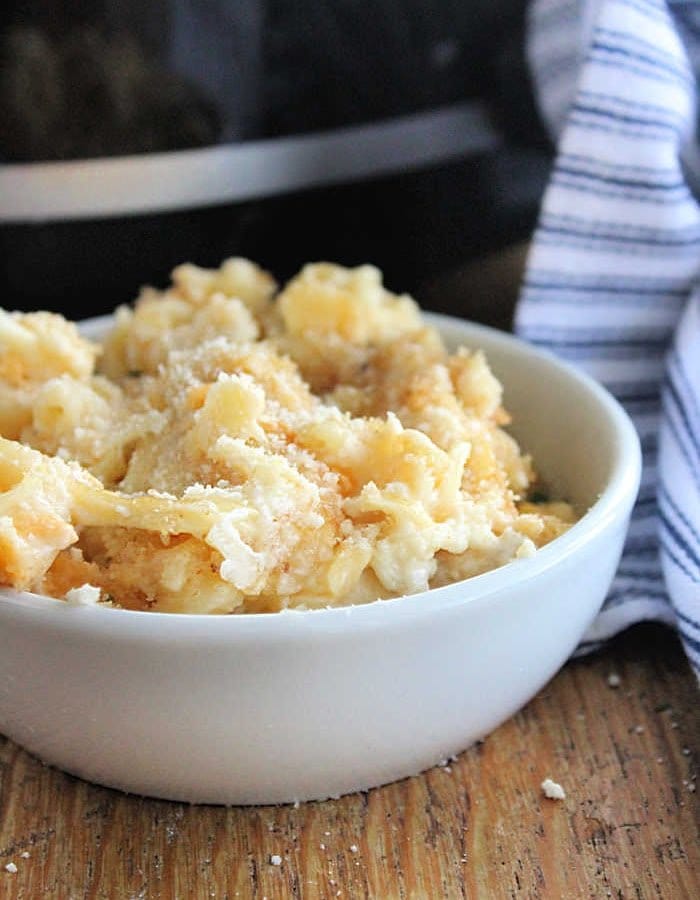 Ingredients Needed:
Butter
Flour
Dried Spices: Onion, Garlic, Parsley, Paprika, Salt and Pepper
Shredded cheddar cheese
Elbow macaroni
Milk
Dijon mustard
Grated Parmesan cheese
Bread crumbs
Olive oil
Elbow Macaroni: If you don't have elbow macaroni, you can use another dry pasta. Stick with something that is similar is size for the cooking time to be accurate.
Dried Spices: Below is what I like to use for our macaroni. But, of course, feel free to increase/decrease the amounts to suit your taste.
Shredded Cheddar Cheese: We prefer a sharp cheddar for our mac and cheese. However, you can use any cheese blend for this. You will need 4 cups total.
How to Make:
First, line your crock pot with parchment paper or crock pot liners. This makes clean up a whole bunch easier!
Next, melt butter in a large pot over medium heat. Add in flour, mustard and dried spices. Whisk it all together and cook for just a minute or two.
Then, add in milk and whisk until it's smooth. Increase the heat and let it simmer for 5-8 minutes. You want the mixture to be thickened.
Once thick, remove it from the heat and stir in the dry pasta noodles. Let them sit in the hot mixture for 5 minutes.
Transfer it to the prepared crock pot. Then, stir in the shredded cheeses.
In a separate small bowl, mix together the ingredients for the topping. Sprinkle it on top of the pasta.
Cover and cook.
Recipe Note: Cooking time may vary, depending on the brand/size of your crock pot. Your macaroni is done when the pasta is tender and the sides are brown.