The easiest recipe you will ever make in your crock pot.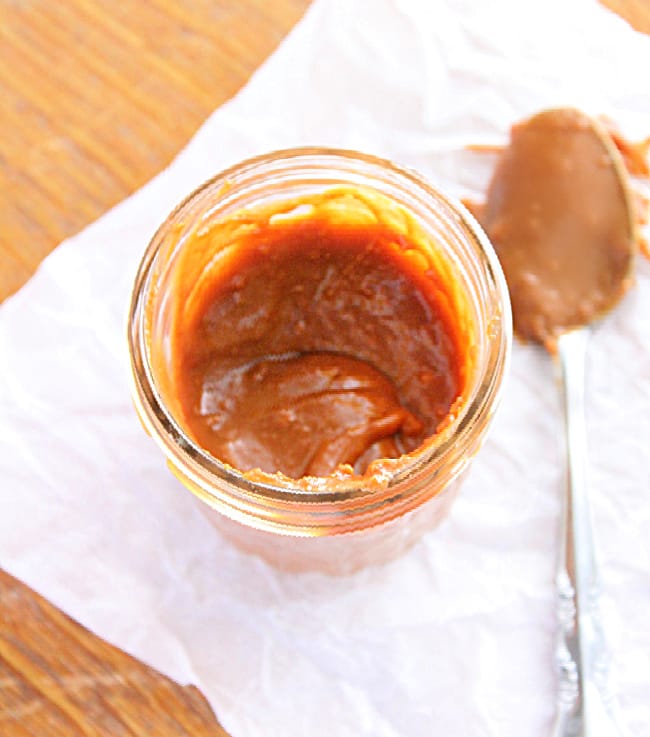 This recipe literally only needs two ingredients: Sweetened condensed milk and water.
What is Dulce de Leche?
It's a thick caramel sauce that originated in Latin America. It's translation is "candy made from milk" (thank you Wikipedia!).
In many stores, you can purchase a can of ready made Dulce le Leche in the Hispanic food section. However, some areas ( like mine) don't carry it at all. Which, is a bummer. Because, it's some serious amazing stuff. No worries…making it is crazy simple!
How to Make:
Place a can of sweetened condensed milk into your crock pot. Leave the cover on the can and there is no need to remove the label.
Pour in hot water. You want the water to be about two inches above the can. Cover and cook on low for 8 hours.
Once complete, using tongs, remove the can from the crock pot. Immediately place it in a bowl of cold water for 10 minutes. Do not stick this step! Your sauce and can are very hot. Opening it too early could be messy and dangerous.
Now that it's cooled, feel free to use it wherever you wish. As a topping, in hot chocolate, in a dessert recipe ( see some ideas below) or simply eat it with a spoon.
Just be sure to remove it from the can before storing. Keep it in a covered jar/container and store in the refrigerator.
Note: If your crock pot has the space, you can cook two cans at the same time. Cooking times and instructions remain the same.