An easy and cost efficient dinner option! Tender chicken cooked in your crock pot with red sauce and cheese. Serve it on top of a plate of pasta for the finishing touch.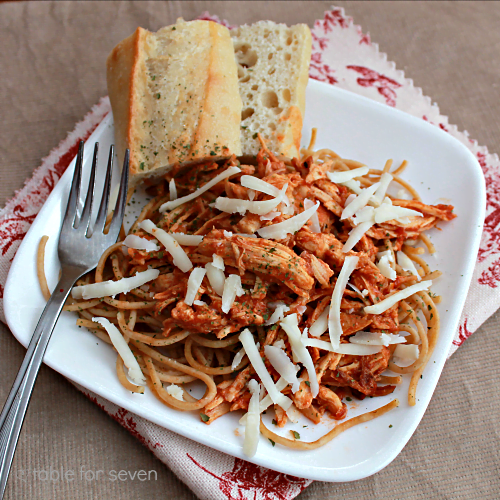 This is barely a recipe.
It's one of my "toss some stuff in the crock pot because, I'm too lazy to cook dinner but, don't want to to spend money on takeout" kinda dishes. You have a few dishes like that too, admit it.
However, it's darn tasty, so, why not share it with you guys? 🤔
Short Ingredients List:
Boneless chicken breast
Marinara/Tomato sauce
Mozzarella cheese
Parmesan cheese
Chicken Breasts: This recipe is based on 1.5 lbs of boneless chicken breasts. It should be about 2-3 mediums size breasts. You can use more/less, if desired. Just be sure to adjust the amount of sauce.
Can I use Frozen Chicken Breasts? Yes, just increase your cooking time about 30 minutes.
Mariana/Tomato Sauce: Use your favorite red sauce or spaghetti sauce. Jarred, canned or homemade will all work.
Cheeses: I usually go with the standard mozzarella/Parmesan combo for this recipe. But, feel free to use your own Italian cheese blend.
How to Make:
First, place your boneless chicken breasts in the crock pot. Pour sauce on top.
Cook on low for about 4 hours. Then, remove breasts from pot and shred.
Place back into the pot and stir the shredded chicken with the sauce. Add in cheeses and cook for about another 30 minutes or until they melted.
Goes perfect with pasta, garlic bread and a salad!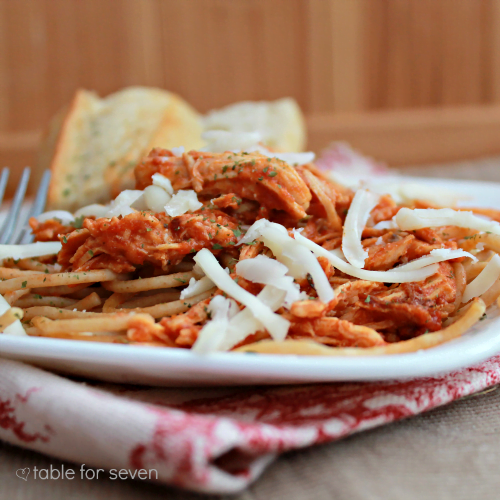 You Should Try These Too!