The classic soup made right in your crock pot!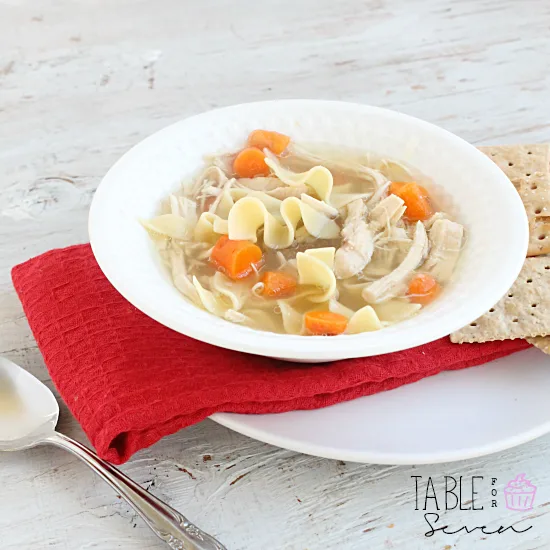 It feels kinda strange to be posting a soup recipe. Normally at this time of year, it's still pretty chilly. It's starting to warm up slowly, but, it is most definitely still soup weather.
Today, it was 63 degrees here. Yesterday, it was 70. Not exactly chilly-soup temperatures.
It feels nice, but, really odd. I hate to even mention the weather, for fear of jinxing it. Make a comment about it being 70 degrees in the beginning of March and next week? We will have a foot of snow.
It could happen. So, I'm just going to enjoy it and dine on chicken noodle soup.
Chicken noodle soup and my favorite cracker to dunk in it, saltines.I need to have them with chicken noodle soup. They must also have a bit of butter on them. So yummy.
This soup is so darn good. You won't even care about the weather is, you will want to eat it up. It's also made in your crock pot, so, it's not only tasty, making it is a no brainer.
Just a few notes:
You start with 1 lb chicken breast. I usually grab 1 large breast for this soup, but, 2-3 smaller pieces will work fine too.
Whole wheat egg noodles can be use in place of regular egg noodles in this soup.
The egg noodles only need 5-10 minutes to cook. Din't let them cook any longer..they will get sticky.
For chicken broth: regular, low sodium or unsalted all work well with this soup. Just adjust your seasonings to your preference.
This Crock Pot Chicken Noodle Soup is a great soup and a perfect weeknight dinner.