One pan. One hour. Dinner is ready! Your favorite tortellini mixed with a creamy sauce and your favorite sausage.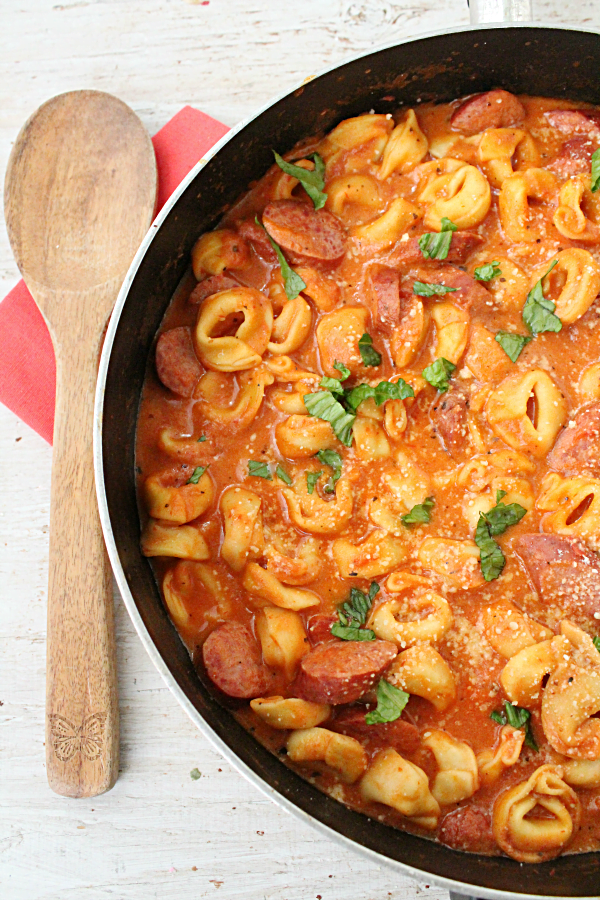 This is one of my favorite ways to cook dinner. Toss your ingredients into a giant skillet and it all cooks up nice and neat within an hour. Dinner is one pan. It's kinda awesome.
Alright…you have to be responsible,add a veggie somewhere in your dinner. Mine does not have a vegetable. Not shocking, most of my dishes don't.
My kids eat vegetables. So do I. Really. Honest.
But, most of them seem to do better when they are separate from the rest of the dish. Yeah, they are weird that way. The whole hiding veggies in your kids food does not work great around here. Carrots tossed in pasta, doesn't work. But, give them has a side with the pasta, it does.
We just go with it or we wind up with a couple dinner plates with the veggies picked out and children telling me their carrots look 'weird' and they won't eat them. Hence, wasted carrots. Does this happen any place else besides my house?
Please tell me it does.
Here are a few notes:
It would be super easy to toss in some spinach, shredded carrots, baby tomatoes, whatever works for you and your family.
If you aren't a big fan of sausage, leave it out. This dish is delicious with or without it. You can also go with turkey sausage or beef. Again, whatever works for you!
Use any flavor of tortellini you wish. You don't have to defrost it before adding. Toss it right in frozen.
Creamy Tortellini Skillet with (or without) Sausage is a perfect weeknight meal ready in no time!