Celebrate the start of peppermint season with these ooey, gooey cinnamon rolls! Easy to make and filled with chocolate chips and peppermint candies.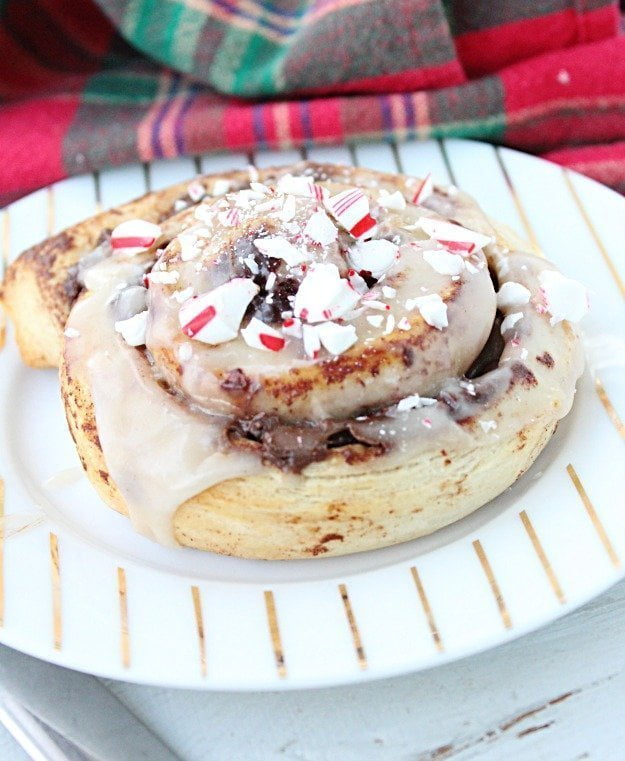 Hello friends! I hope you had a good Thanksgiving weekend.
We had a fabulous Thanksgiving here at our house. Ate way too much food, did some shopping and lots of relaxing. A complete success of a holiday weekend.
Now that Thanksgiving is over, we are jumping right into Christmas baking. To start us off this season..we have peppermint!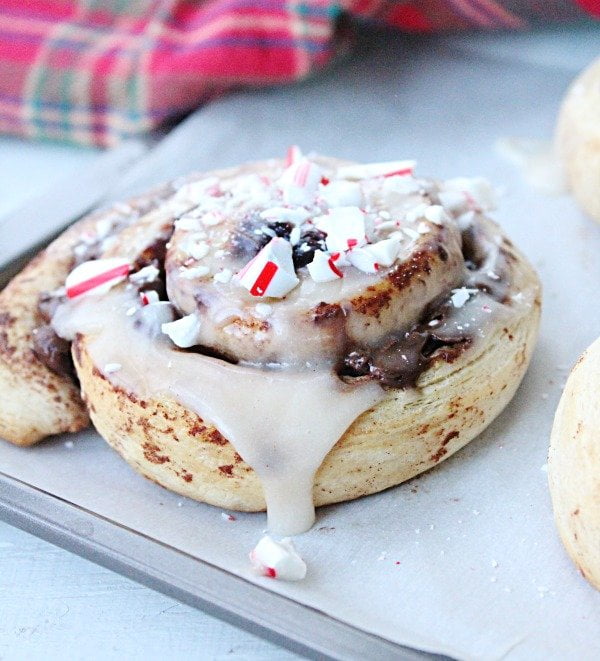 We start off with a bit of a shortcut…cinnamon roll dough courtesy of the refrigeration department of your grocery store. The brand of cinnamon rolls is totally up to you. Just make sure they have the dough that unrolls! This is critical for the recipe.
Double check before you buy them.👍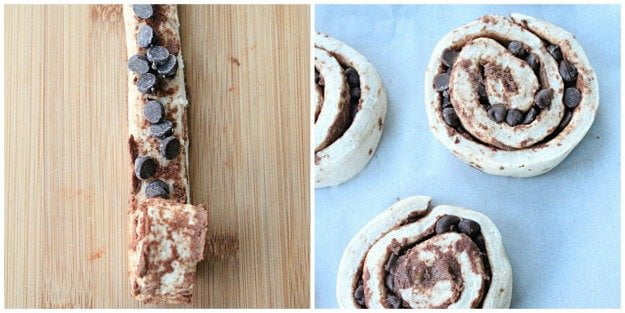 A breakdown + some recipe notes:
Start with unrolling the cinnamon roll dough, one roll at a time.
Place the dough flat and sprinkle the seam with chocolate chips.
Roll the dough back up up into a cinnamon roll shape, then, place on your baking sheet.
Repeat. Repeat. Repeat.
Our cinnamon rolls are Annie's. No paid endorsement, we just really love them. The package is for 5 really, big rolls and I used about a cup (?) of chocolate chips.
Honestly, I'm not sure. I didn't measure my chocolate chips.But, if you start off with a cup, you should have plenty for 1 package of rolls. You may need a bit more or a bit less, but, a cup is a good start.
Once all your rolls are done, bake.
Finish your warm, baked rolls off with the icing from your cinnamon roll dough package, then, sprinkle tops with chopped peppermint candies.
Ooey gooey goodness at its best. ❤️
Chocolate Peppermint Cinnamon Rolls are a delicious and fun treat for just about any holiday celebration!