Light as air chocolate macarons aren't as intimidating as you might think. They take a little patience, but, are worth it in the end. Give them a try this holiday season for your dessert table!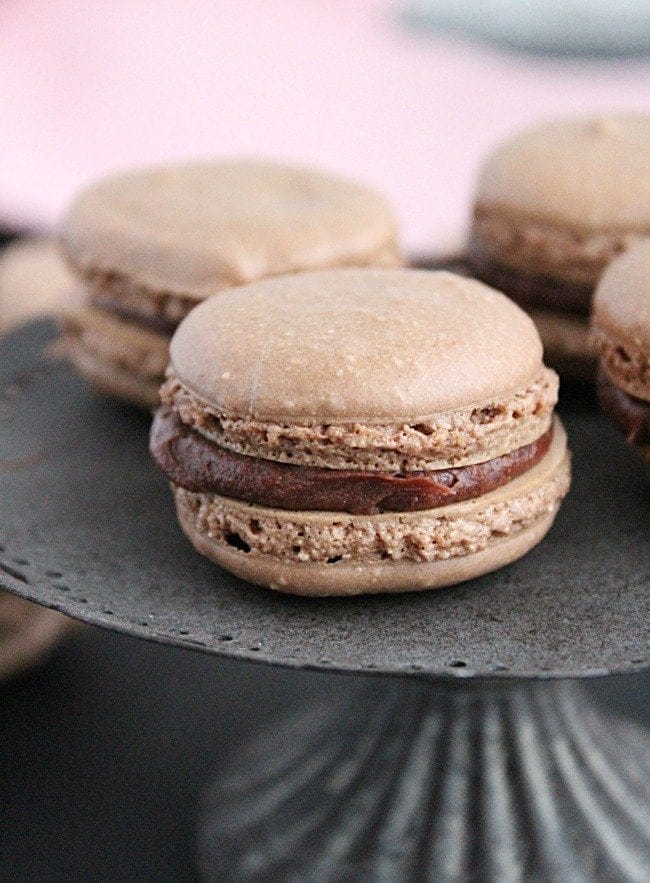 Have you ever made macarons?
These cookies pictured are literally the very first time that I've made them. Honest to goodness. I've always loved how pretty (and delicious!) macarons were, but, I was seriously intimidated when it came to making them.
But, what's a Macaron?
🌟 A macaron is a cookie that originated in France. They are meringue based and are usually made with egg whites, powdered sugar and almond flour. You can make them in a huge variety of flavors and colors. Each individual cookie is topped with your desired filling, then, topped with another cookie to create a sandwich. They are light as air and taste amazing!
Today..I've made chocolate macarons and friends, for real, these are not tough to make. If I can do it, anybody can.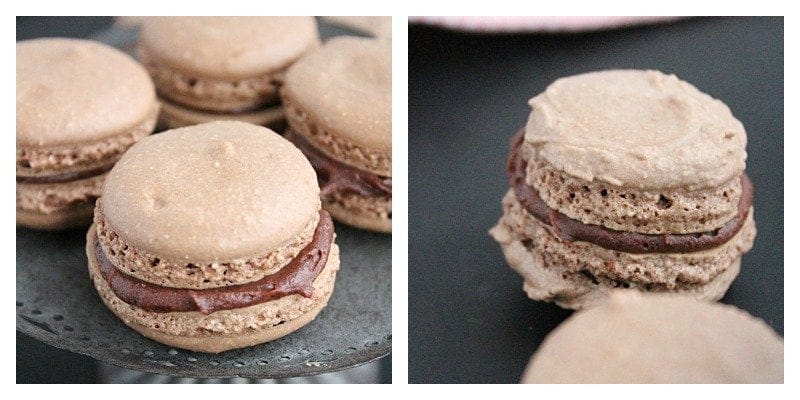 Get Your Supplies + Ingredients Ready:
Cookie sheet + parchment paper or slip mats
Electric mixer – with whisk attachment
Mixing Bowl + standard whisk.
Rubber spatula.
Almond flour.
Powdered sugar
Unsweetened cocoa powder.
White sugar.
Egg whites.
Piping bag + round tip
How to Make Chocolate Macarons + a Few Recipe Notes:
Start by adding almond flour, cocoa powder and powdered sugar into a mixing bowl. Whisk the combination very well. You can also sift this mixture. The object is to remove as many large lumps of the mixture as possible. The less lumps means your cookies will have a smoother finish.
In a separate mixing bowl with an electric mixer, with a whisk attachment, whip the egg whites until stiff peaks form. As you are whisking the egg whites, you will gradually, add in regular white sugar. Don't add the sugar in all at once! Your egg whites will not be able to blend correctly. Also, let your eggs comes to room temperature before using.
Gently fold the almond flour mixture into the egg whites. Do not mix..only fold! Taking a gradual amount of the flour at a time makes this process easier. Instead of dumping all the flour mixture in at once, I took a cup at a time, folded it in, then, took another, another, etc.
Line a cookie sheet with parchment paper or slip mats.
Fill a piping bag with your batter. Using a round tip, pipe approx a 1 1/2 inch circles on to the prepared cookie sheet. Disposable piping bags work great for these cookies. Also, if you don't have any tips, cut a small hole at the top of the bag. If you don't want to use a piping bag, you can use a teaspoon or a small cookie scoop.
Once done, give the cookie sheet a good smack against your counter. This will help remove any air bubbles. Then, let the cookies sit at room temperature for 15-20 minutes or until the tops have started to dry.
Bake in a preheated oven and when done, let them cool completely before adding filling.
DON'T HATE ME: I used canned chocolate frosting for my filling. Yes, lazy baking at it's best. However, you can fill yours with vanilla or chocolate buttercream, chocolate ganache, or any type of frosting you wish.
Lastly, I shared some not so pretty pictures of chocolate macarons. They aren't perfect or completely smooth, but, they tasted amazing! So, don't be so hard on yourself if yours aren't picture perfect.
Give them a try and let me know how you do!