Fried doughnuts stuffed with (safe!) edible chocolate chip cookie dough, then, drenched in a amazing chocolate glaze.
Ingredients Needed:
Flour + Salt
Milk
Yeast
Sugar
Eggs
Butter
Brown sugar
Whipping cream
Regular chocolate chips + Mini chocolate chips
Corn syrup
Vanilla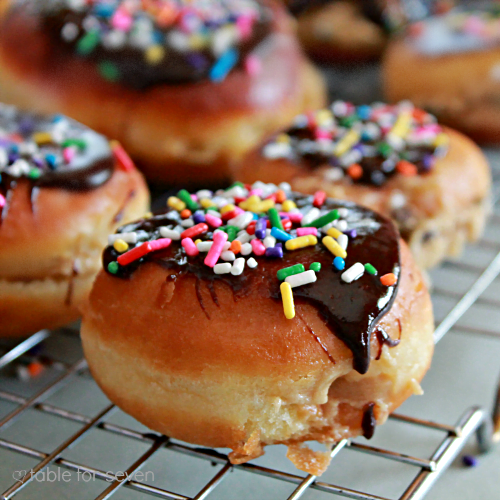 How to Make:
In a stand mixer, with dough hook, add milk and yeast into bowl. Let yeast dissolve completely.
Then, add flour, sugar, salt and eggs. Mix on low 4-5 minutes or until dough forms. Add butter pieces one at a time and continue mixing on low for an additional 4-5 minutes.
Wrap dough tightly in plastic wrap and refrigerate for anywhere from 6 hours to overnight.
When ready, on a well floured surface, roll out dough to about a 12 inch square and 1/2 inch thick.
With a biscuit cutter or a cup, cut out the dough into round circles.
Line a flat rimmed baking sheet with parchment paper or silicone mats. Place the dough circles on top of the prepared baking sheet. Cover them and let them rise in a warm place for about 1-2 hours. You want them to double in size.
When ready, add about 3-4 inches of oil into a large pan and heat until it reaches 350 degrees.
Add 1-3 doughnuts at a time to hot oil and fry each side 2 minutes or until browned. Remove with a slotted spoon and let them drain on paper towels.
Wait until doughnuts are cool enough to handle and stuff each with desired amount of cookie dough filling.
Prepare chocolate glaze and spread on top of stuffed doughnuts.
Let glaze set before serving.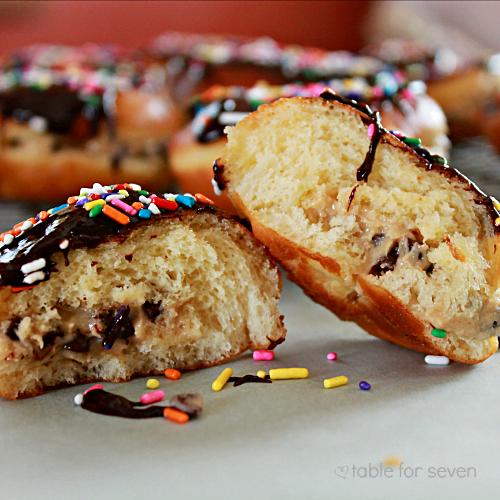 A few notes:
The chocolate chip cookie dough filling can be made at any time. If desired, you can make it the day before and store in a covered container in the refrigerator until it's needed.
Be sure to keep track of your oil temperature! You do not want it too hot. Start frying once the oil temp is between 350-360 degrees. If you don't have a thermometer..stick the handle of a wooden spoon into the oil. If it's ready, the oil will bubble around the handle.
These doughnuts are best eaten within a day of making.
Try these too: