Three layers of chocolate cake topped with a creamy chocolate frosting. A chocolate cake lovers perfect find!

Happy Monday!
I made you gigantic chocolate cake today!
The weather here is going to a scorcher at nearly 100 degrees, so, it seems a little weird to be posting a chocolate layer cake. But, this cake was actually made about a week or so ago, when, the weather was a nice 72 degrees.
Both things I miss: the cake and the weather 😉
Our cake today is chocolate, chocolate and more chocolate. 🍫 🍫 🍫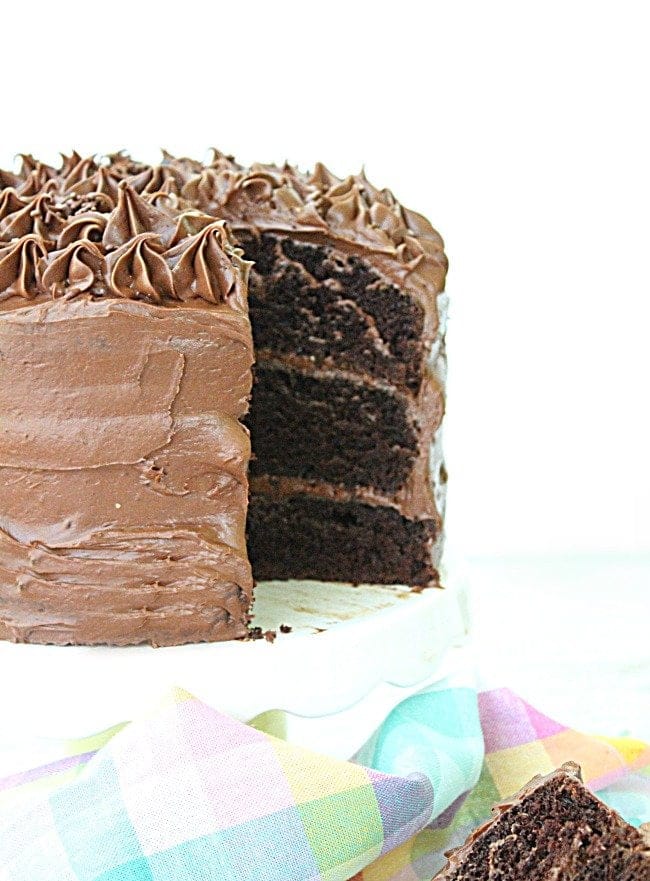 Here are a few things to remember:
This cake is three layers, not your standard two. Don't be intimidated! Adding an extra layer can be a little more stressful, but, take your time with the frosting and you will do fine.
Grease and flour your cake pans generously. This will make removing the cakes easier. Also, let the cakes sit for 10-15 minutes after removing them from the oven before trying to remove them from the pan and cool completely before frosting.
You are making quite a bit of frosting for this cake. It will cover the cake completely, plus layers. You can go lighter with the frosting, if you desire, just keep any leftover frosting, in the refrigerator in a covered containers.
After frosting, let the cake set in the refrigerator for about an hour before serving. At first, the frosting is on the softer side, but, will firm up once it sets. I gave a little detail the top with a 1M Star Tip, plus, get creative with it!
This is a big cake with lots of chocolate. Go easy on your portions. Plus, if you go smaller with your portions, you go probably get approx. 15-17 (slices) portions with this it. With large slices, you can get about 10-12.
This cake is a perfect special occasion cake and chocolate lovers dream! Three layers of chocolate cake frosted with a creamy, chocolate and cream cheese frosting. Delicious and decadent!
Grab a giant slice and enjoy!