Eat your dishes! Creamy cheese soup served in a homemade bread bowl.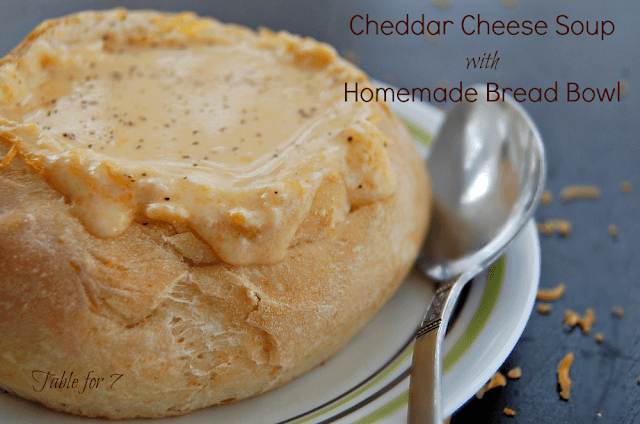 A few weeks ago, my mom came to visit. It was a big shopping day before Christmas. For lunch, we dined a small pizza place that served the most amazing cheddar cheese soup. It was heavenly!
I then, set out to find a cheddar cheese soup to make at home that wasn't too complicated. Not that soup is complicated, but, for me..it can be. Weird, I know. To top it off..I decided to serve it in nifty bread bowls. Again, looking for a recipe that wasn't complicated. Bread is not my forte..so, anything too much and we would be sticking with bowls.
But, alas, I found a so-simple bread bowl recipe. I was shock at how simple it was. Why have we been eating soup from a bowl all these years? It's a mystery. From now on..edible dishes are the way to go.
This soup is great for this time of year. Warm, cheesy and very filling. The addition of the bread bowl tops it off nicely. Some topping ideas..sour cream, more cheese, bacon bits, green onions