Your new favorite fall soup! Sharp cheddar cheese and cauliflower make up this creamy dish.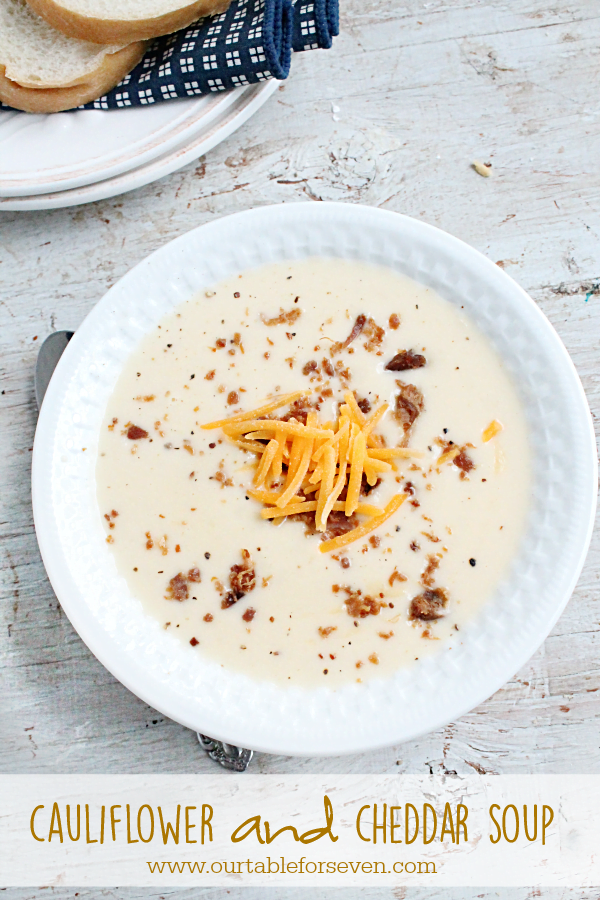 Hello soup season!
With the start of fall, it's time to start adding more soups to my dinner menu. One of our favorites is Cheddar Cheese Soup with Homemade Bread Bowls. It's so, so, good.
I mean, come on! You can eat your bowl with it, what could be better?
This soup is very similar, except, we have added some very healthy cauliflower to this. Creamy, cheesy and you get your veggies right in the soup.
Ingredients Needed:
Cauliflower
Butter
Minced onion & garlic
Flour
Nutmeg + Black pepper
Chicken broth
Whipping cream or whole milk
Dijon mustard
Sharp cheddar cheese
A few topping ideas:
Chopped bacon
Sour cream (or plain Greek yogurt)
Cheese
Black pepper
Croutons
Hot sauce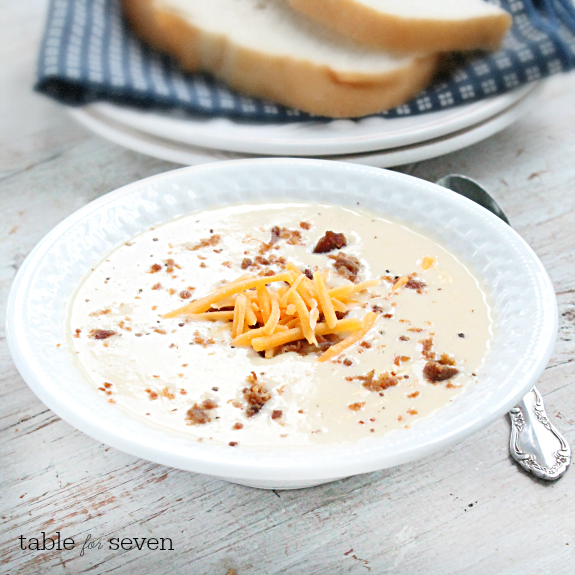 How to Make:
First, core your head of cauliflower and cut into 2 inch pieces. Then, bring a large pot of water to a boil.
Add in the cut cauliflower and let it simmer for about 8-10 minutes. You want it to be fork tender. Once done, drain. Let it cool for 5-10 minutes, then, mash. Set aside.
In a clean large pot, melt butter, then, add in onion and garlic. Next, whisk in flour, nutmeg and mustard. Cook for just a few minutes or until the flour is slightly brown.
Whisk in chicken broth and cream. Increase the heat a bit and let it come to a simmer. Leave it simmer for 8-10 minutes to thicken. Then, stir in the mashed cauliflower.
Lower the heat and stir in cheese. Continue stirring until cheese is fully melted. Season with black pepper before serving.
Note: If desired, you can puree soup in blender or with stick blender to make soup smooth.
Storage: Keep in a covered container in the refrigerator. Use within 2-3 days. I do not recommend freezing this soup. With the cheese content, the soup could separate when reheated.
---
More Cheddar Cheese Recipes: