Classic banana bread with a swirl of creamy caramel! The soft banana and dreamy caramel are the perfect combination for this Caramel Swirled Banana Bread.
It's been a nearly two months since we brought home our newest family member.
If you didn't see my previous announcement, meet Trixie: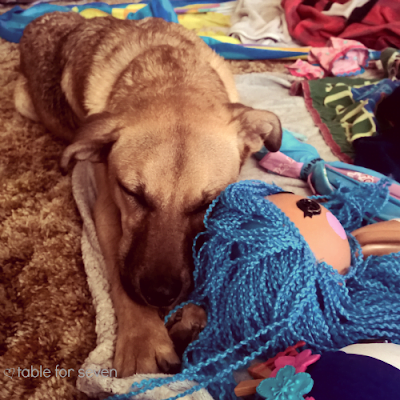 She's cute, isn't she? So peaceful and quiet.
Yeah, don't let this picture of her fool you. She's a complete and utter ginormous handful. It's darn exhausting! She loves to run and play with the kids. But, she also loves to chew. Everything. No. Everything. Doesn't matter what it is.
Shoes. Toys. Crayons. Paper. Blankets. Socks. Rugs. Pillows.
Also, nothing is safe on the kitchen counter!
She has grabbed dishes from the sink, oven mitts, anything she can get her little teeth on. Today she grabbed a banana, lint from the laundry garbage can, an empty Ziploc bag on the counter, left over muffins from breakfast (that were sealed in another Ziploc bag) and half a stick of butter.
That's just today.
Oh and yesterday? One of the kids left the snack cabinet open and she dove into some cookies. My cookies!
Now, yes, she is still young (just 2 years old) and is being obedience trained, but, geesh..it's crazing around here! Also,she can be really sweet and is super adorable. So, we are just going have to ride these puppy antics out with her. Cause, you know, we love her.❤️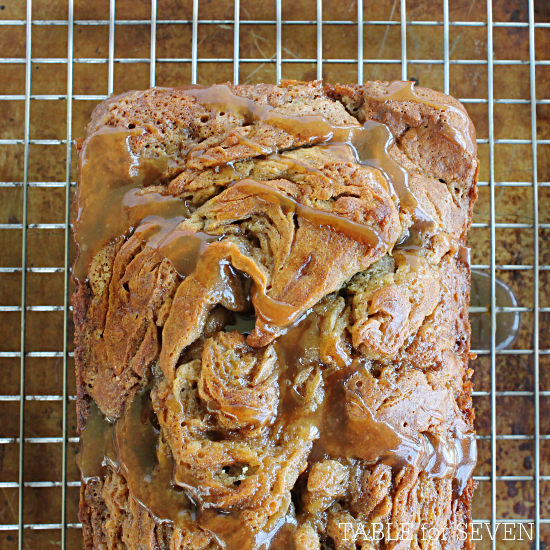 Besides the dog antics, we do have some baking going on here too!
Banana bread to be precise. We love banana bread. I mean, like adore it. This loaf has caramel swirled into it, then, drizzled on the top too.
Yes, some fabulous stuff here. It's banana bread with a little decadence tossed in. The caramel and banana go pretty perfect together. It's a bit addicting too. You may not want to share this once you cut yourself a slice.
Take those ripe bananas from your counter and make some of this Caramel Swirled Banana Bread!
That is, unless your new puppy snatched them. 😉 🐾