These easy cinnamon rolls are decadent and delicious! An easy, shortcut recipe that will make big impression when you serve them. Soft rolls topped with sweet apples and smooth caramel sauce. A perfect special occasion brunch or breakfast.
Love cinnamon rolls? Check out our Recipe Index for more!
Here in the U.S., tomorrow is Thanksgiving. That means, Christmas baking is soon to begin and everything pumpkin and apple themed will be shelved until next season. At least, that is what I've learned as a food blogger. 🙂
But, we still have today! So, let's dive into some amazing apple cinnamon rolls. They are delicious, gooey and best of all, semi-homemade. Which means, a little less work for you in the kitchen.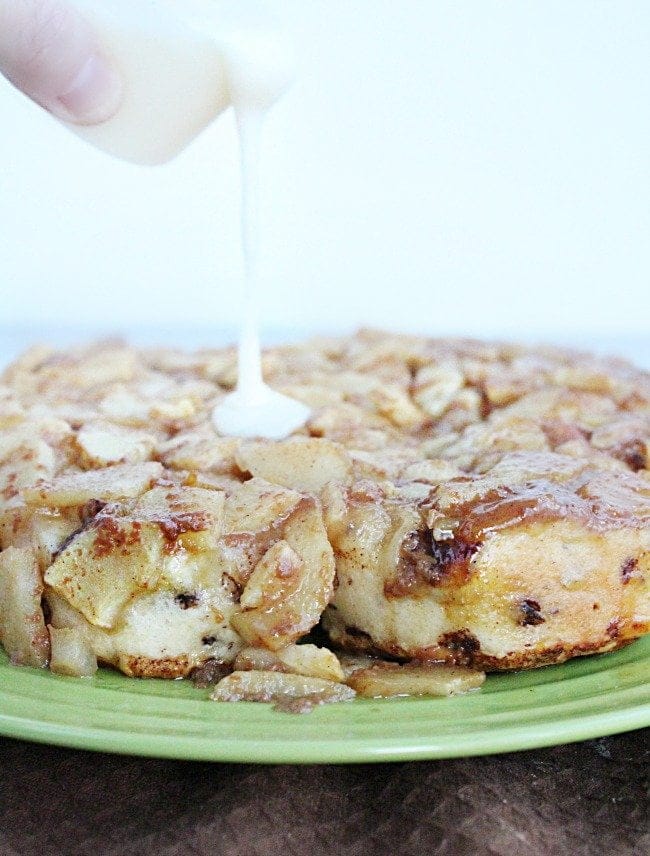 Supplies + Ingredients List:
9 inch round baking pan + non stick cooking spray
Apples.
Refrigerated cinnamon rolls.
Caramel sauce.
Ground cinnamon.
Butter.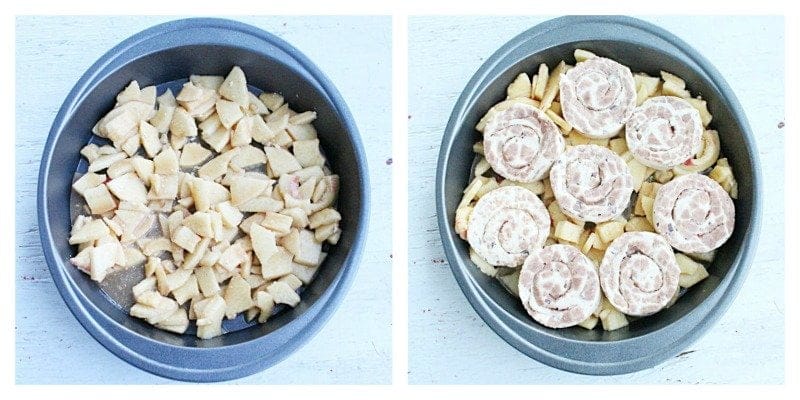 A few recipe notes:
Be sure to grease your pan well! This will make removing the cinnamon rolls from the pan a whole bunch easier.
To remove the cinnamon rolls from the pan, place a serving plate on top of your baking pan. Then, carefully, flip the pan over and let the cinnamon rolls naturally fall out. You want the apple mixture to be on the top of your rolls. Using a plate a bit larger than the pan makes this an easy job.
A round pan works best for these, but, if needed, a square 8-9 inch baking pan will work too.
Any brand of cinnamon rolls will work, as long as they are the standard rolls. I used these. Using larger rolls or "grands" rolls may not work, in a 9 inch pan, due to their size.
This recipes calls for 3/4 cup of chopped apples. This should be equivalent to 1 large apple or 2 small/medium apples.
Happy Thanksgiving-