Grab a box of cake mix and make some doughnuts! Easy, versatile and baked..not fried! Making homemade doughnuts is a cinch with this recipe.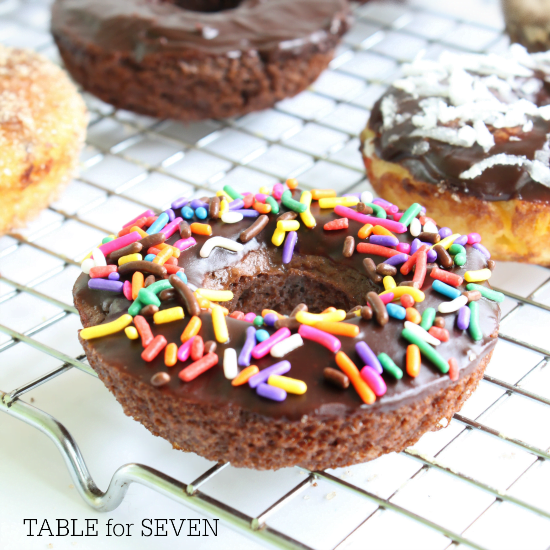 After doing some checking, I realized that there hasn't' been a main dish recipe posted here since March?!
Can that be right?
Well, there was some Broccoli Salad, but, that's more of a side dish, right?
Truth be told, I've been a bit- un-inspired when it comes to any type of dinner making the last few weeks/months. It's been tough. If something catches my eye, it is usually something that's been shared before or very similar to it. We are such habit eaters at my house. Sticking to what works most of the time.
But, don't worry, there are some dinner-related posts coming in the future. 👍
For now, you guys will just have to live with some more sweets. Yes, it's a burden you will have to bare.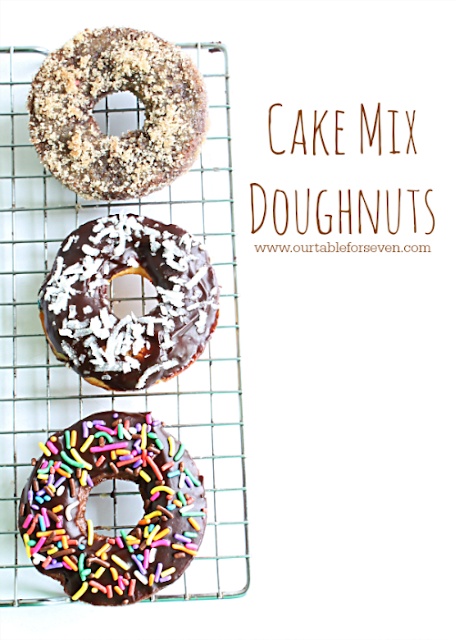 Speaking of forming eating habits, we have doughnuts today and they made from a cake mix. Two things I can't seem to get enough of.
I've tried these in the past and failed miserably. Never did figure out what the heck happened. But, after giving them another go, these came out perfect. They also tasted amazing!
Mine are two different flavors of cake mix: chocolate and yellow.
It made a ton of doughnuts. A ton. Don't hate me, I don't have an exact number. It was alot though. Some where actually tossed in the freezer for the next day. If you make just one box (edited!) one below recipe, you will probably come up with anywhere from 12-18 regular size doughnuts.
The awesome thing about these is the options. They are endless!
Flavor, add ins, toppings, you name it. Our batch were topped with chocolate glaze, Nutella glaze, and coated with cinnamon sugar. Oh, mini-doughnuts are also an option. Kids had a ton of fun doing making them there own. A total winner!
Super simple and delicious.