Crunchy and yummy! Cereal mix with a brownie batter topping.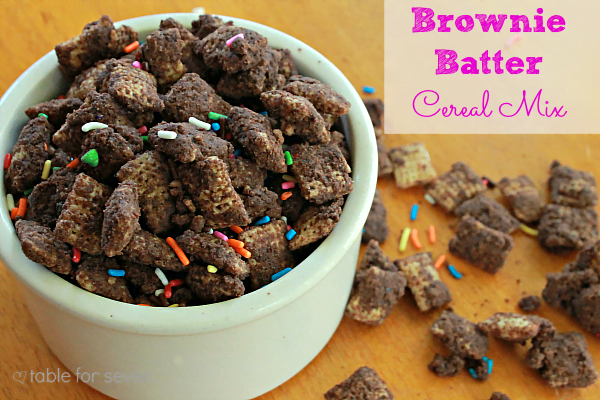 Why did I make this? Why?
I have been doing pretty good ( not perfect ) on my return to Weight Watchers.This was a bit of a downfall for me. Ugh..this and a little bit too much ice cream last week.
Oops. Back on track tomorrow.
Speaking of this cereal mix..
I wasn't sure if this qualified as 'puppy chow'. You know puppy chow. No, it's not for dogs. But, it's all the rage in food blogs in a huge assortment of flavor concoctions. It's essentially sweet cereal mix, usually made with powdered sugar.
Which, um, this, is.
Without the powdered sugar though.
OK. I guess this could qualify as puppy chow.
Oh, well, call it whatever suits your fancy. Just make sure you make it and don't expect to eat a small little bowl to sample. Get ready to chow down on it and go back several times to snack on it. Especially during the day when your family isn't home and it's staring at you, calling your name and won't leave you alone until you have just one more bite. #NotThatIKnowWhoThatIs
This Brownie Batter Cereal Mix is a great treat and doesn't take long to whip up. It's quicker than a pan of brownies and tastes just like them with an added crunch.
A very delicious snack and just remember to share them with loved ones. 😉