Celebrate all things blueberries with these moist cupcakes! Topped with crunchy cinnamon sugar topping, a soft cream cheese frosting and are bursting with fresh blueberries.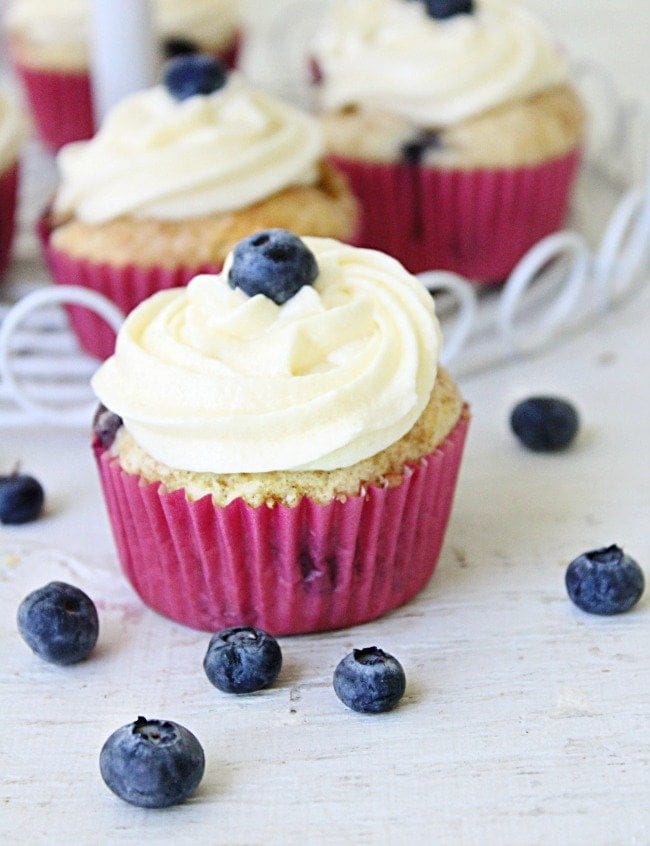 Hello to you on this fine summer day!
We have some gorgeous blueberry cupcakes to share today, so, let's get right to it.
Ingredients Needed:
flour + salt+ baking powder
butter, softened
eggs
plain Greek yogurt (or sour cream)
sugar
vanilla
blueberries
milk
brown sugar
ground cinnamon
cream cheese, softened
powdered sugar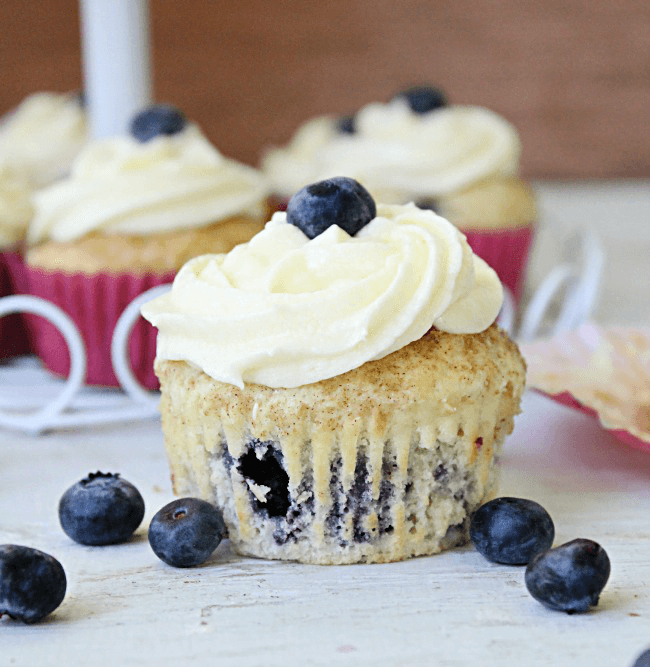 Recipe Notes:
The batter for these is a vanilla batter mixed with tons of fresh blueberries. Be sure to toss your blueberries with the flour first. This will help with keeping them from sinking to the bottom of your cupcake.
I used fresh blueberries, but, you can use frozen, if you like. However, you will need to rinse them, then, let them dry before adding them to your batter. This will help avoid having your blueberry color run and turning your cupcakes purple.
The crunchy cinnamon/sugar topping give these cupcake a nice sweet taste! Don't forget to press the mixture gently into the batter before baking. This will ensure it bakes right into the cupcake, for the right flavor.
This frosting is a soft frosting. It's manageable to pipe or frost on the cupcakes right away. But, be sure to refrigerate the frosted cupcakes for at least an hour before serving, just to have the frosting set.
These Blueberry Cupcakes are quick to mix together and also, delish. 💙 💙 💙
The blueberries and cinnamon/sugar mixture give them the right amount of sweet. The frosting requires a smaller amount of powdered sugar than for example, this cream cheese frosting recipe. This gives the frosting a softer texture and it's not overly sweet. Giving the cupcakes a nice balance of sweetness.
It's time for cupcakes..get to baking these soon!