Bisque Can Be Made With A Wide Variety Of Ingredients; Some Common Ones Include Seafood, Vegetables, And Even Meat. Here Are 23 Incredible Bisque Recipes That Will Blow Your Mind.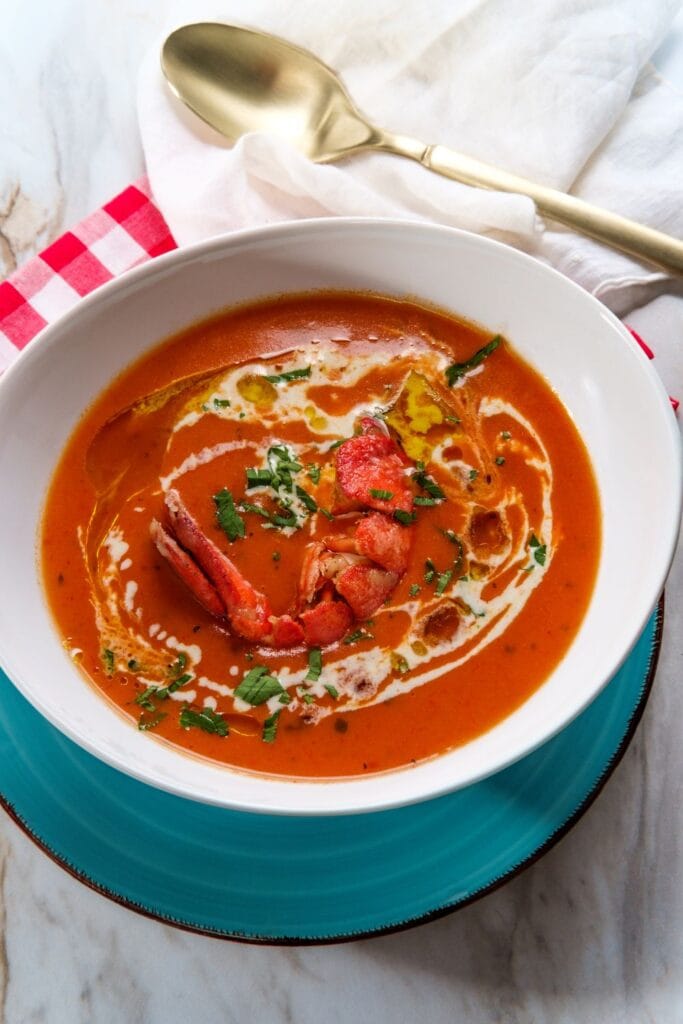 This rich and luscious Lobster Bisque recipe is the ideal way to commemorate any occasion because of how simple it is to make. In spite of the fact that it took you much less than an hour to prepare, your significant other will be under the impression that you slaved away in the kitchen for hours.
Rich in tomato flavor and with a silky smooth and creamy consistency, tomato bisque is a variant on the traditional tomato soup that is made with cream instead of water. This comforting soup pairs wonderfully well with ooey-gooey grilled cheese, crisp croutons, or even just shaved Parmesan cheese on top. It's the kind of dish that's ideal for cozying up with when the weather gets chilly.
This recipe for Creamy Shrimp Bisque is the perfect appetizer for a special occasion or a cozy Sunday Dinner. Everyone who tastes it loves it, so I make it every year for Christmas for my family.
This shrimp bisque can be prepared in less than an hour with just a handful of ingredients, and it reheats well if made in advance. It's the ideal stress-free beginning to the Christmas feast.
This Pumpkin Bisque Soup is delicious, with a surprising smokiness from chipotle pepper, and is smooth and silky with the scent of seasonal spices. The smooth bisque is the ideal first course for a celebratory meal. If you, like me, enjoy savory pumpkin dishes, you will adore this bisque recipe for turning pumpkin puree into a hearty, flavorful soup with a strong savory undertone. Gluten free.
It's impossible to have just one bowl of this corn and crab bisque because of how tasty it is. You can anticipate all the great flavors of a southern classic in this dish thanks to the fresh corn, lump crab meat, and spices.
A total of three different seafoods are included in this simple seafood bisque. It's flavorful, simple enough for a weeknight, and stunning enough for guests.
To begin, melt butter in a heavy-bottomed pot, such as a dutch oven. Melt the butter in a pan and add the onions and garlic. Cook until the onions are translucent. Blend in the tomato paste, flour, cajun spice, and Old Bay. Add the milk and cream to the pot and whisk slowly.
Add the seafood and whisk it in once the soup is boiling. Ten minutes at a low simmer should do it.
A bowl of Caramelized Onion Roasted Garlic Bisque can warm you up on a cold day. This smooth soup is bursting with flavor yet low in fat and calories.
You may use any kind of milk you choose, from full milk to low-fat milk to soy milk.
Keep the soup in the fridge for up to three months. A food that has been frozen for too long may begin to absorb the freezer's aromas and tastes.
It's incredible how much flavor and depth can be packed into this soup in such a short amount of time. One of my favorite things about soup is how versatile it is after you master the fundamentals. Incredibly simple techniques!
A lot of folks overcomplicate making soup when really it couldn't be simpler. Vegetables are softened in a small amount of oil, then liquids, spices, and other seasonings are added, and the whole thing is left to simmer for a while. Soups can either be served immediately or blended before serving.
Over medium heat, warm the oil in a large Dutch oven. After 4 or 5 minutes of cooking with frequent turning, the onion and bell pepper should be soft. Cook the garlic and celery for a minute. Take the onion mixture out of the pan and put it to the side. It's time to clean the pan.
Put the butter in the pan and melt it over medium heat. Sprinkle in some flour, then whisk it all together. Turn the heat down to medium-low and continue cooking for approximately 10 minutes, stirring regularly, until the roux has the color of peanut butter. Mix in the sliced onions, canned tomatoes, and fish broth.
Blend until smooth using an immersion blender. Cook for 20 minutes, stirring periodically, and then add the thyme and bay leaves.
Add the crawfish, and let it simmer for 10 minutes. Cancel the bay leaves. Whisk in the cream and sherry right before pouring. Garnish with Tabasco or other spicy sauce.
Using only three ingredients—fresh sweet corn, chicken broth, and half-and-half—this healthier take on traditional corn bisque is topped with a splash of sriracha and some chopped fresh chives.
When ready to serve, ladle the bisque into individual bowls, sprinkle each bowl with sriracha, then top each dish with corn kernels and chopped chives.
This Hungarian Mushroom Soup is the best it's ever tasted. A very delicious and fulfilling mushroom bisque is the result of the combination of earthy, savory wild mushrooms and copious quantities of paprika.
Utilize a slow cooker to get the soup up to serving temperature and keep it there as you prepare other dishes for Thanksgiving dinner. This will free up your stovetop for the other dishes you will be preparing. The traditional Hungarian Mushroom Soup is a delicious choice for either the first course or the side dish on Thanksgiving.
This rich Irish Scallop Bisque is bursting with decadent flavors. Elegant as an appetizer or as a main dish with bread and salad, this soup features a creamy seafood broth with a seared scallop or two. This delicious bisque may be enjoyed by anyone with a gluten intolerance. Make the bisque with coconut creamer if you can't have dairy. You should definitely try this out!
In most cases, a bisque is a rich and creamy soup made with seafood. These days, "bisque" may mean any kind of creamy soup, and Three Cheese Bisque certainly meets the definition! It's a complete dinner in itself because to the inclusion of potatoes, veggies, and three kinds of cheese.
Additionally, it has thick-cut bacon on top for an even more delicious flavor. (Word of advice: don't forget the bacon. It takes this soup to a whole new level of deliciousness.
There are a ton of vegetables in this really easy to prepare roasted vegetable bisque. Vegan, paleo, Whole30, dairy-free, and grain-free, this soup is a breeze to put together. This hearty soup is ideal for a cold winter's day.
The whole family will go crazy for this vegan and gluten-free Turmeric & Coconut Roasted Butternut Squash Bisque, which is silky smooth and creamy while being filled with antioxidants and anti-inflammatory coconut oil.
This recipe for Roasted Carrot Bisque requires only a few ingredients and very little preparation, yet it is both nutritious and delectable! Don't be scared to make a second batch of the soup since it freezes really well and is delicious both fresh and frozen.
After enjoying several mouthwatering bowls of crab bisque in the past, I thought it was time to prepare a Paleo and dairy-free version of the dish. This soup is a hybrid of the traditional French bisque with the Indian curry.
To serve split the extra 4 tablespoons of brandy into 4 bowls if using. The soup is poured on top, and it is garnished with chives and more crab meat.
Prepare the chicken stock and start cooking the chicken first. Add three cups of water to the cooking pot.
Put in the thyme and bay leaf. (Salt would also be welcome.) Raise the heat until it boils, then reduce it to medium. Include some chicken. Keep it in the oven for about 45 minutes. Place aside.
Oil should be heated over medium heat in a soup pot. Put in some carrot and shallot cubes. Put it in the oven for a while.
Cooked chicken should be diced and added to the stew. Garlic should be minced and added to the saucepan as well. Keep cooking and stirring until the garlic smells good (just a couple of minutes).
Bring the stock to a boil after adding it. Cook over medium heat until the carrots are tender.
Simply combine the melted butter and flour with a fork to produce the roux.
To the soup, thoroughly combine the heavy cream, roux, and Worcestershire sauce. Put in some pepper and salt. Continue to cook for another 10 minutes, stirring periodically.
Add the shredded white cheddar cheese to the soup and stir until melted and incorporated.
Serve with a sprinkling of chopped fresh green onion on top.
Although it has a fancy name, Zucchini Bisque is actually quite a straightforward soup to make. Because it may be eaten either hot or cold, this soup is great for every season. Moreover, the use of cream ensures that it is always rich and flavorful.
The soup may be prepared through Step 5 up to two days in advance if you plan to serve it hot. Then, put the lid on it and chill it. Bring to a boil right before serving and stir in the cream, if using.
Cold soup may be made and stored in the fridge for up to two days.
Making Turkey Bisque Soup is a wonderful way to use up any leftover turkey. Super simple, tastes great, and has a nice velvety texture.
In any case, if there are no leftovers, don't fret. In the same way, substituting chicken for the turkey in this soup doesn't diminish its flavor. The addition of a small bit of half and half results in a pleasant, light cream sauce. Simply omit the half and half if you need to adhere to a dairy-free diet.
Carrots, green bell peppers, onion, and parsley all contribute to the soup's pleasantly robust taste.
Because it's a French dish, you might assume it's complicated to prepare. It's simple to put together and doesn't take long to cook. Seafood stock can be made at home by cooking shrimp shells, or it can be purchased already made.
This bisque hit the sweet spot for me, with a taste that was neither too shrimpy nor excessively rich. Again, many people seasoned their soups with freshly squeezed lemon juice since they came from lemon-loving families. What a wonderful way to feed a crowd: with this unusual soup.
Who wouldn't want to snuggle up with a cup of hot soup on these chilly winter evenings?
To prepare, melt the butter and oil in a large saucepan over medium heat. Cook for 7-8 minutes, stirring occasionally, until the veggies are crisp-tender. Just a couple more minutes of cooking after adding the garlic.
Incorporate the broth and wine, and bring to a boil. Bring to a boil, then reduce heat and simmer, uncovered, for 15 to 20 minutes, or until veggies are soft. Take it off the stove, and let it cool down a little. In the meantime, combine cornstarch and water in a separate basin and whisk until smooth.
Puree the soup in a food processor in batches. Put everything back into the pot. Add the cornstarch and evaporated milk mixture and bring to a boil.
Turn the heat down and boil the sauce, uncovered, stirring often, until it has thickened and is bubbling. Cook and mix the cheese in until it has melted and is well incorporated. Sprinkle some smashed pita chips and chopped parsley on top of each dish.
We eat this soup in the late winter. We're talking about soup here, and it's for a weekday. One that relies primarily on pantry staples for soup. This is the type of soup you can toss together, simmer, mix, garnish, and serve while sitting on the sofa in your pajamas and binge-watching Netflix.
Heat the oil to the point where it shimmers in a big, heavy pot. Sauté the onions and garlic for three minutes, or until the onions are tender and transparent.
Bring a saucepan of stock and sweet potatoes to a boil. Simmer on low for about 10 minutes, or until sweet potatoes are cooked.
Take it off the stove and blitz it in a blender (or a food processor) until it's completely smooth.
Corn, jalapeo, molasses, salt, cayenne, cinnamon, and black pepper should be added. Heat for a few minutes, stirring often, until the soup is at a comfortable temperature.
Garnish with chopped fresh herbs like cilantro, parsley, or scallions and a squeeze of fresh lime juice before serving.